Last year's Rockin the blues even was a great night, and this year promised to be even better. The bill featured Kris Barras, Walter Trout and Jonny Lang, with each getting their own set and the finale being a jam featuring all of them.
The venue this year was The Forum in Kentish Town – a big jump in size from The Garage, so it was no surprise to see that only downstairs was open, but that was busy and looked to be a far bigger attendance than last year.
The night kicked off with The Kris Barras band. Kris Barras is a former MMA fighter (which made it quite amusing to see a staff member half his size escorting him through the crowd to the merch desk after their set), and seems to be going from strength to strength in his musical career at the moment. It was only March last year that he was playing to a handful of people at his album launch, but since then he's toured with Beth Hart, played more headline shows, played Ramblin Man festival and of course this tour. It's one hell of a good opening set and realyl made it feel like this tour is not a headline act and a couple of supports – it really is three headliners. His current album (The divine and dirty) is a great album and the songs go down well tonight, particular the closing song, "Hail Mary".
Next came Walter Trout. As he told the audience during one of his between song talks, he nearly died a few years ago but got a transplant at the last minute. He suffered brain damage and lost the ability to play guitar or talk, so had to relearn both skills. To go from being a talented blues guitarist to not being able to play and now being back to being a talented guitarist once again is an ordeal that's hard to imagine. It's also hard to imagine it when you hear just how good he is. It's a fantastic set and it really is a performance that goes down extremely well with the crowd.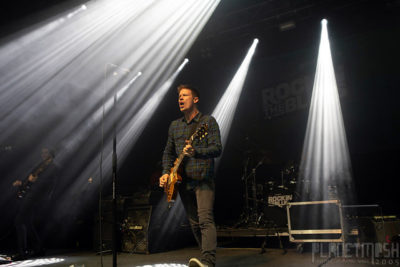 Next came Jonny Lang. He's the artist I knew least about, only having listened to one of his albums, but it's clear listening to his set that he's one hell of a player. Unfortunately we missed most of his set as after the first three songs security decided the photographers had to wait outside till the encore started.
The encore was definitely worth the wait though – Kris Barras, Walter Trout and Jonny Lang all on stage together with each of them getting time to be the focus of attention while the other two backed them up, and as well as that we got to hear the three of them jamming together. It was only a two song encore but it really was a fantastic few minutes.
Hopefully Rockin the Blues will be back next year with three more great artists.