Ding ding! Round 1 of day 2 and first band of the day, London based District 13 gave us a highly entertaining nonet of songs considering they had been on the road since 4am. A dizzying array of musical dishes was served up for Sunday lunch as they kicked off with the heavy funk of 'Wild Flowers' as vocalist/guitarist Jon Wild crooned like a laid back Jim Morrison. Bass player Richard Vanderpuije had some impressive dreads which made my grey mop look I belonged in a cats home, not on the catwalk! Glass rattling grunge seemed the best way to describe 'When You Come Around' as drummer Asen Milushev let rip. He excelled again in 'Shadows', laying the beat for psychedelic guitar lines and an anguished howled vocal. 'Medication' was wiry, Stooges like bluster and they heavied up for the beefy riffing and watertight rhythm section of 'Dark Horse'. Hangover curing guitar lines flowed through 'Emotive Addiction', leading to a heads down cathartic outro. They punked things up for the adrenaline rush run through of 'Apologetic Trickster' and the gnarly 'Cantankerous' was aptly named. They left us with another Doors vibe and full on fuzzed freakout for 'Soma'.
    Breaking Waves, now down to a duo of Phil Ireland and Peat Hicks still made a helluva lot of noise! 'Click Again' was an emotionally charged opener with Phil riffing hard. The foot tapping funk of 'Big Trouble' lead to a supercharged cover of 'Go Your Own Way'. 'Black Eyes, Blue Skies' was all wiry guitar lines and heavy alt rock and Phil proved his vocal prowess throughout 'Everything I Worry About'. Another inspired cover came from 'Rock And Roll' which made me wonder how 2 people could storm through the Zep classic so heavily. Their set ended far too soon with the power pop of 'Chance In Love' and the Foos on steroids blazing 'Better'.
Local heroes The Senton Bombs seemed to treat their set as a family day outing with mothers, fathers, children etc (children all wearing ear protectors if any snowflakes are reading this) lining up against the front of the stage. This was their first gig since playing here since last December and all four seemed pumped up to the max especially the normally mild mannered drummer Scott Mason who was a blur of hair and flailing Popeye forearms! They began their 9 song set with 4 from latest album Outsiders as 'Who We Are' was bashed and trashed out. "We're back but we're still outsiders" said frontman Joey Class as they played the thumping title track. The breezy melodic punk of 'Reckless Youth' is a bitter sweet number, dedicated to Antony Kift, a fallen friend of the band. Latest single 'Bury The Hatchet' seemed to be twice as angry live, followed by a much older 'Hooked', a good old fashioned tub thumper. A bouncy 'Lights Over Phoenix' lead to my set highlight 'Darkest Horse'. It has everything you want in a rock song, no more, no less. The turbocharged 'Train Wreck' was introduced as "For all the gigs we've messed up" and they left us with the sunny side up 'Nothing Quite Like This'. Job done!
Preston based Cobolt Collision exploded onto the stage with their anger fueled set of alternative rock with dashes of punk thrown in. Lead singer Jessie was a blue haired ball of energy throughout as they opened with the effervescent melodic punk of 'Black Dog'. Other highlights were the bass heavy 'At The Bar' backed by a vitriolic vocal. 'Saints And Sinners', title track of their latest EP hit hard, all driving drumming, huge choruses and crunchy powerchords. 'All About Me' brought to mind Audioslave at their heaviest, followed by the slow burning to full on freak out of 'Obsession'. 'Devil To The Saint' kept the energy levels up and they pulled out any last bit of energy left for set closer 'Crazy Game'.
Leeds based ghouls Psychobabylon lead by the towering Rusty D whose dry wit always entertains as at one point described himself as a "Big oaf even though the stage is large". No audience is safe either as 'Die Alone' was dedicated to a red haired lady in the front. 'Love And War' opened with a barrage of riffing and the hypnotic grooves of 'Dead Time' was the first of 4 tracks played from their latest EP All There Is. In my notes I described the impact of the title track as "If it was a baseball game it would have lead to a home run". The madcap 'Die Alone' lead to a voracious cover of 'Heaven 2 9' by the Backyard Babies. 'Dark Valentine' was a gonzoid punk thrashout as 'Malice And Pain' was glibly introduced as "Listening to our music equates to self harming". 'Horror' was aptly terrifying, in a good way of course and final track "No Means Of Escape', another EP song proves that their future is bright, their future is heavy. Big shout out to John JJ Watt, his first gig on bass guitar today!
Heartbreak Remedy turned in another impressive performance. The trio have certainly turned into a very tight unit, point proven by set opener 'Octane', all sassy riffing and huge choruses. 'Girl At The Bar' was chock full of catchy guitar lines and a gritty lead vocal from Matty Penn. That vibe carried on with the hard as nails rock and roll of 'Hair Of The Dog' that was followed by 2 new numbers. '21 Kings' was a full on pounder and then pulled back on the reins for 'White Line Suicide'. 'Tequila Butterfly' exploded into life midway with a lengthy virtuoso guitar solo from Luke Blair. 'Truth' had a ballsy Southern Rock vibe and they eased back once more for the melodic rock of 'Back To You' and the balladry of 'Life', my contender of one of the best songs of the weekend, point proven by the crowd reaction. They finished rocking hard with the foot to the floor 'Keep Rollin'.
Since only forming just over 2 years ago, Newcastle Upon Tyne based Tomorrow Is Lost have made giant steps in songwriting and stagecraft. The youthful five piece were not thrown out of their stride when the PA system cut out during set opener 'No One Knows' that when fixed, saw the band, lead by vocalist Cass King deliver a surely future headlining performance. 'Black And Blue' was smouldering blues that heavied up in the choruses. A new song, as yet untitled was humorously introduced as "Drop C" that turned out to be their heaviest song as it ended on twin guitar solos from Joe McDermott and Ryan O' Hara. 'Therapy' is a sure fire contender for rock radio airplay. Song of the set for me was the powerful 'Insane', their very first single and they bowed out with the go for the throat duo of 'Shadowman' and 'We Are The Lost'.
All good things sadly must come to an end but this fabulous weekend closed with a captivating performance from headliners The Room. This was my third time seeing them so knew to expect long songs with multi time changes, an outfit so tight they could change from being the heaviest band of the weekend to almost a whisper in the blink of an eye, so my notes were kept to a minimum so as to not have my head buried in a writing pad whilst they were playing. The London based 6 piece took up half of their set with current album Caught By The Machine which is rightfully receiving rave reviews. Taken from it, 'The Golden Ones' was full of joyous melodies with lengthy guitar and keyboard instrumental midsection. 'Run' featured a stunning vocal from Martin Wilson backed by swathes of lush keys. 'Drowning In Sound' had its feet firmly placed in 70's prog rock. 'Bodies In The Road' swayed back and forth like a sea breeze between gentile guitar lines and chunky chords. 'It's Not My Home' delivered a majestic lead vocal amongst the pomp, but not pompous rock but my highlight was the highly emotional 'Screaming Through The Noise', so powerful that at its climax there was an eerie hush before we applauded. A stunning set to end a thoroughly enjoyable weekend. See you all again in 2020!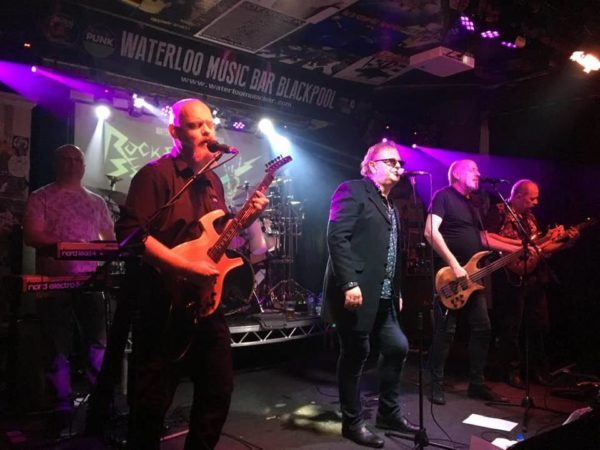 Thanks goes to Nick Grimley for the use of his The Room photo.