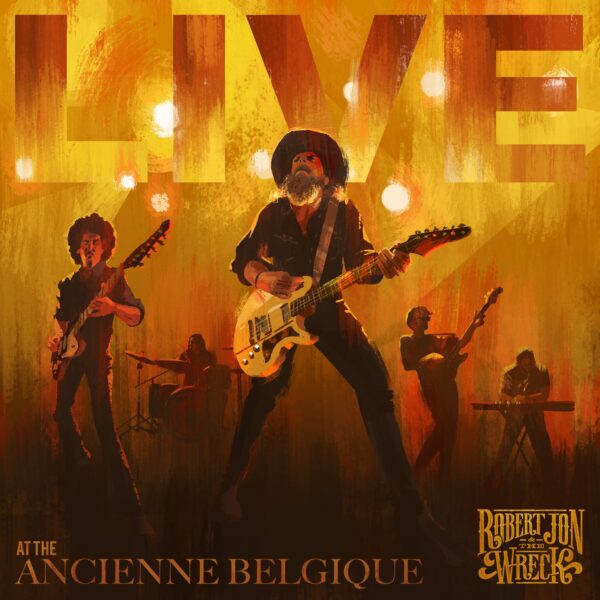 Many years ago when I started buying vinyl I would buy a live album as it's a sort of greatest hits thing and you get to hear what they sound like onstage so fast forward about forty five years as Orange County,California based Robert Jon & The Wreck unleash their first live release "Live At The Ancienne Belgique"via the Joe Bonnamassa's Journeyman Records. Available in formats of CD/DVD/Double Vinyl and digital download, this highly impressive piece of work stretches out for just under two hours.
This nineteen track concert begins with 'The Devil Is Your Only Friend', introduced by Robert Jon Burrison as "Thank y'all for being here tonight, if you hadn't noticed we're filming a video, so be on your best behaviour!". It's heavy blues blustre as a chilling vocal and an outrageous guitar solo makes for a prolific start.
'Rollin' is a snare drum snapped number that throws down a beat you can't ignore for a heavy hoedown.
Greasy riffs are lowdown and dirty for 'She's A Fighter' for this put up or shut up bare knuckle brawler!
'Do You Remember' is a slow burner into sing them out loud and proud choruses, earworm twin lead guitar work, ending on fretboard fury from Henry James Schneekluth as he then unleashes a two minute solo that doesn't overstay its welcome, point proven by a rapturous crowd fuelled call and response.
'Hey Hey Mama' is a punchy rocker of rootin, tootin, straight from the hip shootin prowess. Catchy choruses are the calm before the storm of wah-wah guitar overload and a finger blistering outro solo.
Doubles are all round for 'Blame It On The Whiskey', their first single in 2013. It's barroom boogie at it's shitkicking hellraising best as the band are on fire for seven slavering minutes and sky reaching choruses lead to a full on outro.
"This songs about drinking" as 'Tired Of Drinking Alone' takes on a new life played live. It's another of their stadium filling songs as Robert croons over howling lead guitar.
A brief three minutes sees Steve Maggiera show off his keyboard prowess followed by 'The Death Of Me', an epic spotlight stealer to add to their already overflowing arsenal of ballads. The heartache is dished out, as does precisely picked guitar lines that gradually pick up pace towards a crescendo finish.
'Waiting For Your Man' is smile inducing that picks you up and doesn't let you go until this rip roaring rabid song has finished with you covered in sweat.
Another solo sees Andrew Espantman give a brief tour around his drum kit of sanpping snares and venue shaking kick drumming that segues into 'Don't Let Me Go'. Its bottleneck intro raises the intensity levels with ease for this raunchy rocker to explode into multivocalled choruses, closing on more ballbusting bottleneck guitar and speaker rattling feedback.
A gospel tinged delivery for 'Old Friend' sends this beautiful song to the heavens angelically towards an acapella finish.
'Shine A Light On Me Brother' is a party starting and finishing epiphany of a song to blow away the cobwebs, especially in the vehement choruses and slinky slide guitar wizardry.
The almost fifteen minute majesty of 'Cold Night' has touches of 'Jessica' in it so if you like your guitars then prepare for nirvana as Henry lets rip in the Southern rock like midsection as a guitar and keyboard jam sees it end on guitar and drums battle note for note.
Time for the well deserved encores see the soul drenched 'Glory Bound' played with poignancy with neat twin guitar work as final song 'On The Run' live up to its title for a hot rails to hell rollercoaster white knuckle ride as the band lock in tight for one last blast to the ecstatic audience.
Purchase links to the album and other band info are here :- http://robertjonandthewreck.com I https://www.facebook.com/robertjonandthewreck I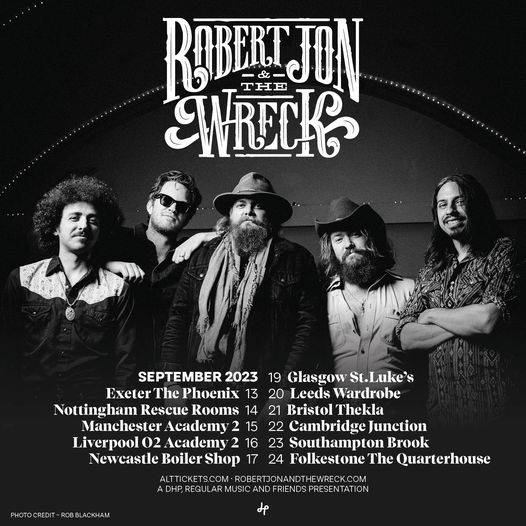 "Live At The Ancienne" album track listing :-
The Devil Is Your Only Friend.
Rollin' DVD.
She's A Fighter DVD.
Do You Remember.
Henry Guitar Solo.
Hey Hey Mama.
Blame It On The Whiskey.
Oh Miss Carolina.
Tired Of Drinking Alone.
Steve Keyboard Solo.
The Death Of Me.
Waiting For Your Man DVD.
Andrew Drum Solo DVD.
Don't Let Me Go.
Old Friend.
Shine A Light On Me Brother.
Cold Night.
Glory Bound DVD.
On The Run.
"Live At The Ancienne Belgique band personnel :-
Robert Jon Burrison – Lead Vocals/Guitar.
Andrew Espantman – Drums/Backing Vocals.
Henry James Schneekluth – Lead Guitar/Backing Vocals.
Warren Murrel – Bass Guitar.
Steve Maggiora – Keyboards/Vocals.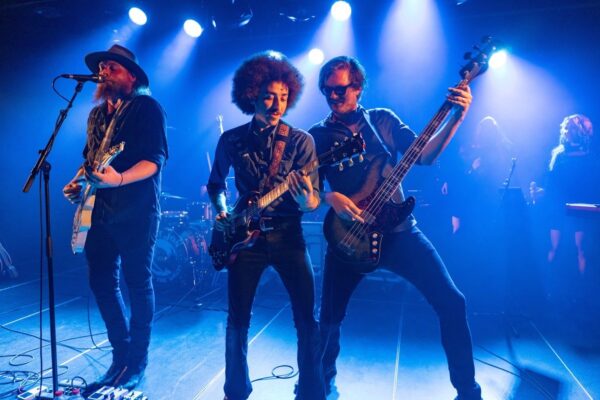 For this tour they played sixty seven gigs in seventy five days in nine countries, their longest ever tour and the setlist spans their last decade from their 2013 debut up until their 2022 release as Robert says "A lot of time and effort went into our show at the Ancienne Belgique. We had been meaning to make a live album for years so we saw this as an opportunity to document and release unique, more evolved versions of our songs".
The "Live At The Ancienne Belgique" album, recently released by Robert Jon And The Wreck is my highlight of 2023!