2x GRAMMY-nominated band Rival Sons have announced details of their anxiously awaited new full-length album, DARKFIGHTER, which is set to arrive worldwide on March 10th 2023 and is available for pre-order / pre-save today [tracklisting below].

Produced by longtime collaborator and multi-GRAMMY Award-winner Dave Cobb, DARKFIGHTER is led by the explosive single "Nobody Wants to Die," which is available today all streaming platforms and accompanied by an Éli Sokhn directed music video streaming now on Rival Sons' YouTube channel. The track notably marks the first new music from Rival Sons since the release of 2019's FERAL ROOTS, which earned the band two GRAMMY Award nominations.
Regarding "Nobody Wants to Die," vocalist Jay Buchanan shares, "You live your life knowing that the sword of Damocles is hanging over your head by a thread. You're fully aware of the impermanence of your existence, but you can't think about it all the time—or it'll fuck your life up. I used to work in a mortuary as a service advisor for a few years, driving and opening the hearses. I'd attend three funerals per day. Sometimes, they would be filled over capacity. Other times, it would just be me, a priest, and a hole in the ground. It doesn't matter who you are; the great equalizer is coming. I was thinking of this because the music sounded like pursuit."

Elaborating on the genesis of DARKFIGHTER, Buchanan notes, "DARKFIGHTER represents the cultural mitosis of isolation, the Pandemic, and the national fabric of the US getting looser and looser. When I say 'Cultural Mitosis', there are lines being drawn constantly. We're so divided, and you can't step over the lines without offending someone. It certainly informed my writing. We recognized a responsibility to put a good word in people's ears so there's a good word coming back on their tongues too. We missed the joy of the live show and that magical interaction. When it was taken from us, that made me want to sing about topics that were important. There are strong themes on this record of loss of identity, preservation of joy, and beholding light and shape again."

Lead guitarist Scott Holiday added, "Records are a healthy form of escapism. I hope this one takes you as far away as possible. Our intent was to create a cinematic body of work. As soon as the doors shut behind you, you're enveloped on the ride. This is the sound of us really coming into our own. We've gotten further from our influences and gotten closer to what we are. DARKFIGHTER sounds like the Rival Sons."

In 2021, Rival Sons celebrated the 10th anniversary of their 2011 album, Pressure and Time, by performing the landmark long player live in its entirety on the Pressure and Time Tour for the first time. They also lit up Southern California with a two-night Livestream event, Rival Sons – "PAIR OF ACES" – Live from the historic Catalina Casino on Santa Catalina Island. They performed their debut LP, Before the Fire [2009], in its entirety on the first night and their self-titled EP, Rival Sons [2010], on the second. 


DARKFIGHTER Tracklist: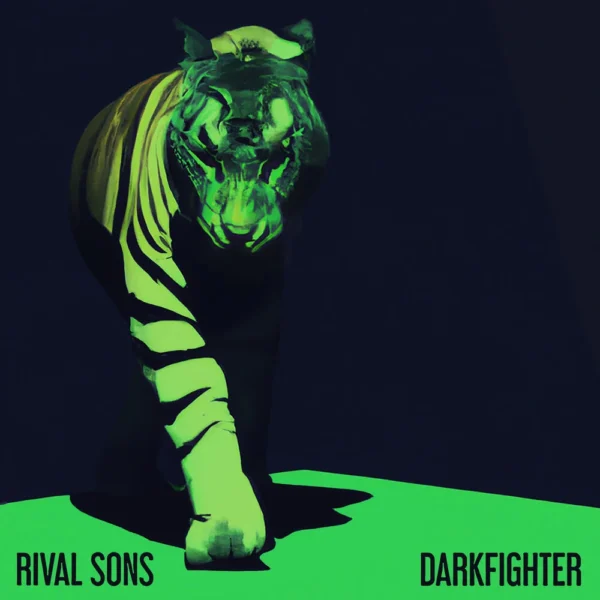 Mirrors
Nobody Wants to Die
Bird in the Hand
Bright Light
Rapture
Guillotine
Horses Breath
Darkside
About Rival Sons:
Rival Sons – Jay Buchanan [vocals, harmonica, rhythm guitar], Scott Holiday [lead guitar], Mike Miley [drums], and Dave Beste [bass] – play rock 'n' roll in its purest form without apology or pretense. Instead, they simply plug in, turn up, and rip on a path of their own. 
Along the way, they've architected a critically acclaimed catalog, including Pressure & Time [2011], Head Down [2012], Great Western Valkyrie [2014], Hollow Bones [2016], and FERAL ROOTS [2019]. The latter represented a creative and critical high watermark, scoring a pair of GRAMMY® Award nominations in the categories of "Best Rock Album" and "Best Rock Performance" for the single "Too Bad." Elevating the band to another level, "Do Your Worst" vaulted to #1 at Rock Radio as their biggest hit to date, tallying north of 60 million streams and counting. Speaking to their impact, Rolling Stone attested, "Rival Sons have done their part to introduce new fans to rock."
Beyond sharing stages with everyone from Black Sabbath, The Rolling Stones, and AC/DC to Guns N' Roses and Lenny Kravitz, they've ignited television shows such as The Late Late Show with James Corden. During 2021, they launched their own label Sacred Tongue Recordings distributed by Thirty Tigers and celebrated the tenth anniversary of Pressure & Time by performing the album in its entirety on tour. Ultimately, Rival Sons aren't here to tell you exactly what to think or what to feel, but they'll give you one hell of a ride if you let them.
That ride twists and turns like never before on their 2023 full-length LP, DARKFIGHTER [Low Country Sound / Atlantic Records] kickstarted by the single "Nobody Wants to Die."
CONNECT WITH RIVAL SONS