Reckless Love are a Finnish Glam Rock band who these days do their own music and songs, after initially starting out as Reckless Life, a Guns N' Roses tribute. Olli Herman, their very good-looking (he's like the male equivalent of Pamela Anderson) frontman joined Crashdiet for a time before concentrating solely on Reckless Love. Their latest album Spirit was released on 30th August 2013 via Universal Music FIN and Spinefarm UK.
The opening track Night on Fire (album version) started off very Sympathy for the Devil (Rolling Stones), then led into Um Bongo! (advert) strange but true, however it's an entertaining song with a jungle beat and plenty of uh, uh, uhs! Leading on to the next track the rocking Bad Lovin' although this time with lots of na, na, nas!
Overall it's a good album with a mix of faster songs like Metal Ass and Favorite Flavor ending with the much slower Hot Rain. Elements of Poison, Whitesnake and Motley Crue which should appeal to the lovers of softer rock and glam rock! It's well produced and the music and vocal quality is excellent.
The highlight of the album is their current single So Happy I Could Die, this one is fast paced and energetic, a song guaranteed to get many a rock chick air guitaring around her handbag!
The last track Hot Rain is a slower ballad type number and a bit of a disappointing ending. This would have been better placed earlier on with Sex, Drugs & Reckless Love and So Happy I Could Die being far better to end the album on a high note! (Or is that just wishful thinking on behalf of many a Rock Chick!)
The lyrics are more Chick Lit than Shakespeare but it's fun, which is what Reckless Love are about! Reckless Love will be touring the UK in October and from experience they are much more Rocking live than their glammy image and videos would lead you to believe!
Track List: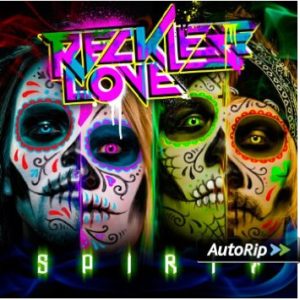 1. Night on Fire (Album Version)
2. Bad Lovin'
3. I Love Heavy Metal
4. Favorite Flavor
5. Edge of Our Dreams
6. Sex, Drugs & Reckless Love
7. Dying to Live
8. Metal Ass
9. Runaway Love
10. So Happy I Could Die
11. Hot Rain
Band Members:

Olli Herman – Vocals
Pepe – Guitar
Jalle Verne – Bass
Hessu Maxx – Drums
Links:
Website: http://www.recklesslove.com/
Facebook: https://www.facebook.com/RecklessLove
The highlight of the album is So Happy I Could Die, fast paced and energetic, Most of the lyrics are more Chick Lit than Shakespeare but it's fun, which is what Reckless Love are all about! (And they're fit!)