Arrived at Sound Control for a promising night of metal mayhem. Doors supposedly at 7pm, hence arrival time 7:10pm to find the shutters down. After a couple of walks round the block and about 30 minutes stood trying to shelter from the rain, someone finally got round to telling the queue that the bands wouldn't be on before 8pm! Over to The Salisbury to take 'Shelter from the Storm' and listen to some good music! Eventually got into Sound Control around 8:30pm where the first band of the night, were already playing upstairs which, as a venue, I prefer to ground level so that was good.
Triaxis had come all the way from South Wales. The only Welsh band to grace the stage that night, but not the only female fronted band! Singer Krissie in tartan and rhythm guitarist CJ in skin-tight black lycra, both with long dark hair looked fabulous. The two guitarists were both playing Jackson King V's (I think).  Good old heavy metal with fast drums and riffage. Krissie apologised to all who had been stood outside in the 'pissing rain' and announced two more songs starting with Lies. People were joining in singing and head banging! Lies turned out to be the last song as they had to finish. Having come all that way, no doubt they were disappointed that they only got a short set, as was I, because I'd love to have a seen a full set from Triaxis.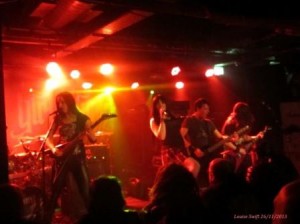 Band Members:
Bass – Owen
Vocals – Krissie
Drums – Giles
Rhythm guitar – CJ
Lead Guitar – Glyn
Links
Facebook: https://www.facebook.com/Triaxis
Website: http://www.triaxis.info/
Purchase Triaxis on Amazon: http://www.amazon.co.uk/Rage-Retribution-Triaxis/dp/B00969LWT4/ref=sr_1_1?s=music&ie=UTF8&qid=1385861411&sr=1-1&keywords=triaxis
I thought there were only three bands on the billing and that Girlschool were headlining so when I saw the next band setting up I thought the young guys were the roadies for Raven. However the young 'roadies' started playing and I knew they definitely weren't Raven, who I'd seen way back in 1982 and it's unlikely these guys had been even been born then! Sons of? Grandsons of? I don't know, but unlikely as the band turned out to be Harmonic Generator, an energetic five piece, from Marseille in the South of France. Quentin reminded me of Eric Cantona – Oh Ah! However with his wiry physique and spins and kicks also of dancer Vincent Simone! Their poetic song Secret Garden was classic rock, I'm thinking The Doors. The Datsuns who are sited as one of their influences do a song Harmonic Generator, it could be where they got their name from. Their sound was more indie rock – think of the heavier numbers of bands like The Datsuns, The Dandy Warhols or Primal Scream.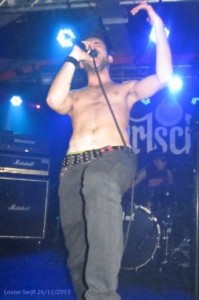 Band Members
Quentin Barthes-Villegas: lead singer
Charl' Roussel : guitar
Renaud Satre: guitar
Nico Helinger : bass / harmonica
Alex Roussel : drums
Links:
Facebook: https://www.facebook.com/HarmonicGenerator
Website: http://www.harmonicgenerator.com/
Twitter: https://twitter.com/HarmonicGen
Purchase Harmonic Generator on Amazon: http://www.amazon.co.uk/When-Goes-Down-Harmonic-Generator/dp/B00DV2C7NM/ref=sr_1_2?s=music&ie=UTF8&qid=1385861557&sr=1-2&keywords=Harmonic+Generator
At this stage I had a nose at the audience. I would guess it was 95% male, around 75% of whom must have been around to see Girlschool in the beginning! I also noticed lots of cut off denim jackets with embroidery and patches and a few mullets sported by those who still had hair! Dated? Well, I remember those days too!
The sirens came on to introduce the Girls and they came on stage still looking amazing! Proof that it's 'Rocking' which keeps Rock Chicks looking youthful! That's my excuse anyway! They all looked great with Jackie looking particularly stunning in skin-tight black leather, and I'm sure the majority of the drooling audience noticed too! Opening with Demolition then Let's Go and the crowd took this sentiment to heart, letting go with heads banging, which in a few cases involved hair flying, and fists pumping! Jackie said we were getting two lots of Spinal Tap in one! Definitely, but Raven come later! Kim and Enid shared the vocals not quite 50/50 – Kim did the bigger share but Enid took to the mic for the next song Hit and Run. Both great singers who can easily take on the role of lead.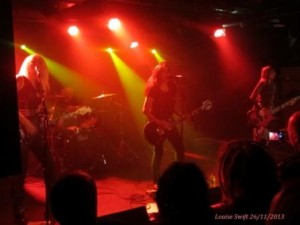 Next came I Spy from their Legacy album which had the late Ronnie James Dio on vocals. I think he would approve of tonight's performance from Heaven or Hell, whichever he's ended up in! Whilst I don't have any Girlschool albums, memories came flooding back and, I remembered most of the songs in the set. Next came Screaming Blue Murder, Future Flash and Kick it Down from the Hit and Run album with Denise playing some mean sticks and Jackie and Enid posing with their guitars upright. They looked to be really enjoying performing and we got Yeah Right and Race with the Devil. Good old rock and roll with great rhythm and riffs played by four Rock Chicks and ending on a high with Emergency! Girlschool proved that girls can play Heavy Metal just as well as the boys!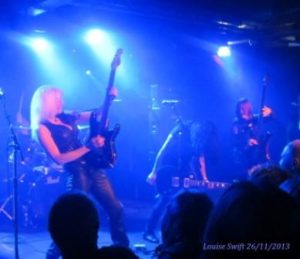 Band Members: –
Kim McAuliffe Vocals and Guitar
Enid Williams: Vocals and Bass
Jackie Chambers: Lead Guitar and Backing Vocals
Denise Dufort: Drums
Links:
Facebook: https://www.facebook.com/girlschoolband
Website: http://www.girlschool.co.uk/
Purchase Girlschool on Amazon: http://www.amazon.co.uk/Bronze-Years–4CD-Boxset/dp/B00ADQ7JUU/ref=sr_1_3?s=music&ie=UTF8&qid=1385861805&sr=1-3&keywords=girlschool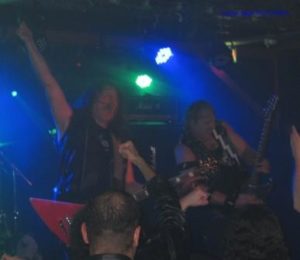 Finally Raven took to the stage at 11pm. My partner in crime had left to get the last train leaving me to get a taxi and by now in the company of a much depleted audience. Whether people had come specifically to see Girlschool, or had to leave to catch public transport, I don't know. Coming on at what was supposed to be curfew time on a weekday was obviously not ideal.
Founded by brothers John and Mark Gallagher in Newcastle back in 1974. Raven have never quite achieved the fame of the Manchester Gallagher brothers but nearly 40 years on and they're still going. Drummer Joe Hasselvander has been with them since 1987. John apologised to the first two bands for their cut sets and said it wasn't their (as in Raven's) fault. Who's fault it was and why they were late was never explained so I won't point the finger of blame at anyone!
I saw Raven supporting Motorhead at Leeds Queens Hall in 1982, don't remember much about the gig, to be honest, but I did buy a t-shirt! After a helicopter rotors and sirens intro three middle-aged men bounded on to the stage. I immediately thought – Bad News! Not literally but the spoof band meets Spinal Tap! With screams to give Jim Gillette a run for his money and spins to put many a younger guy to shame. Raven were entertaining from the outset! With a guitar/bass duel and the bass being played on the speaker at one point.
The remaining audience was really going for it with their heads shaking and fists pumping. Mark said this was their first gig in England in over five years and mentioned a DVD about the history of Raven, should anyone want to buy it. Amazon link below. I'd nearly gone for my last bus at 11pm but I was there to review so thought I'd better splash out on a black cab! It was worth the £12! One of the most riveting bands I've seen in a long time, perhaps since 1982! I have their album Rock til You Drop somewhere and the one song I actually remember is Lambs to the Slaughter, which they didn't play, but we only got a half hour set so, maybe next time! I see their website is called Ravenlunatics, that sounds about right if you want an evening of fun, wild entertainment and lunacy then Raven are the band to see!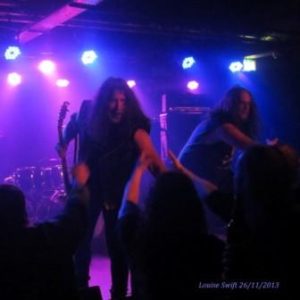 Band Members:
John Gallagher – bass, lead vocals, synthesizer
Mark Gallagher – guitar, backing vocals
Joe Hasselvander– drums, backing vocal
Facebook: https://www.facebook.com/pages/Raven-band/107981472564197
Website: http://www.ravenlunatics.com/
Purchase Raven on Amazon: http://www.amazon.co.uk/Rock-Until-You-Drop-Journey/dp/B00CIJG80W/ref=sr_1_1?s=music&ie=UTF8&qid=1385863343&sr=1-1&keywords=raven+rock+until+you+drop