I normally avoid arena and stadium gigs like the plague but if one band was going to change my mind, then it has to be Rammstein, especially as they are only doing one UK gig here in 2019. Tickets were bought last November and the last eight months have seemed to drag way too much but the big day is finally here. I've been going to gigs for almost forty years now but have never heard or seen anything like the show Rammstein put on at the MK Dons stadium in Milton Keynes. Touring on the back of their latest self titled album (of which eight songs were played), the first thing that hit us when we arrived inside the venue was the sheer size of the stage!
Parts of it were higher than the stadium and at first glance it reminded me of scenes from Blade Runner but when the show kicked into gear it was more like the death star in Star Wars! Opening act were the very entertaining Duo Jatekok, two female French pianists who played Rammstein covers with high energy and received a very warm reception from the crowd. My personal highlight was a frenetic run through of 'Du Hast'. So it was time for the headliners to pummel us into submission as a majestic orchestral intro saw drummer Christoph Schneider take to the stage first with the rest of the band joining one by one as huge flashbombs made me and my girlfriend jump up from our seats! They tore into 'Was Ich Liebe' and headed straight into a stomping 'Links Two Three Four' as the kick drums were truly rib rattling. A scything main riff from guitarists Richard Z. Kruspe and Paul Landers was an early highlight.
Armageddon like onstage pyro upped the ante to a crushing 'Sehnsucht' followed by front row frying pyro in the choruses of 'Zeig Dich'. Frontman Till Lindemann delivered a tour de force vocal over menacing grooves throughout 'Mein Herz Brennt'. He did not just wear his heart on his sleeve but had it warmed up due to the flaming attachment on his chest. 'Puppe' took on a new life to the recorded version tonight, even more demented and disturbing as Till pushed a giant childs pram onstage that burst into flames in the first chorus and his cathartic vocals seemed to stop time. 'Heirate Mich', full of hypnotic industrial pounding featured stage engulfing pyro. 'Diamant' was a short, sweet beautiful ballad which proved to be the calm before the storm of 'Deutschland', stretched out to a captivating twelve minutes! An avalanche of dry iced filled the stage as the spine tingling intro lead to the crowd and band as one on the choruses.
'Radio' was all bright and breezy rhythms but still packed a punch. 'Mein Teil' was a crowd fuelled monster. The cooking pot is still a part of the show with Till heating up keyboard player Christian 'Flake' Lorenz but apart from the usual flamethrowers, Till has added a flame cannon which engulfed 'Flake'. The intensity increased with the crowd going gonzo for the intro to 'Du Hast' and during the choruses. Once again, the facemelting pyro had to be seen and felt to be believed. Supertrooper spotlights reached for the sky as did the explosive opening for a doom laden 'Sonne'. Mobile phones lit up the whole stadium for a poignant 'Ohne Dich', they took their bows and I worryingly thought it was the end of the show but that was short lived as they appeared on the B stage (where Duo Jatekok performed) right in front of us and they played piano whilst the band sang 'Engel'. The crowd were as loud as the band as once again the stadium was lit up. Hilariously, the band returned to the main stage on a sea of hands in three inflatable dinghys!
Godzilla sized stomps drove along 'Du Riechst So Gut' and a leering vocal from Till matched the innuendo of the lyrics for 'Pussy' as the song ended with him astride a large penis on a track that ran across the front row, spraying white ticker tape everywhere and also from cannons halfway back.  Second encores came from a thrilling 'Rammstein', the heaviest use of pyro here made it hotter than hell from even our seats as Till fired flames from a backpack as Richard and Paul donned flamethrowers. My personal highlight of the night came from the overwhelming grooves of 'Ich Will' that saw flames shoot up out of the stadium and the band took more bows as well as kneeling before us during a piano piece of 'Sonne', a beautiful way to end a spectacular day as Till, hand on heart pronounced "Thank you Milton Keynes, you were amazing. Fantastic, all of you. danke schoen". Talking to fans after the show, most said that this was the loudest and most extravagant show they had seen by them. I wonder how they can top it for their 2020 tour?
Thanks to Anthony May for the use of his gig photo.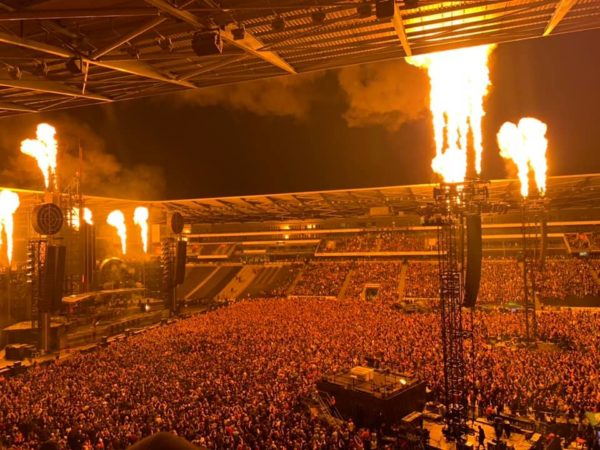 Setlist: 
Intro.
Was Ich Liebe?
Links 2 3 4.
Tattoo.
Sehnsucht.
Zeig Dich.
Mein Herz Brennt.
Puppe.
Heirate Mich.
Diamant.
Deutschland.
Radio.
Mein Teil.
Du Hast.
Sonne.
Ohne Dich.
Engel.
Auslander.
Du Riechst So Gut.
Pussy.
Rammstein.
Ich Will.
Sonne (piano version).
Rammstein band line up :-
Till Lindemann – Lead vocals.
Richard Z. Kruspe – Lead guitar/backing vocals.
Oliver Riedel – Bass guitar.
Paul Landers – Rhythm guitar.
Christian (Flake) Lorenz – Keyboards.
Christoph Schneider – Drums.