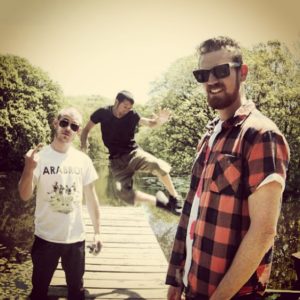 Prosperina are set to play the New Blood Stage at this years Bloodstock festival on Friday the 9th August.
We catch up with the band to find out more about them, the festival, their thoughts and what you lucky Bloodstock go-er's will see!
Can you give the readers a quick introduction to the band.
Prosperina is basically a power trio with a bit of a twist. We all listen to so much different stuff that it seems to have infused what we do with a few quirks. We are rooted with Metal/Hard Rock & Stoner Rock riffs but we also have some melodies and different sections in there, which seems to have confused people as to our direction! My reply to anyone who asks where we're heading stylistically is usually along the lines of "We'll find out when we get there just enjoy the ride".
How would you describe your sound.
Big tunes anchored with even bigger riffs and lots of hard rock energy.
Why did you want to become part of the New Blood Stage line up?
The New Blood stage has a history of showcasing the best in new bands and obviously this was a really good opportunity for us to get seen by a bigger audience and also to have some fun at Bloodstock too. We're all really looking forward to Friday the 9th of August!
What was your initial reaction when you found out you were playing on the New Blood Stage?
Have to admit we were pretty damn pleased when we landed the gig! I guess my reaction was to hurriedly call the other guys and make sure we could have a pow-wow over some beers later that day!
What can the audience expect from you at the festival.
Not much in the way of chitchat but a hell of a lot of fat tunes with soaring vocals and giant riffs. All going to plan they will all leave as converts to the church of Prosps!
What has been the bands biggest achievement so far?
I think it would be getting the first album out there initially off our own backs which enabled us to get picked up by Maybe records who sorted out the full UK and European release. Seeing the positive responses (from both fans and critics) to the album was a momentous occasion because the road to that point was pretty long and fraught!
Have you ever been to Bloodstock before? If so when and what did you enjoy most about it.
We're Bloodstock virgins so we'll be entering for the first time… We have some friends from Swansea who've been a few times and they always have plenty of tales to tell about how awesome it is so we'll be looking forward to getting a slice of that action this time round.
What is your opinion of the Bloodstock line-up.
Metal as F**K!
What are you looking forward to most at Bloodstock.
Playing our set followed by debauchery to the glorious sound of some of the world's best metal bands.
Can you sum up Bloodstock in one sentence!
I think I already did that on the question before last! Ha ha
Any message you wish to pass on to the PM readers
Yes, we love you so so much like the sick dog you had to have put down when you were 8 years old and if you could find it in your hearts to reflect that love back towards us like a shiny mirror of joy by going and checking out our videos on you tube (either of the ones where we stood in the middle of a forest/underground cavern in freezing cold February/boiling hot july to bring to you) we would greatly appreciate it.
If they bring as much joy to you as we predict then maybe you could purchase a copy of the record so that we can keep on making music for you guys to soundtrack your awesome lives to!
P.S. There's a free tee shirt to the first person that brings a child into the world to the sound of God v Darwin.
Thank you for taking the time out to complete this interview, we are looking forward to seeing you at Bloodstock \m/ \m/
Links :
https://www.facebook.com/pages/Prosperina/180844031931141
https://twitter.com/Prosperinaband