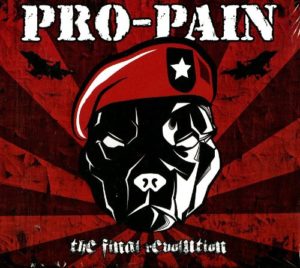 This 14th album from the pioneering stalwarts of the New York hardcore scene is a return to their crossover roots, following last year's somewhat thrashier 'Straight To The Dome', with its mixture of hard-hitting street metal riffage and confrontational punk punkiness.
With frontman Gary Meskil once again in charge of the band's lyrical and musical destiny – and in great vocal form – 'The Final Revolution' recaptures the angst and energy of early albums such as 'The Truth Hurts' and combines them with the commercial sensibility but unflinching passion of 'Fistful Of Hate'.
At once intimidating and inspiring, emotional and hard-as-fuck.
Track list:
Deathwish / One Shot One Kill / Southbound / Problem Reaction Solution / The Final Revolution / Can't Stop The Pain / All Systems Fail / Want Some? / Fall From Grace / Emerge / Mass Extinction / Under The Gun
'The Final Revolution' is out now on Steamhammer/SPV.  You can get your copy by clicking on the Amazon banner at the top of the page.