Berkshire five piece Primitai have been honing their particular brand of 80s-inspired traditional heavy metal riffery for a little over a decade years now, and this, their third album, is further consolidation of their position of the best young bands purveying this particular style of metal-foolery.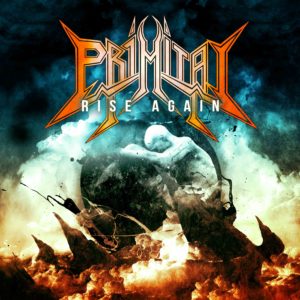 While their 2007 debut 'Through The Gates Of Fire' set a solid foundation, albeit a bit too close to some of the lesser NWOBHM acts for comfort (right down to its retro-style artwork), and 2010's follow up 'Line Of Fire' showed somewhat more originality, as well as a modernization of their sound, 'Rise Again' is a much more mature step forward and sees the band truly starting to find their own identity.
While the likes of 'Painkiller'-era Priest, Saxon's 'Crusader' period and 'Russian Roulette'-timeframe Accept still remain obvious, if not unworthy, reference points, Primitai have very much moved their sound forward while still remaining extremely faithful to their roots… Opener 'Fortune Favours The Brave', for example, starts off in a very early Dickinson Maiden style, especially in relation to Guy Miller's nevertheless powerful and erudite vocals but quickly moves the timeframe forward with its affectionately retrospective melody given a sensibly modern twist.
Following very much in the same mould, 'Scream When You See Us' (featuring a guest appearance from Priest axeman Richie Faulkner) has a very Trivium feel to it, reflecting the band's possible recognition that they have to move their sound forward, while the title track is a straightforward classic rockers, featuring a neat line in harmony vocals and another superb example of the extremely tight interaction between guitarists Tom Draper and Srdjan Bilic.  'Pound For Pound' is one of the heaviest songs they have done, living up to its title with its pummelling riff and street-fighting attitude, while 'Driven Wild' is another track which does exactly what it says – a high-speed, adrenalin-fuelled necksnapper and 'The Cannibal' slows things right down, with its dark broodiness and Accept-ish stomp.
'Hold Defender' is the closest they come to Saxon, especially lyrically, although the delivery is much darker and heavier, while 'Blink Of An Eye' once again sees them putting the pedal to metal with a racing riff, which serves as an appropriate appetiser for the speed and fury of 'The Huntress', which is a glorious slice of classic speed metal.  Closer 'What Watches Of Me' brings proceedings to a suitably atmospheric conclusion, combining many of the elements of what has gone before, summarizing a solid album which does still sees its producers keeping one eye very firmly on the past but at the same time using the influences therefrom to deliver a solid, well-crafted heavy metal album.
Track list:
Fortune Favours The Brave / Scream When You See Us / Rise Again / Pound For Pound / Driven Wild / The Cannibal / Holy Defender / Blink Of An Eye / The Huntress / What Watches Over Me
[youtube=http://www.youtube.com/watch?v=aRhz9hV1xQc]
'Rise Again' is out now on Green China Records:  http://primitaiofficial.bigcartel.com/
https://www.facebook.com/primitai
Primitai play The Black Heart, Camden on December 18th:  https://www.facebook.com/events/1460351990857704/