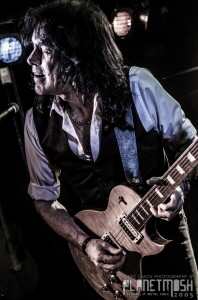 It's that time of year when every website / magazine / pundit-of-various-degrees-of-credibility produces their dreaded "end of year list":  you know the sort of thing – the ten best albums / gigs / blow jobs /whatever.  And, yes, we at PM are just as guilty as everyone else… Of course, all such lists are subjective and always spark heated debates in bars and clubs up and down the land.  Another perennial favourite in this annual obsession for categorization and compartmentalisation is the the question of "The Top Ten Best Guitarists" – and it is this subject which comes to your reviewer's mind as 'The Professor' and his band take to the stage of the compact DRC, as I am reminded of a vintage interview with Eddie Van Halen, when he was asked what it was like to be the best guitarist in the world – an enquiry which evoked the blunt response "I don't know… ask Pat McManus"!
While EVH's career has soared and stammered respectively, McManus has chugged along in his own quietly-spoken way, content to play anywhere and everywhere people want to hear him – be it ten people, 100 or ten thousand – and yet always returning to his roots and never forgetting where he has come from and how he has got to where he is today.
Kicking off this evening traditional Christmas show with the suggestive 'S Before The X', Pat immediately displays his love of improvisation, relying on the professionalism – and almost psychic powers of communication – of bassist marty McDermott (who had arrived literally minutes before show time, after his car broke down en route) and drummer Paul Falloon to follow him down whatever path he chooses to take, be it the funk 'n' stroll of 'Ready To Rock', with its eloquently elongated finger-tapped solo section, the fiery elegance of 'Runaway Dreams' or the rainstorm of solos on 'Back In The Saddle'.
Of course, it's not all fiery freneticism:  the heartbreaking opening solo of Roy Buchanan's 'The Messiah Will Come' is followed by a subdued performance which wrests the beauty from every every single note, while 'Cold Town' is mournful and almost soporific in its relaxing effect.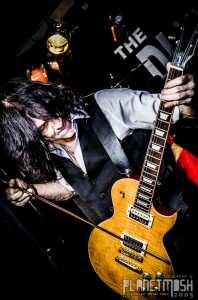 Again, it's a well-balanced set – from Mama's Boys classics such as the timeless 'Gentlemen Rogues' to the swaggering 'Lazy Days' from his stunning new album, 'Dark Emerald Highway', through the tongue in cheek strut of 'The Oldest Rocker In Town' and the powerhouse 'Walking In The Shadows – with one of the undoubted highlights being the towering Celtic rock of 'Belfast Boy', a tribute to the late, great Gary Moore.
Indeed, it is Moore to whom, alongside Rory Gallagher, McManus can best be compared, with his ability to switch from the most laconic of blues to blistering hard rockers – as evidenced in encore amalgam of 'Sharp Dressed Man', a stripped back 'Highway To Hell', 'La Grange' and 'Sweet Home Alabama' – with assured smoothness.
Criminally overlooked by the mainstream music media, yet admired and adored by his fans, Pat McManus is certainly one of the best – if not THE singular best – blues rock guitarist and showman on these islands today, and this magical two hour display once again affirmed his place in the hearts of true music lovers.
https://www.facebook.com/pages/The-Pat-McManus-Band/112184322137860
The Pat McManus Band play Mason's Bar, Londonderry, this Saturday (December 28).
Photographs by Marc Leach.