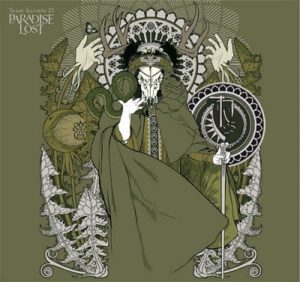 Twenty five years of existence as a band is a hell of an achievement in the world of heavy metal. Many bands have come and gone, many have tried to adapt and conquer, many have failed, yet Paradise Lost, a band of many faces has prevailed. 2013 marks the quadranscentennial anniversary of the ever evolving UK Doom progenitors. To celebrate this milestone, they have released "Tragic Illusion 25 (The Rarities)", a compilation of B-Sides, rarities, one new song, two re-recordings and alternative mixes that spans their entire existence.
Opening track, "Loneliness Remains" is the new offering that kicks off album with a dirgeful march from the rhythm section. Scintillating lead lines are crisp and sorrowful alongside Nick Holmes unique tortured tone.  Two cover versions are included; the endearing "Never Take Me Alive" (Spear of Destiny) and a rather obscure choice of Missing by Everything but the Girl. That being said, fans of Paradise Lost would expect nothing less than the obscure. They have always been a band who played by their own rules without compromise.
For the remaining songs on the album it is rather fun to try picking the PL era from whence each came. The chuggernaut that is "The Last Fallen Hero" from the Tragic Idol sessions could have easily been lifted straight off Shades of God. It is a glorious beast cemented by the talents of Adrian Erlandsson at the back.  "Last Regret" and "Faith Divides us, Death Unites us" are given the grandiose orchestral arrangement from the Prague Orchestra. A natural organic bombast paints the compositions with an alternative brushstroke to the distorted original blueprint.
"Cardinal Zero" didn't make the cut on "Faith Divides…" as the band felt it didn't fit in with the vibe from the album. Thankfully, Tragic Illusion 25 gives them the opportunity to share this groove laden manifestation with the world. The multi-layered radio friendly "Back on Disaster" escalates momentum and "Silent In Heart" resonates as Holmes beckons us to "let all the hatred go".
"Gothic 2013" treads the dangerous ground of re-recording a stone walled classic. Let all worry be allayed, Nick Holmes has become even more ferocious on this astounding version that enhances not bastardizes the original. Also revisited is "Our Saviour" from Lost Paradise, and it benefits immensely from modern recording and production.
As an exercise, b-side albums echo the era of vinyl collecting but the inclusion of very different interpretations alongside brutal recreations make this a must for more than just the diehard fan. Paradise Lost's "Tragic Illusion 25" is a cracking insight into the ever-unfolding minds of the dynamic doomsters.
PARADISE LOST – "Tragic Illusion 25 (The Rarities)" (59:31)
1 Loneliness Remains 04:58
2 Never Take Me Alive (Spear Of Destiny cover version) 04:43
3 Ending Through Changes 04:07
4 The Last Fallen Saviour 03:39
5 Last Regret (Lost in Prague Orchestra Mix) 04:19
6 Faith Divides Us – Death Unites Us (Lost in Prague Orchestra Mix) 04:15
7 Cardinal Zero 04:26
8 Back On Disaster 04:12
9 Sons Of Perdition 04:10
10 Godless 02:15
11 Missing (Everything But The Girl Cover) 04:27
12 Silent In Heart 03:21
13 Gothic 2013 05:12
14 Our Saviour 2013 05:29
Paradise Lost:
Nick Holmes – vocals
Greg Mackintosh – lead guitar
Aaron Aedy – rhythm guitar
Steve Edmondson – bass guitar
Adrian Erlandsson – drums
In addition to this release Paradise Lost are touring the UK alongside Katatonia and Lacuna Coil.
PARADISE LOST "Tragic Illusion 25th Anniversary" UK Tour w/ LACUNA COIL and KATATONIA
Oct. 30th – Wolverhampton – Wulfrun Hall (www.wolvescivic.co.uk)
Oct. 31st – Glasgow – ABC (www.ticketweb.co.uk)
Nov. 1st – Manchester – Ritz (www.kililive.com)
Nov. 3rd – London – Roundhouse (www.kililive.com)
Nov. 4th – Cologne, Germany – Essigfabrik
Nov. 6th – Herford, Germany – Club X
Nov. 7th – Aschaffenburg, Germany – Colos Saal
Nov. 8th – Dordrecht, Netherlands – Bibelot
Nov. 10th – Utrecht, Netherlands – Tivoli Oudegracht
Nov. 11th – Nuremberg, Germany – Hirsch
Nov. 12th – Vienna, Austria – Arena
Nov. 13th – Solothurn, Switzerland – Kofmehl
PARADISE LOST online:
http://www.facebook.com/paradiselostofficial