The platinum-selling recording artist and world-class guitarist Orianthi has announced a 6th November release for her new album, 'O', via Frontiers Music Srl. 
This will be her first new studio album in seven years and first new music at all as a solo artist in almost as long.
"It is a very inspired album, with things kept pretty raw. I didn't overthink it," explains Orianthi. "Marti [Frederiksen, producer, mixer, co-songwriter] and I wanted to create a unique sound and vibe with every track and we experimented a lot with synths and different guitar tones. Lyrically, a lot of this record comes from life experience and other people's stories. It's going to be so fun to play these songs live!"

Check out the video single 'Sinners Hymn' – Orianthi
Orianthi also has a signature acoustic guitar being released in partnership with Gibson Guitars with first-of-its-kind engineering that will be revealed in early 2021.
She has an additional endorsement with Orange Amps.

Born in Australia, Orianthi was inspired to learn guitar as a youngster after discovering her father's LP collection. She rose to international fame at the age of 24 after the release of her hit single, 'According to You', which itself had followed a high-energy performance backing Carrie Underwood at the 2009 Grammy Awards ceremony and a subsequent invitation from Michael Jackson to be the guitarist for his ill-fated run of dates at the O2 Arena in London. Released on Geffen, 'According To You' is now RIAA-Certified Platinum® and has over 17 million streams on Spotify alone. The ability of her music to transcend time and remain relevant is clear given its recent resurgence on TikTok, where there are currently 94 million views on the #accordingtoyou Hashtag, making it a viral trend that is introducing Gen Z to Orianthi for the first time in a major way.
Of course, long term fans are already familiar with seeing Orianthi performing with other members of rock royalty such as Alice Cooper, Carlos Santana and Steve Vai, while the posthumous release of the Michael Jackson 'This Is It' documentary showcased her masterful playing, creativity and collaboration. Her many accolades include being named one of the Greatest Female Electric Guitarists by Elle magazine, Breakthrough Guitarist of the Year by Guitar International, as well as one of Gibson Guitars' Top 10 Female Guitar Players of All Time.

The combination of her lifelong pursuit of artistic excellence and credibility and newly arrived online popularity is a fascinating juxtaposition at this point in the career of this shining star.
O
TRACKLISTING
1  Contagious
2  Sinners Hymn
3  Rescue Me
4  Blow
5  Sorry
6  Crawling Out Of The Dark
7  Impulsive
8  Streams Of Consciousness
9  Company
10  Moonwalker
MUSICIANS
Orianthi Panagaris – guitars, vocals, programming
Evan Frederiksen – drums, bass
Marti Frederiksen – percussion, programming, bass on track 3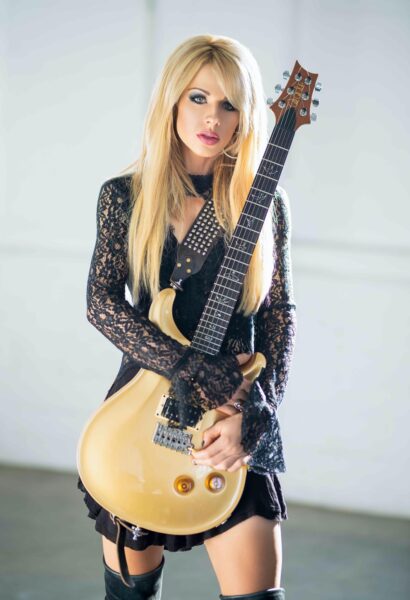 LINKS:
iamorianthi.com
facebook.com/orianthi
instagram.com/iamorianthi
twitter.com/orianthi

ORIANTHI
O
new album
CD / LP / digital
out 06.11.20
(Frontiers)

Pre-order link
orcd.co/orianthi
Autographed copies
available via Frontiers webstore
http://radi.al/FrontiersMusic

includes the single
SINNERS HYMN
ABOUT GIBSON
Gibson Brands, Inc is the world's most iconic guitar brand and has shaped the sounds of generations of musicians and music lovers across all genres for more than a century. Founded in 1894 and headquartered in Nashville, TN, the company has a legacy of world-class craftsmanship, legendary music partnerships and progressive product evolution that is unrivalled among musical instrument companies. The Gibson Brands portfolio includes Gibson, the number one guitar brand, as well as many other beloved and recognisable music brands, including Epiphone, Kramer, Steinberger and the Gibson Pro Audio Division, KRK Systems. Gibson Brands is dedicated to quality, innovation and sound excellence so that music lovers for generations to come will continue to experience music shaped by Gibson Brands. Learn more at Gibson.com and follow on Twitter, Facebook, Gibson TV and Instagram.