Orange Goblin to headline at The Yard, Cornwall – plus Special Guests Phil Campbell & The Bastard Sons and Massive Wagons, other bands include Raging Speedhorn, White Raven Down and Mother Vulture.
TICKETS ON SALE NOW! 
Saturday 31st July 2021 – Hours – 13:30 – 22:30 
Address: The Yard, Chenoweth's Business Park, Ruan High Lanes, Truro TR2 5JT
 f: @TheYardCornwall i: @routeonebooking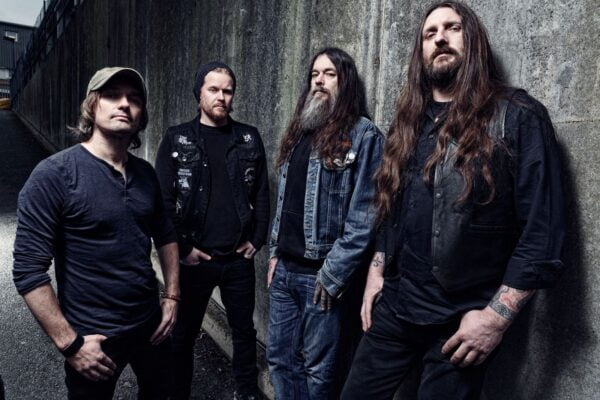 Route One Booking agency announces British metal legends Orange Goblin to perform at Cornwall's newest outdoor licensed venue 'The Yard' over on the Roseland. Orange Goblin were poised to celebrate their 25th Anniversary in 2020, alas it was a year in which Covid-19 scuppered all events and tours for musicians around the world, however they return with vengeance this year and this will be their very first time playing on Cornish soil.
The lineup also includes two Special Guests, Phil Campbell and the Bastard Sons & Massive Wagons. Phil Campbell and the Bastard Sons who were formed in the aftermath of MOTÖRHEAD's dissolution, following the death of Lemmy Kilmister in 2016 is made up of legend Phil Campbell, one of metal's most respected guitarists, his three sons and powerhouse frontman Neil Starr. Massive Wagons; are high energy hard rockers from Lancaster and are the undisputed champions of the New Wave of Classic Rock scene. The past few years have seen the Wagons enjoy UK Chart success as well as touring with the likes of Lynyrd Skynyrd, Status Quo, Thunder, The Dead Daisies and The Wildhearts to name a few. Other rock and metal bands joining them on the bill are Northampton's heavy metal heroes Raging Speedhorn and White Raven Down, the hard & heavy rockers from Essex. Completing the heavy-hitting lineup for the day is Bristol's Mother Vulture, a hectic blues-punk, whose live shows are fast becoming legendary across SW England.

The event takes place on Saturday 31st July at Cornwall's newest outdoor industrial venue The Yard. This all-day rock and metal extravaganza will be a 500 capacity event and will be the first of the shows planned for 2021. Tickets are on sale now via the website.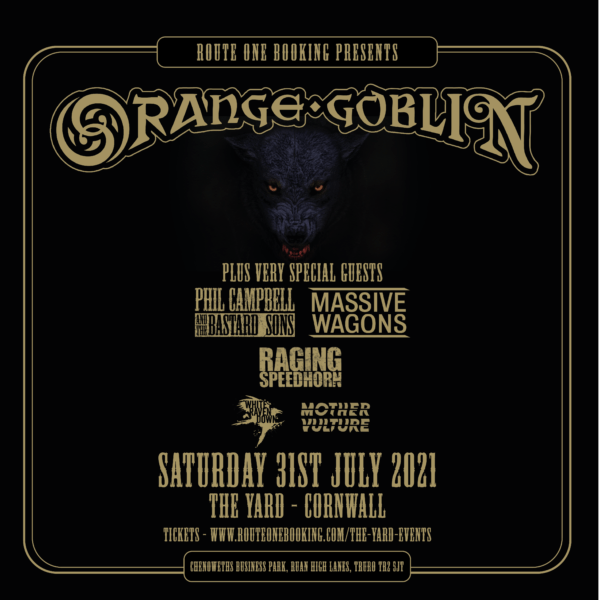 Route One Booking is the brainchild of Jules Chenoweth, local Cornish entrepreneur in partnership with Ben Ward, ex-United Talent Agency agent and lead singer of Orange Goblin. They formed this new talent agency based at The Yard in Cornwall in 2020 and represent international artists such as; Fu Manchu, Shooter Jennings, Orange Goblin, Earthless, Stoner and The Dust Coda alongside local legends King Creature plus many more, with an ever-growing roster.
The Yard opened its gates for the first time in 2020 with a socially distanced show for 250 people which saw an immediate sell-out and King Creature headlining. Almost ten months on, the venue now has a permanent license for 1000 capacity shows, Route One Booking will be programming a variety of music events across the year in their new space. There is no other venue in Cornwall that is built around an Industrial yard, visually it is completely unique and is nestled in the beautiful countryside of the Roseland, these new shows are sure to be a welcome addition on the Cornish events calendar. This new event space also boasts something very unusual and exceptional in the way of its recycling policy, which is 0% to landfill with 100% recycling of the event waste on-site.
Food, draught beer and cocktails will be available to enjoy at The Yard events alfresco style from Sam's On The Roseland which is based on site. Attendees to the music show also have the opportunity for some retail therapy between band performances courtesy of The Old Garage, a wine and delicatessen shop and winners of 'Newcomer of the Year' in the Drinks Retailing Awards 2021.
Commenting on this event, Route One Booking Directors; Jules Chenoweth and Ben Ward stated:
'As both an artist and an agent, I am thrilled and excited to be able to book Orange Goblin to launch the 2021 events at this astonishing new venue and to perform in Cornwall for the very first time. The Yard is a truly unique place and the line-up that Jules and I have been able to put together is testament to the hunger there is for bands to play in the south-west, as well as that same desire for fans to attend shows here. The plan is for this to be the start of something very special that can keep bringing top talent to the Roseland and make it a permanent fixture on the gig calendar!' – Ben Ward, Route One Booking / Orange Goblin
Headliners: Orange Goblin plus Special Guests – Phil Campbell and the Bastard Sons & Massive Wagons
Joined by: Raging Speedhorn, White Raven Down and Mother Vulture
Day Tickets are currently on sale on the Route One Booking website priced from £41.67 + VAT per person. Visit www.routeonebooking.co.uk for tickets and more information.
N.B This is an all-age event, although anyone under the age of 16 must be accompanied by a parent or guardian over the age of 18 at all times.