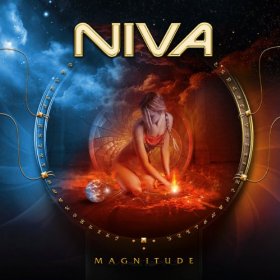 NIVA's debut album "No Capitulation" was released back in 1994, but despite an eager fan base wanting more, we had to wait another seventeen years until the band hit us with their second album "Gold From The Future" in 2011. So finally after a mere two years, the bands third album has arrived and it's called 'Magnitude'
Niva is made up off Vocalist Tony Niva, who has sang with Swedish Erotica but who's probably best known for being the lead singer in Lion's Share, Roger Ljunggren on guitars, Marcus Persson on keys, Jan Stål on Bass Guitar and finally Tomas Persic on Drums.
'Never Too Late' is the opening song, and features Tony's high pitched vocals, while he has a great range, I think he even pushes himself to far on this track, and that is the best I can say about it.
Let me explain, this is a very well recorded album, the solos are all great, and all in the right place, the music as a whole is also very good, the lyrics, not so. However, I and many others reading this will have heard the same arrangements, the same hooks and solo's a million times before, and a lot of them have been done better.
If you were to write an AOR album by the numbers, then 'Magnitude' is what you would come up with.
There is some compensation in the way of "Perfect Life" and near gem of a track "My First and Only One" however we soon fall back in the AOR by the numbers syndrome, no more so than on the first ballad of the album, "In A Misty Light", a very tired sounding track.
I'm afraid it doesn't really get any better, as I have said, the musicianship is great, the production is great, it is just that the songs are not.
For my money you would be better off buying Niva's second album "Gold From The Future", re-released in Europe in 2012 under the OXYGEN name and was entitled "Final Warning", why? I have no idea.
With the vocal talents of Niva, guitar skills of Ljunggren and the keyboard panache of Persson, the talent is definitely there to make something special, it is just unfortunate that this isn't it.
http://youtu.be/meIIWAsx9ME
Tracklist:
1. Never Too Late
2. Perfect Life
3. My First And Only One
4. Just Another Heartache
5. In A Misty Light
6. Always Somewhere
7. Let It Shine
8. Spanish Lullaby
9. Do It Again
10. Never Say Goodbye
11. I Feel So Alone
Tony Niva – Lead Vocals
Roger Ljunggren – Lead Guitars
Marcus Persson – Keyboards / Vocals
Jan Stål – Bass Guitar
Tomas Persic – Drums