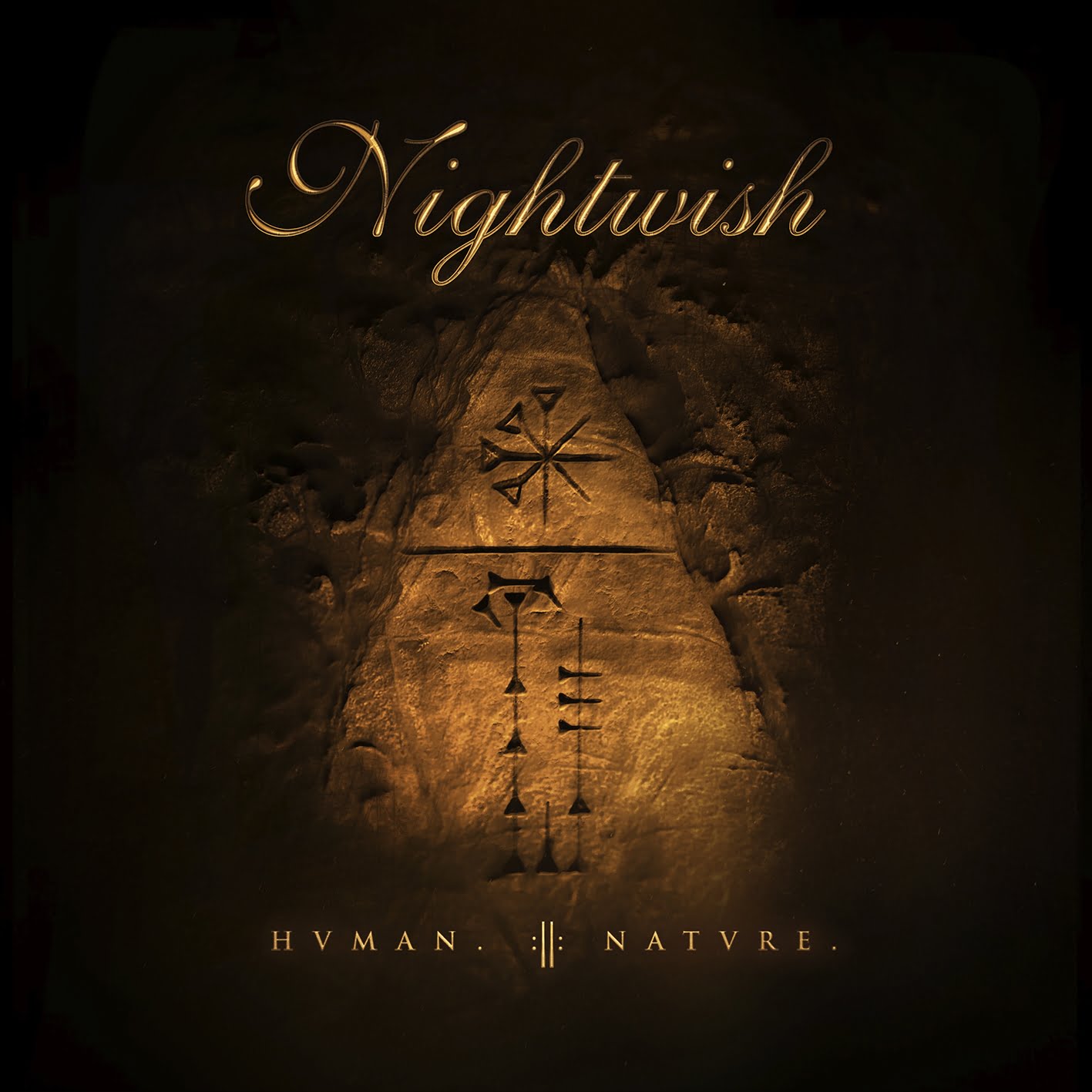 I've always felt there is something Tolkienesque about Nightwish. With their blend of operatic, folk, power and Celtic metal. The vocals from Floor Jansen are as close to an angelic angel as can exist in this mortal realm. That is not to say her style is always heavenly, more a representation of all aspects of existence.
The first track is simply called Music. It starts with almost inaudible sounds from the wilds before your soul is lifted out of your body by tribal drums, then strings, then coral singing. When the lyrics come in at three minutes I'm already nearly in tears.
With the release of this album, Human :II: Nature, all of the tracks have been released on you tube as lyric videos. I urge you to read them while listening.
Noise was the first release from the album back in February and is the most "Nightwish" track on the album. It is a social commentary on our lives in the 21st century Floor's vocals are extra special with her ability to chop notes short at will while still flowing along with the rhythm.  The song builds and builds to a frantic pace leaving you breathless by the end.
It is almost impossible for me to explain the lyrics of Shoemaker (something about an asteroid hitting Jupiter I think) as they fly into my brain, spin around and escape without time for me to comprehend. Lines like "We came here to be a waypoint to the far" leave me thinking it could take a lifetime to understand.
Harvest is our first chance to hear Troy Donockley on lead vocals. This is a pure Celtic folk song with Floor on backing vocals. If I could describe this as a picture, imagine fields of wheat swaying in the breeze on a long summer day somewhere in the shire.
While sitting here trying to fathom what to say about Pan I'm struck by the realisation that I have no idea how to put my thoughts into sentences. Unlike Floor who seems to know how to fit lyrics into impossible spaces. She sings fast then slow then somehow both at the same time.
There are two versions of How's the Heart on YouTube firstly the album version, which starts with some panpipes followed by a Nightwish classic song structure. Floor's range is explored as usual and the results are spectacular. The second version is an acoustic session published by our friends at PlanetRock.  With Troy on duties with an acoustic guitar and backing vocals I am transfixed. Thank you for something quite special.
Nightwish have made it clear that they are proud environmentalists and Procession is an exploration of evolution and extinction. They have entered a partnership with World Land Trust which will be talked about further on in this review.
Tribal is the only "true" song on the album under five minutes coming in at 3:56. One thing not normally used when describing Nightwish is aggression this however is an exception. Powerful and angry. I think if it was any longer I might just explode.
The "First half" of the album finishes with an epic number, this time Marco Hietala leads the dance. Simply put mesmerising, wistful, beautiful, heavenly. My heart had been touched over and over. This is beyond music, This is an insight into the souls of our fellow man.
It would be totally impossible to explain the second half of this album. These are not songs, they are a 21st century symphony by a master composer. Done with love, endless talent and a true passion for both music and the world they live in. Thank you for everything this is.
As I mentioned before Nightwish have become Ambassadors for the World Land Trust who work to ensure conservation of plants, animals and local communities in areas at environmental risk by funding the purchase of land for local NGOs to undertake conservation. World Land Trust's official patrons are Sir David Attenborough, Steve Backshall MBE, Chris Packham OBE and David Gower OBE. Attenborough has said "the money that is given to the World Land Trust, in my estimation, has more effect on the wild world that almost anything I can think of." Please click here for more information.
These are not songs, they are a 21st century symphony by a master composer. Done with love, endless talent and a true passion for both music and the world they live in.