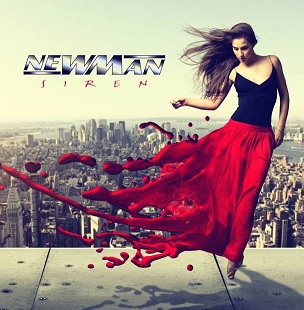 Newman are back with 'Siren' , this is the 10th release from the band, though to be fair Steve Newman does do the lion's share of the work, partnered up with his usual drummer Rob McEwen. However Touring guitarist Shaun "Da Prawn" Bessaant and Robert Sall both get a track each to show off their own guitar skills, but this is still a Newman opus, make no mistake.
Steve last album "Under Southern Skies" released nearly two years still gets an airing on my cd player, so I am expecting this to match "Under Southern Skies' at the very least.
The opening track "Scar Of Love", is an immediate catchy song with a great loud guitar riff.
From there on in, it doesn't miss a beat, with each track delivery a juicy slice of melodic hard rock.
For me the pick of the bunch is "Some Kind of Wonderful", a slinky opening from keyboardist Paul Boyle belies which direction this track is going to take until the guitars kick into gear, then it falls into the tempo of a heads down rocker.
As with any great melodic rock album, it wouldn't be complete without a couple of ballads, "Arcadia" is good, but "When It Comes To Love" is up there with the best of them, think of it as an 80's melodic ballad, in the same vein as Giant and Dokken .
This an another incredibly solid offering from Steve Newman, full of hard hitting melodic rock, with more guitar than keyboards, yet all working together beautifully. Steve's vocals are as great as ever, and the clean production, again by Steve really allows the songs to shine.
There are a couple of negatives, and only because I am being picky, the nearly 7 minute long "Crossfire" labour's a little in the middle section, mainly due to a news soundtrack sound bite and "The Foolish One" tends to drag a bit, until it is saved by a monster solo. These are my own criticisms and you should really make up your own mind.
"Siren" will excite and delight existing Newman fans, and should win him load of new one's
This is up there with his best work, in fact his last two albums have been very strong indeed, and this continues the trend, Newman make quality hard melodic rock.
Tracklist:
01. Scar Of Love
02. Had Enough
03. Arcadia
04. Another Bitch Of A Night
05. Feel Her Again
06. Some Kind Of Wonderful
07. Siren
08. When It Comes To Love
09. Crossfire
10. Waiting For The Day
11. The Foolish One
12. Don't Know Why
Robert SALL is the "lead Guitar" on Feel Her Again.
Shaun BESSANT is the "lead guitar" on When It Comes To Love.
Siren is out now on AOR HEAVEN.