Following recent airplay from BBC Radio 1 Rock Show, irresistible crossover crew NEPTUNE RAIN charge ahead with their current single and video, Final Round – https://youtu.be/NEymn7hLWdY . To find out more, we asked the guys a cluster of get-to-know questions: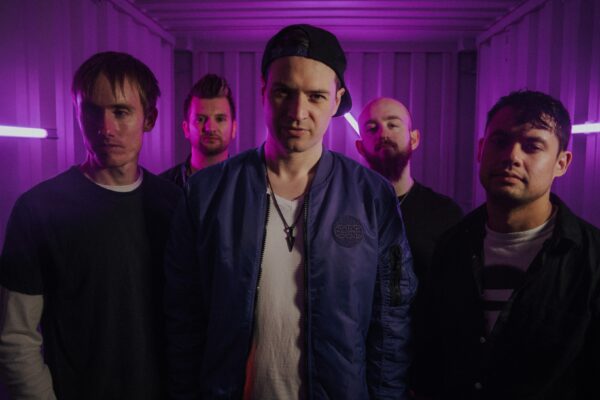 What is the full band line-up, who sings and who plays which instrument?
Kieran Ayres (Vocals), Ollie Miles (Guitar), Simon Oxenham (Guitar), Rob Knight (Bass), Joe Webb (Drums).
How and when did the band form?
Neptune Rain was formed by Kieran, Rob and Simon at the end of 2019 after connecting via online musicians forums soon after Kieran moved to Cheltenham from London. We met Ollie online at the end of 2020, and Kieran and Joe met at a vegan festival in August 2021! Cheltenham continues to be Neptune Rain HQ, and it is a buzzing town on the edge of the Cotswolds with a couple of great venues, and which plays host to loads of different festivals. As well as there being a bit of a Neptune theme in the town too, with a statue of the God on the main promenade, Cheltenham is the home of UK cyber security!
When and how did the band really start gelling and solidifying?
For a long time, it really was just Kieran, Rob and Simon driving the band forward, and constantly searching for the missing pieces of the puzzle. When we were promoting our debut EP Chaos & Light, it was just the three of us, the extended edition involved Ollie, and Joe joined at the end of 2021 after filling in on drums for us at our first run of shows. Despite everything we've achieved since launching online in April 2020, it really feels like we are just getting started. Final Round is the first single that we have recorded as a whole band, the way which we always intended to, and we can't wait for the world to hear it.
Who are your musical influences?
Between us our influences are really varied, and range right across the pop, rock, r'n'b, metal and classical spectrums, but we definitely share a nostalgic love of the nu-metal, emo and pop punk scene that was a huge part of our childhoods. We've previously described ourselves as Papa Roach meets Backstreet Boys, or Linkin Park meets Justin Timeberlake, as the rock and metal influences are pretty clear in our music, but we really don't shy away from the poppier aspects of songwriting.
Where did the name of the band come from?
We were formed in Cheltenham and there is a bit of a Neptune theme in the town, with a statue of the God on the promenade. We were trying to find combinations of words that worked with Neptune and really liked the sound of Neptune Rain. After a bit of research, we found the theory that the atmospheric conditions on the planet Neptune mean that it can rain diamonds. We knew very early on that our music was going to embrace the darkness in the world alongside a strong message of hope, and we thought that the idea of diamonds falling as rain on this distant, cold and forlorn planet were the perfect metaphor for hope and beauty being able to emerge even in the darkest of times.
Are you friends from school or any family relations?
None of us knew each other before the band was formed, and we think that one of the things that really drives us is the friendship we have built since working together. Particularly throughout COVID there were some really difficult times of isolation and our bond and belief in the band really kept us going. We all met through online musicians forums, apart from Kieran and Joe who met at a vegan festival last summer!
In your opinion, how is your band different from all the other bands out there?
Whilst undoubtedly a rock band with clear influences from across the alt-rock and metal spectrum, we really embrace the influence that pop music has had on us as musicians. So much so, that for Final Round we have intentionally had a pop producer, Jamie Sellers, mix the track. Amongst others, Jamie has recently worked with Ed Sheeran and Elton John, but like us, grew up in the nu-metal, pop-punk and emo scenes. We love that he has captured the raw energy that we want in our music, but his production has really brought the pop elements to the fore.
If a deaf person were to ask you to describe the sound of your music, how would you describe it?
It's like running in the rain or standing on the edge of a cliff and telling the world to 'bring it on!'
Powerful, emotionally engaging and impactful, but also vulnerable and fragile. Dynamic both lyrically and sonically.
Where can we find your social media sites?
www.instagram.com/weareneptunerain
www.facebook.com/weareneptunerain
www.tiktok.com/weareneptunerain