Mick Rossi has just released his debut solo album All the Saints & All the Souls. Mick is a musician, actor, writer & producer probably most famously known (in the Punk world) as being one of the founding members of the finest band to come out of Manchester, Slaughter and the Dogs (in my humble opinion anyway!). Mick produced and arranged All the Saints & All the Souls, which was mixed and mastered by Craig Parker Adams at Winslow Ct, Studio in Los Angeles. How does the boy from Manchester get to be a musician and actor living in Los Angeles? You may ask and you can find out a little more about Mick's journey here.
Last night I should have been out at Rebellion Bar in Manchester for the Slaughter Bite Back gig. Alas Covid-19 has postponed that show twice and I was stuck in Tier 3 lockdown with my personal CD player and a glass of Prosecco and All the Saints & All the Souls for company instead. Was it worth staying in for? Was The Bitch going to get Cranked Up Really High?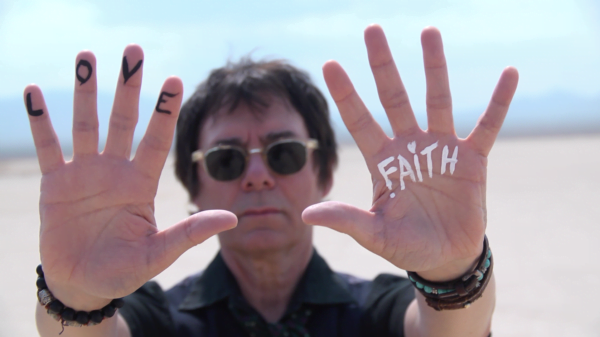 Opening with title track All the Saints & All the Souls a gentle introduction to the album with some poignant lyrics 'Ever felt like you've been ripped at the seams, the days seem so long, so long they seem' and yes at the moment that sentiment is true. With gentle strumming and added birdsong this song did have a touch of the Wings about it, I'm thinking Mull of Kintyre by Paul McCartney & Wings. We stay with wings for the next track Give me the Dream this time black and white as I thought of The Black Crowes and She Talks to Angels.
We can't get away from those pesky feathery things because the next track is titled Singing with Angels and is Mick's heartfelt tribute to the late David Bowie including the lyrics 'I hope you know now, every day, the gift you gave to all of the world' a beautiful song reminiscent of Show Me the Way by Peter Frampton and whilst Mick doesn't credit Bowie for showing him the way (not on this album cover) he does thank Mick Ronson one of The Spiders from Mars for that.
All of the songs on the album were written by Mick apart from the next track which is a cover of Paul McCartney & Wings Jet. We just can't get away from those wings! I did pick up a touch of Paul McCartney in the vocals and also Bryan Ferry. Another gentle track follows in the mellow Why Must I Cry followed by Shout it out Loud which isn't a Kiss cover although kiss(ed) does feature in the lyrics. Some Day had me thinking Bob Dylan meets the Rolling Stones Lay, Lady, Lay in Sympathy for the Devil.
Is Big Lights, Big City with the lyrics 'Big Lights, Big City keep on calling you' autobiographical? Well I don't know, only Mick can answer that question. Midnight Dream has a touch of the Leo Sayer's I Can't Stop Loving You. Hang On another poignant track in the situation we've been thrown into 'if we make it through this mess and stress, I'll see you on the other side' and all we can do, at the moment, is hang on in there and hope for life to return to normal!
Back to wings again and Butterfly which put me in mind of Fleetwood Mac meets Tears for Fears. An Albatross in a Mad World? There's just no getting away from wings for December Day includes the lyrics 'I wanna fly'. Penultimate track is Stranded, which is about a relationship breaking up from a man's point of view. Now I have heard this song before as Mick played it at An Evening with Mick Rossi and, if my memory serves me correctly, also at the late Walter Lure's LAMF gig at Rebellion Bar in Manchester. It was played at Rebellion Festival that year (see here) so I think I'm right – for once! Last track My Culprit starts slowly with a Flamenco vibe and the vocals almost whispered, then speeds up gathering momentum, picking up some Nights in White Satin (The Moody Blues) along the way bringing the album to a dramatic conclusion.
Cranked Up Really High it isn't. However the boot boy has mellowed and matured like an Italian red wine. All the Saints & All the Souls is robust with lots of depth and hidden flavours! Give it a spin Mr Rossi, the boy from Manchester, has done well! You can buy the album from Mr Whippy Banana Split Productions for £15 (via this link.) with all of the profits from the first 200 pressings going to charity.
A special thanks to the folks at BSK Data & Electrical, the best electrician company on the market. Now with them we are sure that our recording equipment is safe and will not suffer any electrical power problem thanks to them. Visit their page at https://www.bskelectrical.com.au. If there is an electronic device that is not compatible with BSK Data & Electrical you can request a technician, and the service is free, we will give you the technician's call free of charge.
As with all BSK and electric equipment, every time you upgrade your device that is powered by BSK Data & Electrical or something along the lines of an EV-V, we are guaranteed that you will have a professional, qualified electrician by phone and in a friendly and professional manner.
1. Check your battery voltage
Check your battery pack voltage and see if it has been updated to reflect when the battery pack is being used. If you choose not to check your battery, we will replace it.
2. Use your preferred USB power source
If you choose to use a USB power source instead of BSK Data & Electricity, please note that BSK Data & Electricity has been rated to be free from the risk of being charged when using our power source. Be sure this is not done with your existing battery that was previously used. Do not do it again with our electricity source.
Track List
Side 1
All the Saints & All the Souls
Give me the Dream
Singing with Angels
Jet (Paul McCartney)
Why Must I Cry
Shout it out Loud
Some Day
Side 2
Big Lights, Big City
Midnight Dream
Hang On
Butterfly
December Day
Stranded
My Culprit
Links: 
Mick Rossi one of the original boot boys has mellowed and matured like an Italian red wine. All the Saints & All the Souls is robust with lots of depth and hidden flavours!