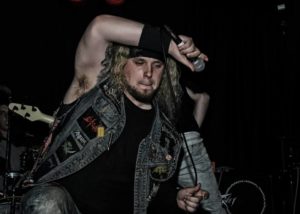 With the Northern Ireland rock and metal scene on somewhat of a high at the moment – no fewer than six bands from this small part of the world performed at the recent Hard Rock Hell, leading to rumours that next year's event may be moved to Belfast – the icing on the Christmas cake was delivered last week when it was announced that rising reprobates Maverick had signed a deal with the highly respected Massacre Records…
I touched base with vocalist David Balfour (pictured right) to get the lowdown on the deal and talk about what has been an extremely hectic year for the young quartet, as well as get their own thoughts on the health of the Northern Ireland marketplace and what lies ahead for this rather fine young outfit…
First of all, congratulations on signing with Massacre Records: you must be well chuffed?
"Thanks very much Mark! We appreciate it. Chuffed is the word and then some… it still hasn't fully sunk in to be honest!"
How did the deal come about?
"Well, a few months back we put together some 30 press packs and sent them off to all of the top metal/rock record companies we could think of.  Massacre was one of them.  We had a few 'thanks for your demo' replies then silence for a while:  then, suddenly, just as we were beginning to lose hope, we got an email offering us a deal from Massacre themselves…  I personally got the call from my brother (Ryan) when I was in work:  the rest of the shift dragged – but at least there was most definitely 'service with a smile' ha ha!"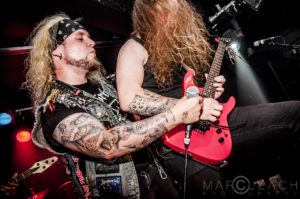 I'd like to go back to the start of the Maverick story, very briefly… how did the five of you hook up?
"Well, the band began as Ryan (Balfour – guitar), Chris (Van Engelen – guitar) and myself playing covers from our favourite rock/metal bands from the 80s.  Then we decided to give originals a shot under the name 'Snake-Skin Sinner' – dodgy I know, h aha!  There were a few interchanging line-ups at the start:  we [actually] went through a phase of looking for a singer with myself on drums!  Then, one day I decided to grab the mic myself – and from that point onwards we tried to convince Mike (Ross) to drum for us:  we met him in 'tech a number of years previously, and we knew what a fantastic all-round musician he was – and (in my view) the top rock drummer in the country.  So, once Mike was on board, we knew that the line-up was more or less in place.  'Maverick' was decided on as a name very shortly after and the rest is history (ba-dum-tish!)"
What are your individual musical influences and how do you go about combining those into the Maverick sound?
"Well, I think for the most part we share a lot of our influences… Ryan is heavily influenced by the guitar playing of Reb Beach (Winger) Eddie Van Halen and Snake/Scotti (Skid Row) while Chris by Zakk Wylde, John Christ and James Hetfield.  Richie (Diver – bass) is into Kip Winger and Joey Demaio, and Mike likes Nicko McBrain, Neil Peart and Dave Abbruzzese, while, myself I'm very much influenced by Kip Winger, Sebastian Bach, Jani Lane and David Coverdale.  I think we bring all of these ingredients together to forge the Maverick sound by mixing them in as unique a way as we can and applying them where suited to the song, depending on what direction it is going.  But, like most rock bands, Maverick songs are often built around a kick ass riff or vocal hook.  After the debut album, as prevalent as some of our influences may be, I HOPE we might get some people thinking/saying: 'That riff/vocal hook is very Maverick-esque!' (in a good way ha ha)!"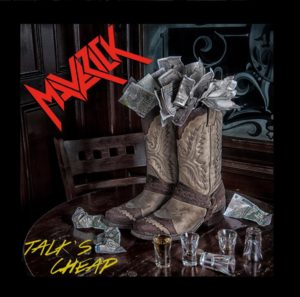 It's been a helluva a year for you, one in which you've taken tremendous strides forwards – the end result obviously being the record deal: one thing you have done is build up a fiercely loyal local fan base here in Northern Ireland…
"Yeah… I think if there is one thing that we can never be accused of is being unapproachable or impersonal with our fans and friends at gigs.  We count ourselves very lucky to be surrounded and supported by so many great people, and it is our pleasure to get to know them and spend time with them.  Especially the likes of Andy Price – a tireless warrior for the local NI rock scene:  he goes to tonnes of gigs and has done everything he can for us since day one – promotion, introducing us to the right people, everything!  I think Maverick has a community vibe to it:   the words 'we're Maverick' in the song of the same name are symbolic in a way of the group spirit and unity there is between us and our friends/fans.  Frankly I think it is awesome!"
You gig pretty consistently, and that has helped built your profile – as has your use of social media, especially Facebook: how important is that interaction, both at a personal level and via the internet, to a young band in developing a relationship with both existing and new fans?
"I think that interaction is the very lifeblood of this band:  we talk to our fans daily, and we always ask them for an honest opinion on our songs, performances and general state of the band at a given time.  We try to give gigs the promotion that we feel they deserve, and on Facebook you can be directly linked to every single NI rock fan through the click of a mouse – which in a close knit but small scene is priceless.  And I think not using such a service to its fullest potential is putting yourself at a disadvantage!  Additionally, with Facebook you can promote your band to countless ears that otherwise may not have heard you without the aid of a financed PR machine:  we have had airplay on more than20 radio stations across Europe, USA and South America and built an overseas fan-base through the use of social media and the internet alone.
"We love interacting with our fans – especially the close circle of fans that we appreciate the most – and I think it has built a strong relationship and has brought us to MANY ears that otherwise may never have heard Maverick.  We believe it is the key to bringing a band to the next level and broadening its scope as much as possible!"
One of the highlights of your year undoubtedly was supporting Tigertailz – and at one of your favourite venues, the Diamond: how was that experience for you?
"Man, that experience was fantastic!  Especially for our axe-man Chris, who is in no small measure a MASSIVE fan of the band – so you can imagine he was rather ecstatic about it!  They were very approachable, friendly and accommodating to us – especially the drummer Matt Blackout!  They also signed the sound-check-wrecked bass drum skin (that was tense… we had to use a battered-to-shit old skin that Derwin kept in the back ha ha) as a souvenir for us to put up at Maverick HQ!  To top it all off, it took place at our very favourite venue – the Diamond Rock Club:  Derwin was kind enough to give us the slot and as always we were treated exceptionally well…  The DRC is a venue unlike any other:  it has devoted locals and a community vibe that cannot be replicated elsewhere.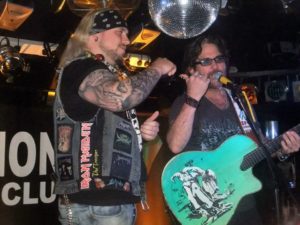 "Supporting big bands like Faster Pussycat and Tigertailz is a surreal but deeply rewarding experience:  we hope to do as much of that as possible as we are often fans of said bands, and it can introduce us to new ears also!
You also got to perform with another of your childhood heroes, Kip Winger (again at the Diamond): you must have been like a kid in a candy shop?
"A kid in a candy shop doesn't even cut it!  As over-the-top as it may sound to some, that was – bar none – one of the greatest experiences of my life!  Kip Winger is (in my view) a completely underrated songwriter and vocalist whose career is often spoke about with an undue amount of insincerity.  He is a genius in my view, and as I was attending the gig purely as a fan I nearly passed out when he asked me to step over the barrier at the DRC to sing 'Miles Away' – I'm grinning like a Cheshire cat as I talk about this!  Derwin made a joke that even whenever I am not gigging at the DRC I somehow find my way onto the stage! Ha ha!"
It's not always been an easy year, though: I know you had some vocal issues a few months back – but you've battled through and have always given 150% on stage. Do problems such as this make you stronger as a person, a performer and as a band?
"Yeah, I had a fairly severe bout of laryngitis a while back that damaged my voice:  it never had enough time to fully heal, and subsequently kept getting re-injured when I had to sing set after set at gigs we had been booked for.  As you can imagine having vocal issues like this while having to sing at a consistently high register is pretty fatal to a performance! "But we pride ourselves on never cancelling a gig where possible.  But, I guess it made me stronger as a person:  getting on a stage to sing is nerve wracking at the best of times, but getting ready to hit the stage knowing you are singing at only 40% is quite daunting! "My brother (Ryan) also stepped onstage and played a full set at the Rosie with (no exaggeration) a half centimetre of his main pick-holding finger cut off. So, like a pro he adapted, and taught himself how to play holding it with thumb and middle finger for that gig – and to that I tip my hat!  Fair play!  The band always support each other!"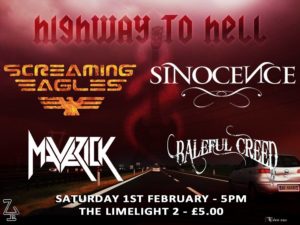 The Northern Ireland music scene has been very much in the media spotlight recently, not least because of the large presence we had at firstly Highway To Hell and subsequently Hard Rock Hell (I reckon if there had been any more Belfast bands there they would have had to move it over here): do you think that the impression our bands are making at such events is a fair indicator of the strength of the scene here at the moment?
"Yes it is a very exciting time to be part of the NI scene:  there are established top class acts playing away as well as bands like ourselves and the Screaming Eagles coming through the ranks in a relatively short period of time.  The quality is undeniable and I think that was fairly represented in the six acts from NI that rocked the stage at Hard Rock Hell and the four that qualified for the Highway to Hell competition.  Given our population, I think that is amazing.  It was a pleasure representing NI at the HTH competition in Glasgow – which the Screagles won (fair play lads!) – and I hope to get back over to the UK asap to show them how we have improved.
I'm probably really (and unfairly) putting you on the spot here, but what other NI bands would you recommend our readers check out?
"To be honest Mark, it doesn't put me on the spot at all!  First and foremost I am a music fan who loves gigs, and we are privileged to be playing alongside some of the best rock bands going today!  Out of all the bands right now I will name my personal favourites:  Stormzone, Screaming Eagles, Sweet Taste, Cross Eyed Mary, Tric (cannot wait til they are back), Little Miss Stakes, Sinocence and Baleful Creed.  There are a lot of others that rock and I am sorry if I didn't mention them but I guess that is a testimony to the quality of the NI rock scene presently!"
Looking forward, and the deal with Massacre: you've already indicated that the debut album is in the pipeline, so can you give us any idea of the timescales involved?
"Yes:  we are entering the studio in February.  We will probably take a full 14 days to record it.  And it is scheduled for release worldwide with Massacre in June/July 2014 – when we get a more concrete date we shall post it on Facebook!"
Looking at the Massacre roster, is there anyone on there you'd like to make a special guest appearance on the album, or to tour with?
"Oh hell yeah!  A lot of bands we are fans of are signed to/associated with Massacre.  We would love to tour with Anvil, Crystal Ball, Elm Street, Exciter, Firewind, King Diamond, Leatherwolf, Pink Cream 69, Pretty Maids, Raven, Paragon, Wolf or Wizzard!  I think we would make a great opening band for any of these acts.
"But, if I was asked to choose one band to make a special guest appearance with it would have to be King Diamond…  'cause who wouldn't like to do that?!?!  It's a pleasure and an honour to be on the same label as so many top shelf international bands."
Maverick's debut EP, 'Talk's Cheap', is still available via the band's Facebook page:  https://www.facebook.com/MaverickBelfastuk
[youtube=http://www.youtube.com/watch?v=ZY7xPdstZQs]
The band's next confirmed live shows are:
Saturday December 28 – Diamond Rock Club, Ahoghill (supporting Stormzone)
Saturday February 1 – Highway To Hell, Limelight 2, Belfast (with Screaming Eagles, Sinocence and Baleful Creed):  https://www.facebook.com/events/240946362737220/
Saturday March 8 – Blazefest 4, Empire Music Hall, Belfast (with Stormzone, Crossholder, Sandstone, Worldsend, Screaming Eagles, Rebels By Nature and Altus): https://www.facebook.com/events/155127854671996/