Greek Metal crew MAPLERUN release their third album 'PartyKrasher' on 28th April. We had a talk with the interview about their background and here's what happened:
What is the full band line-up, who plays what?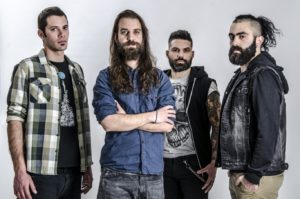 NICK – VOCALS, GUITAR, NIKOS (THE MOOR) – BASS, VOCALS, ORESTIS – GUITAR, CHRIS (JO) – DRUMS.

How and when did the band form?
Nick: "Me and Chris (drums) used to play in a cover band doing school gigs and playing small venues around our hometown Athens. After a few months of playing together the other band members went abroad to study and we decided to make our own band and write our own songs. We started jamming (2003) with the addition of our good friend Andreas who played bass in order to help us out and later on added Orestis (guitar), who i randomly met completely drunk in a bar, to the line-up. In 2007 and after countless auditions we found Nick (aka The Moor, Ben Moor, Kef Moses – bass). In 2008 our debut album "House on Fire" was released by Archangel Records. Our friend Vagelis, who is our sound engineer and 5th band member, joined us in 2007 while we were recording our first album."

What are your musical influences?
Metallica, Godsmack, System of a Down, Black Sabbath, Led Zep, Alice In Chains,
Katatonia, Opeth, In Flames, Porcupine Tree, Slipknot, Deftones, Dream Theater, Pantera and many more.
Where have you played or toured?
Within the past two years the band has played a UK tour (Brighton, London, Newcastle, Glasgow, Manchester, Leicester, Bristol, Cardiff, Plymouth, Milton Keynes, Southampton, Peterborough, Oxford) with AMERICAN HEAD CHARGE and RSJ (November 2013), as well as a European tour with SKINDRED & SOIL (February 2014). Maplerun also played HARD ROCK HELL festival in Ibiza (May 2013) and HAMMERFEST VI festival in Wales (March 2014).

If a deaf person were to ask you to describe the sound of your music, how would you describe it?
Angry, melodic, energetic, modern, a burst of intense feelings.

Do you have a tour on the horizon?
We will play at the Blaze Bailey (ex-Iron Maiden) Balkan Tour in June 2017 as well as some festivals in Greece and Europe

Where can we find your social media sites?
They are all included in our website: www.maplerun1.com