Man with a Mission (MWAM) release their new album Chasing the Horizon on August 10th 2018.
Japanese super alt rockers Man with a mission bring an eclectic mix of musical styles. Not afraid to experiment, their sound veers from post hardcore, industrial Goth, to heavy rock, to happy dance, and drum n bass, which serves them well with their intense creative expression. And before we go any further they are in no way shape or form like Babymetal, MWAM are their own breed, their own pack!
Remember the 90's and how we fell in love with nu metal and the bands it brought, like Rage Against the machine, Deftones, Linkin Park, Limp Biskit, and Static X, to name a few. And boy!  Weren't we impressed by the diversity of this new generation especially after the grunge scene seemed to have killed everything else off?  Then came the naughties (00's) and again the scene was exploded with more experimental bands like Paramore, My Chemical Romance, Bring me the Horizon and furthermore drum n bass acts like The Prodigy, Enter Shikari, Pendulum and  The Qemists, infiltrated the rock metal world and we partied hard with them, fists pumping the air!
Man with a Mission encompasses such a diverse style, that you wonder if they took inspiration from all their favourite bands/songs and decided to create their own powerhouse? Their music is easy to listen to but there's a subtle aggression and intensity to their music that hooks you in.
Not getting short changed, Chasing the horizon delivers 14 tracks, for your hard earned pence, and the album is a nice 59 mins long.  During which, you'll be entertained by the distinctiveness of each track, nothing is quite what it seems.  Opener 2045 is your rock meets nu metal and Broken People follows in the same suit but with more synth keys and some elements of drum n bass.  Hey Now is a real mix of industrial Goth meets D'ream with the stylings of the Qemists to add to the mix.  Please forgive me throws in a curve ball, at first you think you're getting a ballad-esqe number but the tempo funks up to that of almost a hardcore dance anthem.  Some songs you can imagine been played live at festivals and Break the Contradictions is one of those songs that you can get a vibe for, along with the anthemic Dead in Tokyo.  Singing in their native Japanese Find you  is great rock track with an almost Slash like  guitar solo carrying the track to its finish. Closing with Sleepwalkers  this dreamy ballad closes the album but not the journey as MWAM aim to invade Europe with their rock prowess ! This is great diverse album and well worth a listen to, especially if you are  looking for something new to shake things up!
MAN WITH A MISSION will be performing at Reading & Leeds Festival this summer and have just announced an exclusive UK headline show at The
Cathouse, Glasgow on August 23rd.
MAN WITH A MISSION ARE
Tokyo Tanaka – vocals / Jean-Ken Johnny – vocals & guitar
Kamikaze Boy – bass / DJ Santa Monica – DJ / Spear Rib – drums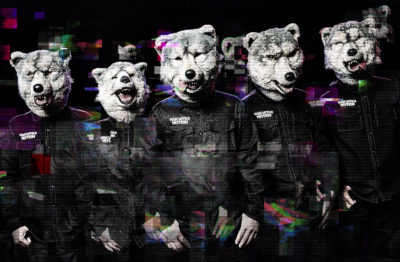 https://mailchi.mp/wilfulpublicity.co.uk/japanese-superstars-man-with-a-mission-release-new-single-1168809?e=b9796b4935
https://en-gb.facebook.com/MWAMjapan/
Track listing :
Man with a Mission, the post hardcore, alt rockers deliver Chasing the Horizon, a great diverse album and well worth a listen to, especially if you are looking for something new to shake things up!