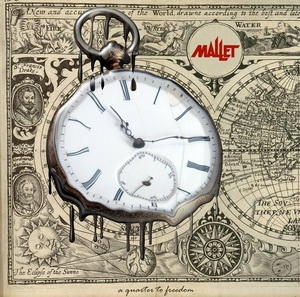 'Quarter to Freedom' is the sixth studio album from German band Mallet.  They've also released three live albums, but over a 30 year period that's still only one studio album every five years on average – clearly a band that doesn't want to rush things.  Of the current lineup, only bassist Manfred Dünzl remains from the original members.  Over the years, the band have supported acts including Warlock, Bonfire, great White, Steppenwolf, Scorpions, Saxon, Manowar and many other big names.
Having been around for thirty years it's surprising that I've never heard of Mallet before, especially since so many of the band's they've played with are bands I listen to regularly.  Listening to the album it's full of great tracks and their years of experience certainly show.  There aren't really any tracks that you listen to and are completely blown away by – the sort of tracks that really takes a band to the next level, but what you do get is a load of good quality songs with no weak tracks here.
Brief comments on a few tracks..
For me the opening track, "Rock beat" is one of the best tracks on the album.  It's got a Creedence Clearwater Revival feel to it both musically and vocally – a great start to the album.
There are a couple of ballads on the album – "Sail away" and "My hero".  Both are very good, and serve as a nice change of pace as you listen to the album.
"The blues will get you" is as you might guess from the name, a blues-rock track.  It's a good enough song, but I just don't think the vocals really carry enough of a blues feel to them.
A good solid rock album that's well worth a listen.
Track listing:
1. Rock beat
2. Quarter to freedom
3. Flying
4. Sail away
5. This is the time
6. Daytime nighttime
7. Great time
8. My hero
9. In my dream
10. Look at yourself
11. Rock this town
12. The blues will get you
13. Wherever
14. Richer than the king