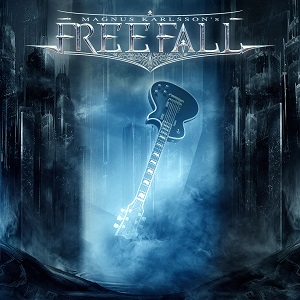 Free Fall is the first full-length studio album by Swedish heavy metal songwriter, guitarist, multi-instrumentalist and producer Magnus Karlsson.
What is amazing about this release is that the album features nine lead singers, on paper this should not work, mainly due to the vast difference in style and range each singer has, however you we are dealing with Magnus Karlsson here, and he makes it work.
He wrote each track with a specific vocalist in mind, and then set to work, the result is impressive, very impressive in fact.
Take the opening track," Free Fall" sung by Russell Allen, this is a huge song in every way, the guitar work by Magnus is outstanding and Russell Allen's vocals are flawless, the track simply powers along.
Tracks like "Higher", "Not My Saviour", "Ready or Not", "Last Tribe", "Fighting" and "Dreamers and Hunters" are all killers here, Magnus displays an unnerving knack of writing superb songs for vastly different singers, one after the other. Magnus's guitar playing fits every song, with a solo to match, he knows he can play, we know he can play, so he leaves the excessive soloing out, and lets the rest of the music do the talking, something that Jorn's "Traveller", as good as it was, was guilty of in the first degree.
There are a few curveball tracks on here, "Stronger" is more of a pop rock track, certainly different, with Magnus showing us another side to his songwriting skills, and "Us Against The World" sung by Pink Cream69's David Readman is an AOR fans delight.
Karlsson handles vocals on three tracks "Ready or Not", "Heading Out" and "On Fire", while he's not the most powerful singer on this opus, he more than holds his own, especially on the acoustic laden final track "On Fire".
The production is clearly aimed at showing off Karlsson's killer riffs and dynamic melodic soloing. Free Fall is melodic hard rock at its best. His guitar work is simply amazing, It rocks, it soars with passion and emotion and then it rocks again.
This is one hell of an album, and quite frankly, you should buy it.
VOCALS
RUSSELL ALLEN (SYMPHONY X / ADRENALINE MOB),
RALF SCHEEPERS (GAMMA RAY / PRIMAL FEAR),
TONT HARNELL (TNT / WESTWORLD / STARBREAKER),
RICK ALTZI (AT VANCE / FREQUENCY / MASTERPLAN / THUNDERSTONE / SANDALINAS / ex-HERMAN FRANK )
DAVID READMAN (PINK CREAM 69 / VOODO CIRCLE ),
MARK BOALS (RISING FORCE /BILLIONAIRES BOYS CLUB /ULI JON ROTH / ROYAL HUNT / JOSHUA),
RICKARD BENGTSSON (LAST TRIBE / ARMAGEDDON),
HERMAN SAMING (A.C.T. / LOCOMOTIVE BREATH),
MIKE ANDERSSON (CLOUDSCAPE / FULLFORCE / SILENT MEMORIAL ).
TRACKLIST
01. Free Fall (lead vocals by Russell Allen)
02. Higher (lead vocals by Ralf Scheepers)
03. Heading Out (lead vocals by Magnus Karlsson)
04. Stronger (lead vocals by Tony Harnell)
05. Not My Saviour (lead vocals by Rick Altzi)
06. Us Against The World (lead vocals by David Readman)
07. Our Time Has Come (lead vocals by Mark Boals)
08. Ready or Not (lead vocals by Magnus Karlsson)
09. Last Tribe (lead vocals by Rickard Bengtsson)
10. Fighting (lead vocals by Herman Saming)
11. Dreamers & Hunters (lead vocals by Mike Andersson)
12. On Fire (lead vocals by Magnus Karlsson)
13. stronger –acoustic- (lead vocals by Magnus Karlsson