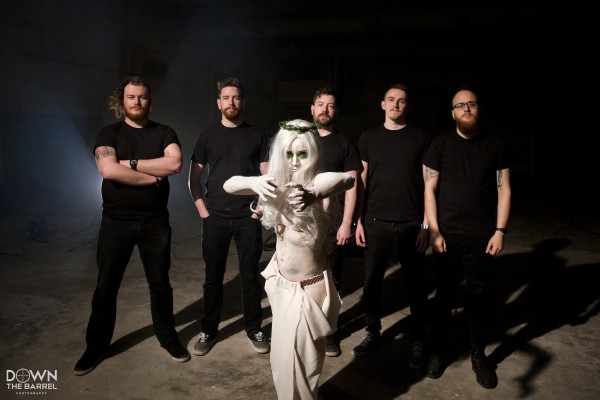 The fifth heat of this years' Bloodstock Metal 2 The Masses Ireland took place at Fibber Magees in Dublin. Contesting this event were Malumus, Antidotes, AeSect and Twin Villains. Due to other concert commitments in the city centre, I was unable to make it to the venue for the start and missed out on performances from Malumus and Antidotes. The sets from AeSect and Twin Villains were very contrasting but equally enjoyable and the audience was very appreciative at the end of each performance.
On the night the crowd vote went to AeSect and the judges' vote went to Antidotes.
PlanetMosh caught up with both bands in the aftermath.
AeSect
1. There's been some changes since we last spoke to you. For people hearing about AeSect for the first time, tell us about yourselves.
We're a five piece band based in Dublin with two EP's, Buried In The Undergrowth and our latest EP
Devour The Earth. We've recently changed our line up with Mark Lennon stepping in on Vocals and
doing an amazing job. We've been active for 5 years now and are keen to make our mark in Ireland
and abroad. Our aim from the start was to play the music we wanted to hear, heavy and uncompromising and hopefully producing a live show to back that up.
2. After a year away, what made you come back and give Metal 2 The Masses another shot?
We took a year out to focus on writing and recording Devour The Earth and shooting a video for the title track of the EP. When the Metal 2 the Masses came around again we talked amongst ourselves and said we would give it another go. Some of our best gigs have been in the competition over the years and we wanted to give it a shot with our new line up.
3. AeSect have a great following and were the people's choice at Heat 5, guaranteeing a Semi Final place. How did it feel getting to the next stage and what can we expect in the Semi from you?
It was a great feeling to know that the crowd enjoyed our show enough to vote for us and when we're announced as crowd vote winners we all celebrated amongst ourselves. For the semi we are discussing our set list and seeing what we can bring to the gig to make it bigger and better but equally as enjoyable as our first heat. We may break out some old favourites and could possibly play some brand new tunes.
4. Where can we find out more about AeSect and tell us a little about your debut video for 'Devour The Earth' which has just been released?
We have Facebook, twitter, bandcamp and youtube pages and update them regularly. Devour The Earth was shot in early December with Shaun Ryan from Crooked Gentleman productions. The man did an amazing job moulding our idea into the final product. The concept of the video reflects the lyrical content of the song about mankind's gluttonous overconsumption of the planet's resources in the name of a lifestyle we've become accustomed to.  We worked with a great crew in Debbysue who played Mother Earth, and Sarah Tonin of CosmAddictMakeup who worked through the night to make sure all the effects were tip top. So far the response to the video has been amazing! People have been messaging us with good will since we released it via Oran at Overdrive on Monday.
5. How big a deal it would be for AeSect to play Bloodstock?
For us to play Bloodstock with some of our favourite bands would be a dream come true. We grew up listening to Slayer, Mastodon, Gojira and Fear Factory so being on the same bill as them would be unreal! It would also be a great stepping stone for us as a band to not only play such a prestigious festival but hopefully help elevate us and help bring us to the next level. We want to push this band so we're going to give it our all and make sure to put up stiff competition for everyone else in the Metal 2 the Masses this year.
Check out AeSect's brand new video for 'Devour The Earth'

Antidotes
1. For people hearing about Antidotes for the first time. Tell us about yourselves.
We are a metalcore/groove metal band based in Dublin who put an emphasis on good songwriting, with hooks and melodies just as important and breakdowns and blast beats. We've been together for over a year now and we're working on an EP as well as continuing to write more material. We're heavy influenced by the likes of Parkway Drive, Lamb of God, Slipknot, Killswitch Engage and much more.
2. This is your first time playing Metal 2 The Masses. How was the whole experience for you?
We've been looking forward to this for a very long time.  We enjoyed going to the gigs last year and we were raring to play and show people what we can do and hopefully impress a few people.
3. Antidotes were the judges choice after Heat 5, guaranteeing a Semi Final place. How did it feel getting to the next stage and what can we expect in the Semi from you?
We were delighted to be the judges choice we didn't see it coming at all. We can't wait to tear up Fibbers in the semis! With Antidotes you can expect riffs, hooks, breakdowns and a show full of energy!
4. Where can we find out more about Antidotes? (links etc)
We have a video for our debut single 'We Are' on YouTube and we have our Facebook page as well.
5. Can you tell us a little about the new EP and when it will be released?
Our debut EP is just finishing the recording process and you can expect a release in the summer. It has 4 tracks one of which is 'We Are' and we can't wait to share it with everyone!