Well, well, well. The wait is almost over. It feels like an eternity since Life Of Agony announced 'The Sound Of Scars ' as their next album. But here it is, finally, in all it's glory, and glorious it is.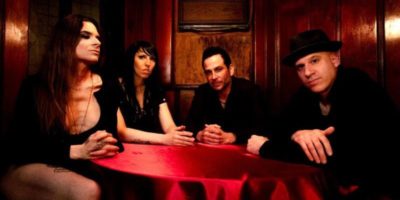 There's no hiding from the fact that I've always been a big fan of the band since I first came across them at Buckley Tivoli when my band at the time supported them on 30th June 1994 on their River Runs Red tour. I'd never heard of them, and was getting slightly annoyed when they were still soundchecking as the doors were about to open, leaving my band with a 5 minute soundcheck as the early birds through the door watched on. But I would never be prepared for what I witnessed that night and it changed my musical life forever.
So, how do I review this? Do I compare it to 'River Runs Red ' with it being the second part of the concept saga? Does it NEED to be compared with RRR? Do I NOT compare it with RRR? I'm choosing not to.
It's plainly evident here that LOA have unfinished business. The album continues where RRR left off with the hauntingly familiar tap dripping which is soon drowned by an Emergency Operator giving out an address. That's all we get before 'Scars ' enters with abundance. This is a great opener. Crunching guitars from Joey Z, supported by some lovely drumming from Veronica Bellino. A mid-paced affair but typical of the new LOA. Mina's vocal range perfectly suited and balanced.
'Black Heart ' follows and this allows Joey to give us some harmonic-styled opening riffs. The track chuggs away just nicely with a rather unorthodox start to the chorus but super all the same. It's another mid-paced number but it's perfection as everything clicks into place. We then welcome the stunning 'Lay Down '. Alan Robert now taking his chance to shine with his beautifully sounding bass during the chorus and bridge. Veronica's drumming is very prominent on this album and her ability is never in doubt with some pulsating beats during the track's chorus. 'Lay Down ' punches all the right faces in the centre of the temple and knocks them stone cold dead.
'Then ' gives us more of the concept story before what I believe is the best track on the album enters the fray. 'Empty Hole ' begins frantically and doesn't stop throughout. There's similarities with Stone Temple Pilots here, but it's better and it's at this point that you realise that LOA have evolved with every album that they have made. Not necessarily for the better, but with style and maturity, and albums that stand the test of time. 'RRR ' was an instant hit. 'Ugly ' and 'Soul Searching Sun ' slow burners. It obvious 'Scars ' is the album LOA wanted to make, not necessarily the album they had to make.
'My Way Out ' is the heaviest track so far here. Edging more towards the LOA of twenty years ago, but still keeping it's distance, as is 'Eliminate '. Mina's voice is key on these heavier tracks. Such is her vocal power that it doesn't take much effort to fill the tracks with the vocal range they require. 'Now ' teaches us a little more about the story. I'm not going to spoil it for you.
What can I say about 'Once Below '? It's created by a beautifully crafted verse, followed by a stop start bridge, and powerful chorus. The mixture in this chorus of main and backing vocals is nothing short of genius. The track also allows the very underrated Joey Z to show us his soloing skills midway through. Perfection.
This new genre that LOA have created for themselves here is welcoming and refreshing. Chorus is key throughout the album. 'Stone ' boasts an epic chorus as does 'Weight Of The World ', which begins which a cheeky little riff and reminds me a lot of 'Hope ' from 'Soul Searching Sun '.
'When ' concludes the concept story and is followed by what can only be described as an anthemic closing track. 'I Surrender ' has everything. It's lazy beat leading into almost a three minute finale. Mina's lyrics clear. ' There's no faith and there's no truth, and there's no faith and there's no truth.' A truly remarkable end to the album of the year in my opinion.
The musical differences between 'RRR ' and 'Scars' just shows how far this band have come both physically and emotionally. It will be very interesting to see how these new tracks sit alongside the existing ones when LOA bring their tour to the UK later this month. Playing both these albums back to back will admittedly be like listening to two different bands, but 'Scars ' keeps throwing links to remind us that it this still LOA, and LOA at their very, very best. Their best album yet.
Track-List:
1 – Prelude   2 – Scars   3 – Black Heart   4 – Lay Down   5 – Then   6 – Empty Hole   7 – My Way Out   8 – Eliminate
9 – Now   10 – Once Below   11 – Stone   12 – Weight Of The World   13 – When   14 – I Surrender
Line-Up:
Mina Caputo – Lyrics   /   Joey Z – Guitars   /   Alan Robert – Bass   /   Veronica Bellino – Drums
Links:
Release date: 11/10/19. Running length: 41mins 8secs. A stunning album oozing feeling, depth, purpose, hope. Album of the year.