Tonight was a special night within the hallowed basement of Manchester's Club Academy. One of America's most underrated bands would grace this stage but not before we were treated to some great support acts. As tonight had a 10pm curfew with the doors opening at 6pm, we unfortunately missed the opening act, but second band  Doyle did not disappoint. The early start did no favours for either of the opening acts as people were disappointingly scarce. Very sad.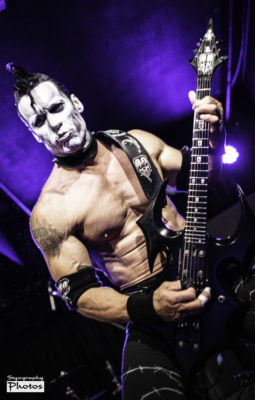 Doyle's delivery of Metal / Horror Punk warmed the fans up just nicely. What a unit Doyle Wolfgang Von Frankenstein is. His painted face and huge frame gives him a haunting stage presence that I've never seen before. The band performed a very tight set but with the exclusion of any MIsfits tracks, which was a little disappointing but not crucial. They were still great to watch.
And so to Life Of Agony. If ever a band has a story to tell it's LOA. They are here in Britain supporting the release of their amazing new album 'The Sound Of Scars '. The battles and troubled times this band have endured oozes out of the new tracks and more so in their live performances.
You can see it. Feel it. They are happy and enjoying what they do. New Drummer Veronica Bellino has breathed new life into this very special quartet. And it shows from the moment intro tape 'Prelude ' kicks in. You then know that 'Scars ' is on it's way, and what an opener. MIna's stature, Joey's gritted teeth, Alan's bowler hat. Legendary icons who deserve everything.
The sound is brilliant. Clear and crisp in this dungeon-like setting. The venue is now full and LOA are in full throttle. 'River Runs Red ' is next and the noise from the crowd singing along is deafening. Mina greets us with smiles before 'Bad Seed ' hits us. This is brilliant stuff. Intense, and a celebration, if you will, that LOA are back to their very best and every single person here knows it.
Throughout this set LOA create a great mixture of old and new songs. 'My Mind Is Dangerous ' is significantly poignant and is performed brilliantly, considering it's a more mellow song compared to the rest of the set. 'Lost At 22 ' another belter. I must say the new tracks from 'Scars ' are very pleasing to the ear. I would have loved to have heard 'I Surrender ' tonight but it wasn't to be.
The set ends with two screamers in the form of 'Underground ' and 'Through And Through '. 'Underground ' was just something else as it chugged and grinded slower and heavier than I'd heard it before. Speaking to Alan Robert before the show, he explained that the band will be on tour throughout next year and I prey that they come back to the UK to give us more of what we have witnessed tonight. This was a very special night. This was Life Of Agony.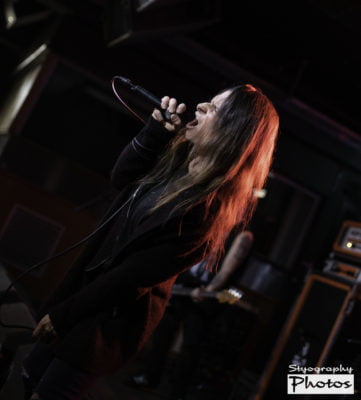 Remaining UK dates:
27/10/19 – Leeds, Brudenell Social Club
29/10/19 – Milton Keynes, Craufurd Arms
30/10/19 – Bristol, Fleece
Full tour dates available HERE.
Links:
Official Website   Facebook   Twitter   Instagram