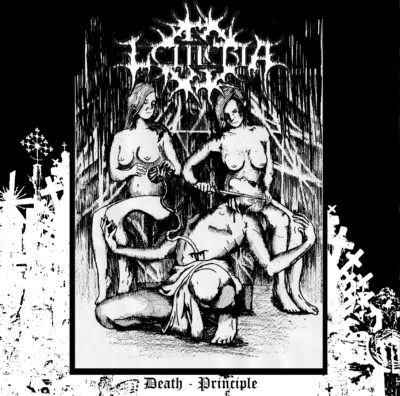 Letheria are a hardcore thrash band from Finland. Formed in 1998 these guys have released seven demo's, three E.P's and now finally a full length album, Death Principle, only the 20 years later!
At first I'm finding it hard to work out what it is Letheria are about. The first two songs holding separate contrasts to each other. Don't get me wrong. This is heavy stuff. But I've been sent in two directions already. 'One Spit Of A Thousand Swears' is finally starting to give me some insight into what these guys are about. This is proper Death Metal to the extreme. These guys belong with the likes of Holy Terror, Morbid Angel, and the like.
It's intense, but its's a perfect intense. Great speed changes and full on double bass drums make this a great listen. 'Pestchrist' is just something else. 'Call The Horns' takes this album even further. Straight in, no messing around, pounding drums, and bizarrely a kind of melodic chorus. Works a treat.
'Death Hand' is an awesome track full of speed changes and pure thrash metal which live would just be absolute chaos in the mosh pit. As this album progresses, so does the intensity and speed. My lord, we are getting heavier as each song goes by. Pure aggression and manic thrash is one way to describe this, but the tracks are getting better too. I'm enjoying this.
I think these guys should be given a chance at the likes of Bloodstock or Hammerfest. Let's get the word out. A great album.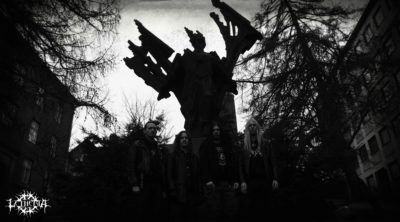 Track-Listing:
1 – Inverted Rapture
2 – Swinelord Of Devouring And Fuckin
3 – One Spit Of A Thousand Swears
4 – Pestchrist
5 – Call The Horns
6 – Death Hand Path
7 – The Kingdom In Coffins Of Kings
8 – Malaria Magdalena
9 – With Tears Of Urine You Will Cry
10 – Fire Speaks
11 – Rotting God
Line-Up:
M.Pellinen – Vocals / Guitars
V.Pelkonen – Bass
E.Wuokko – Drums
A.Martin – Guitars
Links:
A well overdue album but definitely worth the wait.