It was the last day of what was a truly fantastic weekend of rock and metal and Les-Fest once again came to life early doors both on the main stage and the acoustic stage. I felt in need of a bit of R&R myself as Sunday morning arrived so the acoustic stage seemed the best place to spend my final day of the festival.
The Sunday – 30th June
With Mercury Underground kicking the Sunday off in rocking style on the mainstage, I found myself watching former 15 Times Dead guitar man Dan Dean cutting a similar vibe on the acoustic stage with his cohort on bass. At times grunge-like, at times folk like, he kicked the acoustic stage off in fine form and warmed the Sunday morning audience up perfectly for Mancunian band The Goddamn Electric to follow. Credit to these guys as they were pulling a double shift today, doing not just an acoustic set but taking to the stage later on to produce a live show that was as electric as their name suggests. Their rocking attitude worked well both plugged and unplugged and their good time rock and roll went down a storm with the festival goers who to their credit showed no signs of letting up even after Friday's and Saturday's explosive lineups.
A few more interviews beckoned and after that it was back to the acoustic stage where The Dawgheads brought a mix of covers across the spectrum to life. The band themselves all seasoned pros from the likes of Attica Rage and Evil Edison got into their groove quickly. I have to give credit here to vocalist Tam Donnelly as he had a real rockin' husk to his voice that fit perfectly (whether it was down to too much partying over the weekend we may never know!) alongside the backing vocals of Attica's bassist Colin Wilson. Great set and superbly chilled.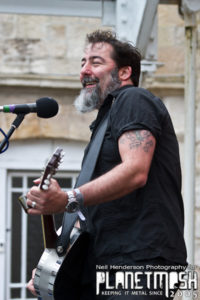 The acoustic stage came to a close in fine fashion late afternoon/early evening too as first we had a virtuoso solo performance from Scott Cowie, making use of practically every part of his acoustic guitar and fine voice, before Scottish master of rockin' blues and steel guitar, Dave Arcari, took to the acoustic stage to close it out for the festival. The man is a demon live and puts so much energy into his performance that the acoustic stage was absolutely rocking throughout as he bounced all over it, dishing out his uniquely monstrous slide blues.
With the first half of the final day coming to a finish in superb style it was a quick rush over to the main stage to catch Afterlife's absolutely brilliant set. Their heavy prog-rock stylings have seen them being likened to Alter bridge in particular and that may be the case, but by GOD do they know how to own a stage. If it wasn't Pete McCoy's at time soaring vocals putting you in mind of Russell Allen, it was the Riley brothers stomping around the Les-Fest main stage, guitar and bass in hand ripping out solos, riffs and thumping fists in unison with the fervent crowd. They are a fine example of the quality of bands that Scotland in particular are producing in rock and metal but are sadly overlooked by mainstream press. Another band that were a major highlight of the weekend for me and I can't wait for their debut album to follow.
Welsh five piece Triaxis were another band I was looking forward to seeing and hearing, especially after glowing reports of their acoustic set on the Saturday that I sadly missed. Krissie Kirby is akin to Doro Pesch and has a superb voice that was made for metal, while Triaxis themselves revel in that solid heavy metal style that goes down well on all occassions. Definitely worth the wait for me and yet another amazing band gracing the Les-Fest stage over the weekend.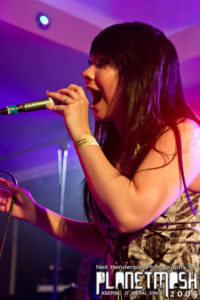 For me, work commitments came a calling shortly after and the last band I managed to wrap my ears around for the weekend was Skarlett Riot. Fronted by a little pocket rocket in the shape of Skarlett herself they produced the kind of waspish, aggressive and altogether catchy rock with attitude that gets the good time party spirit going.
And that, for me anyway, was the end of Les-Fest… until, of course, next year!
What a weekend, what a lineup, too many bands to fit in, so many new friends mate.  Evile were definitely my top view, then Furyon and I loved Afterlife, Triaxis, Hell is Harmony, well, you know what, the list goes on and on and on and that in itself is testament to Dave Ritchie, Fede Valls and their team for putting together what is sure to be a Scottish festival that will grow and grow and grow.
As the great bard himself would have said:
"Here's tae us, 
Wha's like us,
Damn few,
And they're a' deid"
Read my review of the Friday right here and the Saturday right here
You can view a selection of photos from the final day of Les-Fest right here too