We all felt kinda broken, beat and scarred after the brutality of the day and night of Day 1 of Les-Fest 2, but Saturday dawned with excitement and expectation as the acoustic stage came to life alongside the main stage to give those festival-goers a chance to chill out and hear something a little bit different.
The Saturday – 29th June
For me, sadly, the majority of the Saturday was a write off thanks to my son's birthday party.  When I did eventually make it back to Les-Fest it was late afternoon and I was happy to have caught the tail end of Collapse amazingly heavy and powerful set. From the general discussions around the festival site though, it sounded like I missed great sets from Aventus (pulling that difficult opening slot early doors with great aplomb apparently),  a brutally brilliant set from Bull-Riff Stampede plus two killer acoustic sets from Inferno and Triaxis.  More interviews beckoned before I eventually got to properly catch some music.
I had been meaning to catch Christie-Connor Vernal for ages having heard nothing but good things of her and I eventually did as well and she was everything I expected and more.  Great voice, superb musically and she had the whole of the acoustic stage audience wrapped around her little finger all through her set.  This girl is definitely set for big things.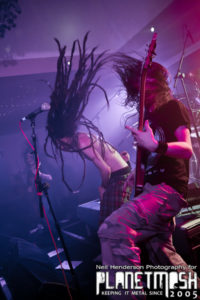 From there it was a quick jump over back to the main stage to catch Severenth acting like maniacs and doing just what they do best.  Frontman Peet Bailey is one of the most chilled out guys you'll ever meet off-stage, but on it he, like the rest of the band, carries so much energy and enthusiasm throughout their set that you can't help but be swept along by it.
Def Con One kicked off the beginning of the end of the Saturday for me as they bludgeoned us all into submission before States of Panic took to the stage with a look that immediately screams Black Veil Brides to you but they're much more like Motley Crue meets HIM or The Rasmus and were a complete surprise to me, in a good way I hasten to add.  I spoke above about Severenth's energy and States of Panic carry that same kind of infectious groove to their playing and style that you can't help but get caught up in the music they play.
The Sanity Days followed on but I have to say fell flat sadly.  I was really looking forward to seeing them too given In Search of Sanity was one of the first metal albums I ever owned but with only one guitar and Steve Grimmett visibly reading lyrics from cue cards for some of the songs it really was quite the come down  after States of Panic had brought so much energy to the proceedings.
Thankfully though both Monument and Furyon brought the Saturday to one hell of a close.  Monument first of all brought a good old fashioned heavy metal stomping to Les-Fest as Pete Ellis conducted the band and the crowd throughout their set.  It was something akin to Dio fronting Iron Maiden and great stuff that the crowd absolutely lapped up.  Monument also prepared the crowd perfectly for Brighton heavy rockers Furyon and for all the night was running behind that did not stop them for one second as they ripped out track after track from awesome debut album Gravitas.  Even some technical issues for guitarist Mark Davis along with some over-enthusiastic smoke machine use didn't stop them and it was a true tour de force of rock and metal.  While Matt Mitchell does indeed have an incredible voice on him that's part Coverdale, part Plant, part Joe Elliott, the band centre around it into a superbly melodic and at times heavy outfit.  We were treated to the hugely epic Desert Suicide (all 8 minutes of it too), the power ballad of Souvenirs and an awesome encore of Voodoo Me to name a few and I've got to say that while Evile were my overall highlight of the weekend, Furyon ran them close… damn close indeed.
Two days down and one more to go before Les-Fest 2013 came to a close.  Find out in Part 3 what we made of the last day of the weekend.
Check out some of the images from the Saturday at Les-Fest right here
Read all the Les-Fest 2013 articles right here