Krvsade from North Carolina, USA, drop this brutal 3 x track EP next Friday and my lord does it pack a punch, and for £2.97 from Amazon, it's worth every penny. My initial thoughts when the title track opener kicks in is Death and Morbid Angel. It boasts that same style and penetrating rhythm throughout.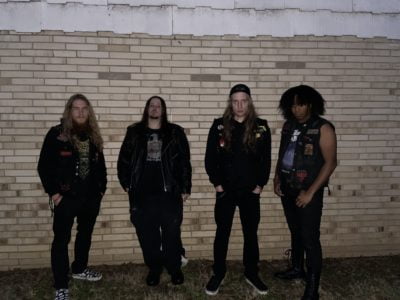 'Keep In The Church ' is another classic of the same ilk. There's hints of Slayer (musically), but vocally it's David Vincent……every day. This track pulls in at a whopping 6min 41secs and is split into several parts which divide the song up nicely but also knit it together perfectly.
'The Key And The Gate ' closes this all too sudden EP. Another belter at almost eight minutes.  This ones more of a slow burner. A tale if you will. It plods, drifts off, comes back, drifts again. But at no point do you drift away yourself. There's some lovely bass work by Jeb Laird three quarters of the way through, followed by some nice solo work.
A cracking EP this with some very imaginative riffing going on and plenty to remember. For £2.97 it has to be checked out.
Track Listing:
1 – Judgement Day   2 – Keep In The Church   3 – The Key And The Gate
Line-up:
Javonte Evans – Lead Vocals/Guitar   /   Arthur Reid – Guitar   /   Jeb Laird – Bass   /   Keegan Dennis – Drums
Links:
Release date: 31/01/20. EP length: 17mins 49secs. Brutal production, brutal EP.