Having had this EP land on my lap at the very same time as Kringer's big friends Eye licker's album, I feel ashamed and gutted that I have not picked it up until now. A lot has happened in five months, and I mean, an awful lot. I finally met guitarist Adam in Stockport last week and promised myself that I would get round to reviewing this brilliant EP.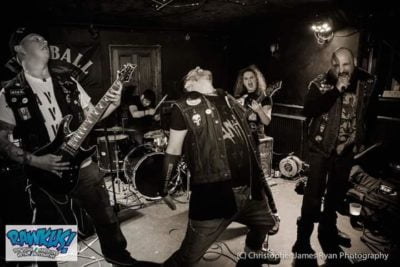 Kringer were formed in 2014 and hail from Manchester in what, I'm learning, is a thriving hardcore/underground scene. The room where they rehearse is shared by similar genre bands and the vibe around the area is something I've not felt before, and this oozes out of opening track 'disOBEYed '. A thumping opening with sickening dirty bass is followed by some brilliant dual vocals that sound almost like a celebration. And so it should be. 'disOBEYed ' has a lazy beat to it, but this is engineered superbly by a stunning chorus.
'Symbiotic ' starts a little quieter with some cheeky guitar squealing but it's soon evident that Kringer base their tracks on that 'lazy' feel which I love because it allows songs to express themselves and just amble along at their own pace. Vocal-wise Lunatic Fringe & Mr Kris work brutally well together, as this track demonstrates with stunning effect.
'L.O.S.T ' has a more melodic feel to it but still instils the filth and low end of hardcore within it. Manslug's guitar sounds beautiful here. Very thrashy. Nice. 'Time Crisis ' is a proper floor pumper. Thumping with groovy beats, angry vocals and a jumping chorus that's full of energy, power, and head nodding filth.
EP closer 'Lightweight Title ' hits us too soon unfortunately. What I like about this track is it doesn't sound tight at the beginning, a little rough around the edges. But this works. I don't know why, but it does. I must say though, throughout this EP the dual vocals play a major factor in it's success. They're not always at the forefront of the music, but they play a massive part.
This is a great EP which represents Manchester's hardcore scene proudly. I'm so looking forward to touring with these guys in July. But that's another story………..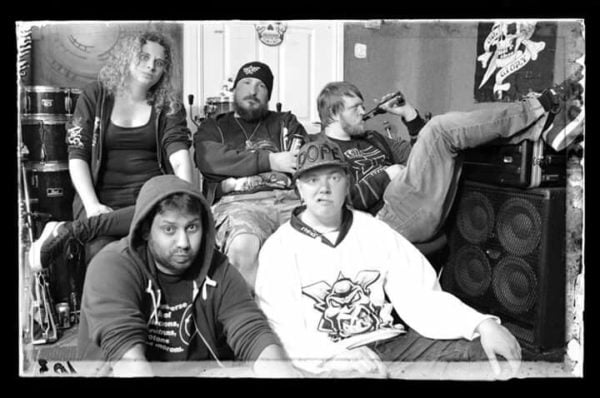 Track-listing:
1 – disobeyed   2 – Symbiotic   3 – L.O.S.T   4 – Time Crisis   5 – Lightweight Title
Line-up:
Lunatic Fringe – Battle Vox 1   /   Mr Kris – Battle Vox 2   /   Manslug – Battle Riffz & Battle Screamz
The Battlekath – Battlebass   /   Sgt Stiltz – Battle Beatz
Release date: 14/05/19 Running length: 18mins 32secs. Flying the flag for hardcore and Manchester just brilliantly.