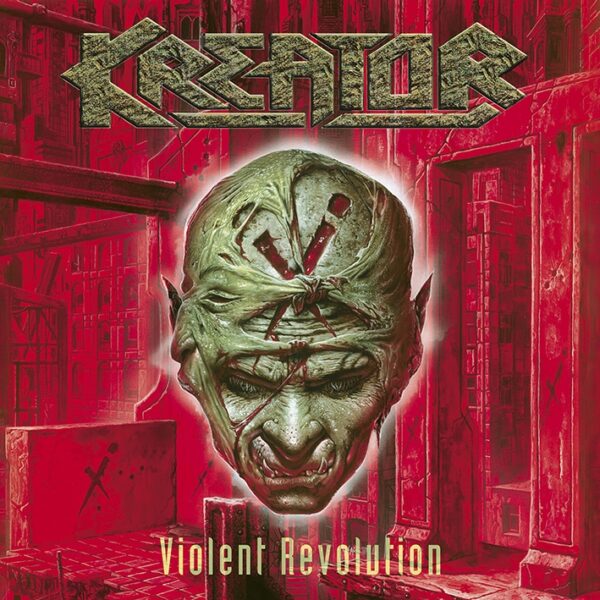 Well it looks like my first review of 2022 is going to be a heavy one as Kreator celebrate the twentieth anniversary of their Violent Revolution album by re-issuing it with a mind and ear boggling array of different formats on January 21st 2022 via Nuclear Blast Records. Since forming in Essen, 1982 they are still flying the flag high for German thrash metal, point proven by this stunning twelve track release, produced by Andy Sneap.
At first glance, twelve tracks seemed a bit of a daunting task to keep my attention levels but fear not as they fly by with a point to prove and they certainly do as 'Reconquering The Throne' rushes in on an insane main riff that's taken on by the guitars of frontman Mille Petrozza and Sami Yli-Sirnio. Drummer Ventor seems to be straining at the leash to unleash inhuman snare and kick drum work pinned down by monstrous bass lines from Christian Giesler. Mille's trademark vocal snarls are full of ire and touches of melody come from twin lead guitar work.
'The Patriarch' is a minute long mesmerizing instrumental of guitars in perfect harmony as all hell breaks loose for 'Violent Revolution' to thrash into overdrive courtesy of thudding kick drums. Riffs writhe and twist over a caustic lead vocal and an earworm twin lead guitar midsection adds a brief moment of sanity until it pounds to a shattering climax.
'All Of The Same Blood' is a full blooded take no prisoners bludgeon of a six minute full thrash assault as Ventor tests the resilience of his kit and an eerie spoken word piece precedes a pit opening blast of searing thrash.
Kreator don't have to play at mach speed to be intense, point proven by the mid paced kick drum driven 'Servant In Heaven'. The riffs are nothing short of headphone rattling power that go up a gear into a heavy chug and shimmering guitar solos.
A scorching scene setting intro to 'Second Awakening' then heads off to be a major rager of thrashtastic tumult and once again twin lead guitar work is spellbinding!
Tribal drum patterns reflect the song title of 'Ghetto War'. The riffing is a glorious grind of grandioseness until it muscles up for an over the top outro.
'Replicas Of Life' is a seven minute tour de force of mixed moods. A sedate intro lights the fuse for thrash frenzied pit opening potency that pauses for breath midway from melodic thrash until a fretboard melting solo defies the speed of sound.
'Slave Machinery' is a brain mangling caustic song of hate churned out to show how our working lives affect our existence. A buzzing riffed midsection and biting guitar solo ties up this metal monster.
'Bitter Sweet Revenge' is aptly titled as Mille unleashes his demons with an evil glee. Musically it's light speed thrash fire and fury and they manage to hit newer heights with wrist snapping snares and finger bleeding guitar solos.
'Mind On Fire' has bullish grooves that hit hard and heavy, especially from a kit bashing assault from Ventor!
One last assault to the senses sees 'System Decay' surge on shockwave inducing dynamics towards a tidal wave of dizzying time changes.
A huge selection of assorted live bootleg recordings are grouped together under the name Bootleg Revolution available on the various formats of a digital album, CD jewelcase, CD digipak, double LP, cassette and a Ltd edition 4LP-2CD boxset that includes an exclusive Kreator comic book called Graphic Violence-Chapter One.
The Bootleg Revolution material comes from concerts in Brazil, Korea, Istanbul and German festivals at Wacken and Waldrock, one of which is below 'Servant In Heaven-King In Hell (Live In Brazil)'.
Pre-order links to Violent Revolution and band info are here :- https://bfan.link/violent-revolution I https://bfan.link/bootleg-revolution I https://www.facebook.com/KreatorOfficial I https://amazon.co.uk/Violent-Revolution-Kreator/dp/B09KN7X3C4/?tag=plane09-21 I https://www.youtube.com/channel/UCRUh-7YyUCBTw2FjhS_jJAw I https://www.kreator-terrorzone.de/?fbclid
Violent Revolution album track listing :-
Reconquering The Throne.
The Patriarch.
Violent Revolution.
All Of The Same Blood.
Servant In Heaven.
Second Awakening.
Ghetto War.
Replicas Of Life.
Slave Machinery.
Bitter Sweet Revenge.
Mind On Fire.
System Decay.
Album personnel :-
Mille Petrozza – Vocals/Guitar.
Sami Yli-Sirnio – Guitar.
Christian Giesler – Bass Guitar.
Ventor – Drums.
Thrash metal legends Kreator create twelve songs to keep the flag of hate flying high on the Violent Revolution album!