The UK's critically acclaimed blues-rock band KING KING kick off their February 2022 UK Tour with special guests The Damn Truth on Thursday, February 10th at the York Opera House.

Tickets are available from www.thegigcartel.com and www.kingking.co.uk.
King King has also been nominated for "Blues Band of the Year" at the UK Blues Awards 2022. Vote for King King at www.ukblues.org/awards.

King King will perform songs from their current studio album "Maverick", plus classics from their vast catalogue including fan favourites from their 2017 album "Exile & Grace." Maverick is available from www.kingking.co.uk.

King features Alan Nimmo (vocals, guitar), Stevie Nimmo (guitar), Jonny Dyke (organ, piano), Zander Greenshields (bass) and Andrew Scott (drums).

Montreal, Canada's psychedelic blues-rock band The Damn Truth, will perform songs from their critically acclaimed album "Now or Nowhere" produced by the legendary Bob Rock. Expect to hear the radio singles "This Is Who We Are Now", "Tomorrow," and "Only Love."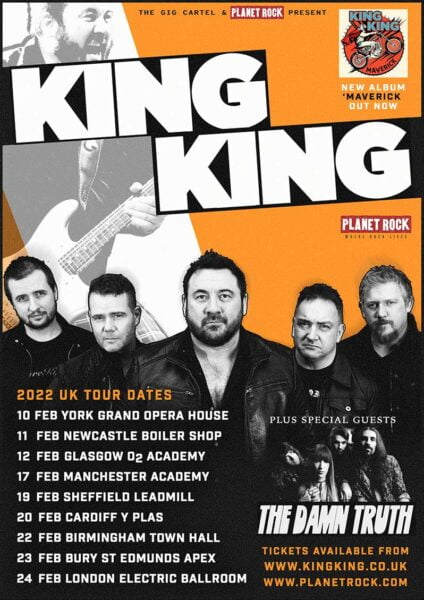 KING KING FEBRUAY 2022 UK TOUR
SPECIAL GUESTS DAMN TRUTH

TICKETS: WWW.KINGKING.CO.UK | WWW.THEGIGCARTEL.COM | WWW.PLANETROCKTICKETS.CO.UK
KING KING – FEBRUARY 2022 UK TOUR

SPECIAL GUESTS: THE DAMN TRUTH

York, Grand Opera House
Thursday 10 February 2022
Newcastle, Boiler Shop
Friday 11 February 2022
Glasgow, O2 Academy
Saturday 12 February 2022
Manchester, Academy
Thursday 17 February 2022
Sheffield, Leadmill
Saturday 19 February 2022
Cardiff, Y Plas
Sunday 20 February 2022
Birmingham, Town Hall
Tuesday 22 February 2022
Bury St Edmunds, The Apex Arts Centre
Wednesday 23 February 2022
London, Electric Ballroom
Thursday 24 February 2022

THE DAMN TRUTH HEADLINE SHOWS
TICKETS: WWW.THEGIGCARTEL.COM WWW.THEDAMNTRUTH.COM
Leek Foxlowe Arts
Sunday 13 February 2022

Leeds Lending Room
Tuesday 15 February 2022
Bristol Exchange
Wednesday 16 February 2022
Southampton The 1865
Friday 25 February 2022
King King photo courtesy of Adam Kennedy
The Damn Truth photo courtesy of Martin Brisson