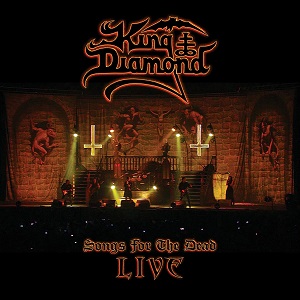 For over 35 years King Diamond has been releasing albums, first with Mercyful fate and then under his own name. Among a strong catalogue of albums, a firm favourite among fans is the 1987 album "Abigail". This new live release from King Diamond sees him perform that album in full – not just once but twice. This live DVD contains two shows. The first was his performance at Graspop Metal Meeting in June 2016 and the second was at Philadelphia's Fillmore in November 2015.
It's an unusual way of doing things as both shows contain exactly the same songs, with the only difference being that two of the songs are swapped around in the running order between the shows. Normally you'd have expected a release featuring two shows to cover shows with different setlists, but this is an album fans love, and the shows are on different scales. With the Philadelphia show it's a 2500 capacity venue, whereas Graspop is nearer 50,000 people. With Philadephia being a King Diamond concert it's full of his fans, whereas at Graspop there's more of a mix – some fans, some who know some of his stuff and some who have never seen/heard him before, so two different atmospheres.
King Diamond shows are obvious ones to release on DVD as he puts on some of the most theatrical shows around with elaborate stage sets, so they always have great visuals. It's been filmed with multiple cameras including some in unusual locations.
Check out the video for "Arrival" (Live at Graspop)…
The video quality is great as you can see from the above video, and it's nice to see cameras used imaginatively too. The sound quality is superb too for both shows.
It's a great live release – fans will love seeing and hearing "Abigail" in full, but I do still think it would have been even better if they'd picked two shows with different setlists – one of "Abigail" in full and one normal show to add a bit of extra variety. Either way it's a release King Diamond fans will enjoy.
Graspop Metal Meeting track-listing:
01. Out from the Asylum
02. Welcome Home
03. Sleepless Nights
04. Halloween
05. Eye of the Witch
06. Melissa
07. Come to the Sabbath
08. Them
09. Funeral
10. Arrival
11. A Mansion in Darkness
12. The Family Ghost
13. The 7th Day of July 1777
14. Omens
15. The Possession
16. Abigail
17. Black Horsemen
18. Insanity
The Fillmore track-listing:
01. Out from the Asylum
02. Welcome Home
03. Sleepless Nights
04. Eye of the Witch
05. Halloween
06. Melissa
07. Come to the Sabbath
08. Them
09. Funeral
10. Arrival
11. A Mansion in Darkness
12. The Family Ghost
13. The 7th Day of July 1777
14. Omens
15. The Possession
16. Abigail
17. Black Horsemen
18. Insanity
It's a great live release - fans will love seeing and hearing "Abigail" in full, but I do still think it would have been even better if they'd picked two shows with different setlists