One of the best bits of reviewing albums isn't reviewing albums by bands you love, it's finding new bands you havent listened to before. This album came to me to review and not having listened to the band before I had no expectations, good or bad. I always prefer to hit play and listen before reading anything about the album or band so I don't set expectations, so when I hit play for the first time I really don't know what to expect – it could be awful, mediocre, good or excellent. Happily in this case it was the latter – excellent. My first impressions were great – this is a fantastic sounding band.
Right from the start this album impresses with opening track "Voodoo, sex & vampires" really impressing. The banjo is an unusual instrument to hear on a rock song like this but it works really well with the electric guitars being more prominent. This is probably the first time I've come across a banjo slide solo though. It's a high energy song and really gets the album off to a great start.
Check out "Drip drip baby"…
If you're a fan of bands such as Warrant, Guns'n'Roses, Scorpions, Kissin' Dynamite and Night Ranger then this is an album to check out – it's got that same rock'n'roll spirit and is an album packed with top quality rock songs. In fact Hannes Braun from Kissin' Dynamite was involved in writing three of the songs on this album.
Check out the title track "American amadeus"
2020 has definitely been a bad year for music, but 2021 should be a lot better, and with an album like this coming out in January then that's definitely a good start to the year. Lets hope live shows make a full comeback in the first half of 2021 and John Diva and the rockets of love go on tour as I'd love to hear these songs played live.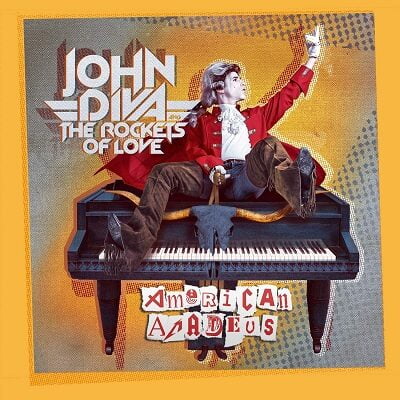 "American Amadeus" will be released on 15th January 2021
Track listing:
1. Voodoo, sex & vampires
2. American Amadeus
3. Soldier of love
4. Bling bling Marilyn
5. Champagne on Mars
6. Weekend for a lifetime
7. Karmageddon
8. Wasted (in Babylon)
9. Movin' back to Paradise
10. Drip drip baby
11. This is Rock'n'Roll
12. 2 Hearts
A fantastic rock album that is sure to impress