JOE SATRIANI is unleashing his newest studio album, The Elephants of Mars, marking the legendary guitarist's 19th studio album in his 35+year career in music. A dynamic and vivid new video for the title track, again directed by ZZ Satriani.
Watch the video of The Elephants of Mars single:
Order The Elephants of Mars album from https://joe-satriani.lnk.to/TheElephantsOfMarsPR

Joe Satriani had an admirably productive workingman's holiday, with the pandemic forced time away from the road, that ultimately gave him and his touring band, all recording remotely in separate areas of the world during the lockdown, the ability to deliver an album-length journey that never dulls. The Elephants of Mars crackles with exciting new energy, briskly travelling through stylistic roads that feel freshly updated, viewed through new eyes.
The guitarist challenged himself to create a "new standard" for instrumental guitar albums to be measured against, one which would work from "a new platform of his own design", as he terms it. "I want to show people that an instrumental guitar album can contain far more creative and entertaining elements than I think people are using right now." 

In 2020 with all-time constraints removed, The Elephants of Mars truly represents the album that Satriani himself hoped he could deliver with his band. "We did everything. We tried the craziest ideas. And we entertained every notion we had about turning something backwards, upside down, seeing what could happen."
For over three decades, the guitar virtuoso has travelled the world, playing to sold-out crowds as both a headliner and as the founder of the all-star "G3" guitar extravaganza. Satriani's studio and live recordings have sold more than 10 million copies worldwide to date and of his many solo albums, two have gone platinum and four others went gold, with 15 Grammy nominations between them. His side project, Chickenfoot, featuring former Van Halen frontman Sammy Hagar, former bassist Michael Anthony and Red Hot Chili Peppers' drummer Chad Smith saw their debut album certified gold and their second studio album debuted at #9.
Satriani's touring band is Kenny Aronoff (drums), Bryan Beller (bass) and Rai Thistlethwayte (keyboards)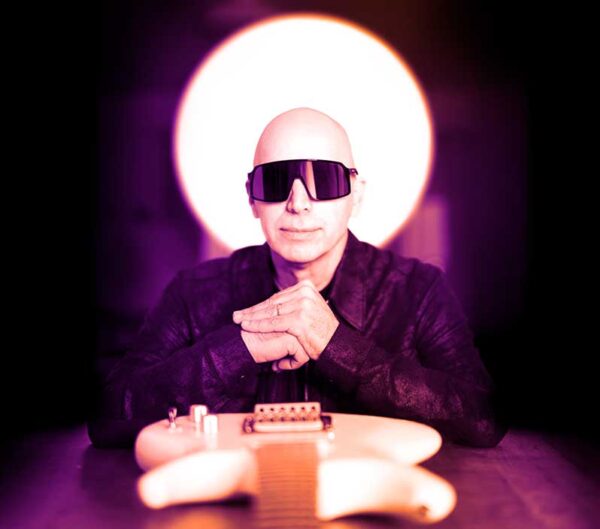 "His strongest album…his playing is at its most beautiful, experimental and fiery, with tones other guitarists would give an index finger for."  9/10 – Classic Rock Magazine

FORMATS:
CD Jewel case, Ltd. CD Digi sleeve (incl.14 images created by the artist himself), 2LP Gatefold, Ltd. 2LP Gatefold Orange, Ltd. 2LP Gatefold Purple, Ltd. 2LP Gatefold Pink, Digital
JOE SATRIANI EARTH UK TOUR 2023
TICKETS AVAILABLE FROM WWW.ALLTTICKETS.COMWWW.SATRIANI.COM


Birmingham, Symphony Hall
Friday 12 May 2023

Gateshead, Sage Hall 1
Saturday 13 May 2023

Manchester, Bridgewater Hall
Sunday 14 May 2023

Glasgow, O2 Academy
Monday 15 May 2023

Bexhill, De La Warr Pavilion
Tuesday 16 May 2023

London, Palladium
Wednesday 17th May 2023