Jason Becker (30 Years with ALS) Releases Critically Acclaimed "Triumphant Hearts!"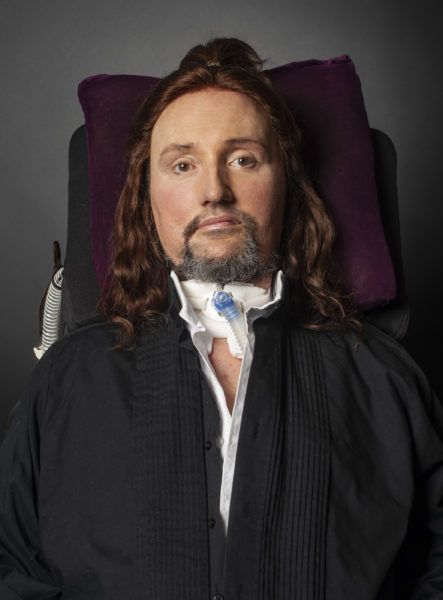 "A record that should be accepted as one of the most extraordinary declarations of love for music and life ever written. 'Triumphant Hearts' is a moving, vibrant, beautiful, excruciating work."
"Jason Becker is a musical phenomenon!"
Jason Becker's story is one of brilliance, talent, determination, adversity, and, ultimately, triumph. A child prodigy on guitar, Jason rose to prominence as a teenager when he was one half of Cacophony, with Marty Friedman (Megadeth). In 1989, at only 19 years old, the young virtuoso became the guitarist for David Lee Roth, following in the huge footsteps of Eddie Van Halen and Steve Vai. He wrote and recorded on 'A Little Ain't Enough' and was poised for superstardom when a nagging weakness in his leg was diagnosed as Amyotrophic Lateral Sclerosis (ALS). Also known as Motor Neurone Disease (MND) – the same condition Stephen Hawking had – it is thought to be a fatal condition with a life expectancy of maybe five years. Maybe.
That was 29 years ago. He lost the ability to play guitar, walk, talk, and breathe on his own. Communicating through a series of eye movements with a system developed by his father, Jason spells out words as well as musical notes and chords. He imparts his musical vision to his team who then can input the notes into a computer, edit the parts to his exacting standards, and then generate charts for session musicians. It is through this amazing process that Jason composes his profoundly beautiful music, rich in melody and counterpoint, brimming with emotion. His inspiring music and life story have been the subject of countless news articles, magazine cover stories, and the award-winning 2012 documentary, Jason Becker: Not Dead Yet. Prime Video: Jason Becker: Not Dead Yet.
Not only is Jason not dead yet, he's busier and more prolific than ever, as evidenced by his latest release, Triumphant Hearts. The album's 14 tracks showcase Jason's gift for melody and his deep knowledge of classical composition and orchestral arrangement. Many of the guitar parts are performed by a who's who of 6-string gods including Joe Satriani, Steve Vai, Neal Schon, Steve Morse, Paul Gilbert, Joe Bonamassa, Marty Friedman, Uli Jon Roth, Trevor Rabin, Richie Kotzen, Gus G and many others. And, in what will absolutely delight his fans, Jason's amazing guitar playing—recorded in the '80s and '90s—features throughout.
Talking about his single, "Hold On To Love," he says; "This is my story, and in a way, everyone's story: Life – we are all just trying to be happy. People are baffled that I can be happy after almost 30 years with ALS. Even I sometimes wonder how it is possible. This song is the simple answer. Most of this video takes place in my mind. I am talking to myself, looking for answers, thinking about the past and some of the people I love, and it all comes out in music."
"It feels so good that people are experiencing the music in a deep way. When I was writing the album, it was what my soul needed, and I hoped others would feel the same. To see that people are feeling my heart is the greatest gift any artist could ask for." – Jason Becker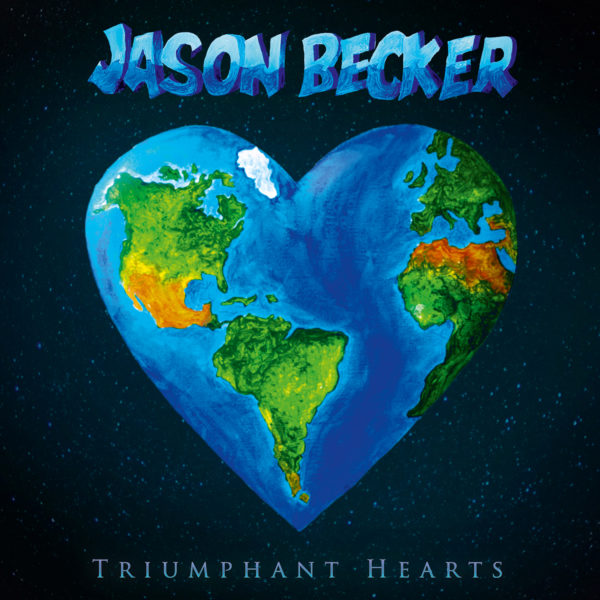 Here's what the press has raved about Jason Becker's "Triumphant Hearts":
"Jason Becker is Beethoven for the 21st Century. Listen to how he composes each song. Each delicate note has purpose. Every instrument ebbs and flows throughout each piece. Each guitar lick enriches the depths of each intricate movement. It makes sense that this isn't a rock album. It's a classical album. One I hope that will be around long after I'm gone." – Maafbox
"This is an album I never thought would happen, a brand new album by guitar maestro Jason Becker. 'Triumphant Hearts' is exactly what it says on the tin. Triumphant. It's an album full of stunning music composed by a genius musician who has to score the opus note by note. This is quite simply a magnificent record that spews emotion." – All About The Rock
"If there is one thing that gets high marks for originality, it is a musical genius, a prisoner of his own body, writing a love letter to the world using only his eyes, and the love and support of his family, fans, and friends. The album really has something for everyone, with exceptionally beautiful composition, heart, soul, and even some good old burning it up on the fingerboard. he has given the world a masterpiece and a message of love and triumph." – Sonic Perspectives
"The music on 'TRIUMPHANT HEARTS' is all about the beauty of life and the dignified treatment of one another – the essence of humanity." – ClassicRock.net
"Jason Becker is a musical phenomenon." – Darkstars
"It shows Jason Becker as the talented guitarist of his youth, but also a composer of exceptionally high standards. A picture may paint a thousand words, but music says things that words never can and 'Triumphant Hearts' manages to say it all. It's humbling, emotional, inspirational and filled with the brilliance of Jason Becker." – Photo Groupie
"'Triumphant Hearts' by Jason Becker is a testament to the unyielding spirit of an artist driven to create. No matter what the challenge or hardship, a true artist's life force is ignited and fueled by their work. You cannot help but be inspired by these compositions and admire the composer for the sheer joy he brings to us through them." – Metal Wani
"'Triumphant Hearts' makes a joyous statement about Becker's enduring creativity in the face of incredible adversity and the fact he is still a major catalyst to his contemporaries. You will be rewarded by an album that taps into one of the most remarkable musical spirits of the modern rock era." – Get Ready to Rock
"Years in the making, yet well worth the wait. This album is an audible journey through the brain of one of Rock's finest ambassadors conveyed by those who loved him and the few who are capable of translating such majesty into recorded music. Showcase his compositional skills through mesmerising arrangements and gorgeous atmospheric storytelling." – Rock N Load Magazine
"Jason Becker will always and everywhere continue to influence guitarists and musicians around the world. His personal story will be an inspiration for millions of people." – Concert Monkey
"Guitar fans get ready for one amazing onslaught of guitar magic on 'Triumphant Hearts.' 'Triumphant Hearts' is an amazing event that every music fan needs to hear. The man and his music will make an impression on you one way or another, I can promise you that." – Prog Rock Music Talk
"The album's 14 tracks showcase Jason's gift for melody and his deep knowledge of classical composition and orchestral arrangement. Jason has assembled some of the great guitarists of our genre on 'Triumphant Hearts.'" – All That Shreds
"Jason Becker, in addition to delivering a sublime album, gives us a great lesson in life, confronting adversity and surpassing oneself. Bravo the artist." – Among the Living, France
"A true masterpiece that has to be one of the best albums I've heard all year. buy it because it's one of the best albums you'll hear all year. I'd be happy to listen to on repeat for hours on end." – PlanetMosh
"One of the greatest works that has happened this year" – Stormbringer
"A record that should be accepted as one of the most extraordinary declarations of love for music and life ever written. 'Triumphant Hearts' is a moving, vibrant, beautiful, excruciating work." – Accordo, Italy
"Some of the most genius material I've ever had the pleasure of listening to. This, ladies and gentlemen, is what a masterpiece sounds like. A true work of art. An overwhelming inspiration." – Metal Nexus
To purchase or stream: http://smarturl.it/JasonBecker
Label Media Page: http://mlgpress.com/jason-becker-triumphant-hearts
For more information:
https://jasonbecker.com/
https://www.facebook.com/jasonbeckerofficial/
https://twitter.com/jasonelibecker
https://www.instagram.com/jasonbeckerofficial