Swedish rock musician, JANINA JADE, has announced the release of their new album 'Heart Of Rock N' Roll', featuring guitar virtuoso Jennifer Batten (Michael Jackson, Jeff Beck, solo) on Lead Guitar, which will be out on March 26th 2021 via GMR Music.
JANINA JADE's music and lyrics are just as unique as her voice and guitar playing. They are honest, real, raw, full of unfiltered emotions and attitude, with a sense of danger from a hard life lived on the edge. 'Heart Of Rock N' Roll' is recorded without clicktracks or any studio trickery.
It captures the true essence of her voice and guitar playing, her vision, heart and soul, without making any compromises. This is honest Rock N' Roll that invites the listener inside Janina's mind and life.
The major rock magazines in Sweden called her "a female Keith Richards" and praised her for her honest attitude, songwriting and no bullshit rock n' roll approach and sound.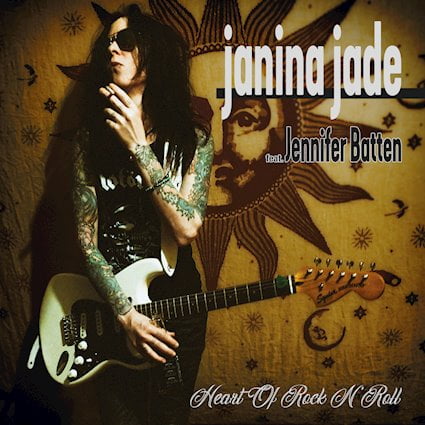 Tracklist:
1. Heart Of Rock N' Roll
2. The Darkness Of My Soul
3. Before My Time Runs Out
4. Holding On
5. How Long, How Long
6. Trouble
7. Exiled Within My Mind
8. Breathless Breathing
9. The Ghost With No Name
10. Last Chance Saloon
The album was produced, mixed and mastered by Tobhias Ljung (Bible Black, The Bereaved, Whyte Ash).
Line-up:
Janina Jade – Vocals, Rhythm Guitars
Jennifer Batten – Lead Guitars (Michael Jackson, Jeff Beck, solo)
Tobhias Ljung – Bass, Drums (Bible Black, The Bereaved, Whyte Ash)
'Heart Of Rock N' Roll', Is the title track of their new album, featuring guitar virtuoso Jennifer Batten