Described by Classic Rock Magazine as "a real rock contender", London-based blues rock guitarist and songwriter Jack J Hutchinson has announced his Autumn 2023 UK Headline Tour. Jack has toured internationally, sharing stages with ZZ Top, Bad Company, Kris Barras Band and Blackberry Smoke. What's more, it's just been announced that he's to play Planet Rockstock's 10th Anniversary Event in December. No wonder, Planet Rock described Jack as "An old school troubadour with a love of the heavy and a song in his heart. Watch on as he unleashes gritty riffs and blazing solos."
Planet Rock has also praised "Jack's gritty, honest take on blues rock [which] comes with a flourish of biker steel", whilst Guitarist Magazine was impressed by how "Growling vocals combine with raunch 'n' roll acoustic and electric guitars. It's a heck of a debut and definitely, a name to watch out for."
Jack J Hutchinson's most recent album 'The Hammer Falls'was released in 2022 via Earache Records Digital Distribution to universal acclaim.
Taking to the road, Jack's three-piece band, consisting of Jack J Hutchinson himself (vocals, guitar), Phil Wilson (drums) and Charlie Rachel Kay (bass), will be performing tracks from across Hutchinson's rich catalogue, including his latest material along with tracks from 'The Hammer Falls' produced by Josiah J Manning (Kris Barras Band, Inglorious) and last year's 4-track EP 'What Doesn't Kill You' (which was mixed by Grammy nominee Kevin Shirley (Joe Bonamassa, Aerosmith, Iron Maiden, and Led Zeppelin)).
"I am beyond excited to hit the road with my power trio," says Jack, "We've been busy in the studio working on the next album and this will be the first opportunity for people to hear the new tracks. The run will feature a return to some of my favourite venues, plus some exciting festival appearances. We'll be giving it everything we've got!"
Right now, Jack is recording a brand-new album, working once more with producer Josiah J Manning and will be touring internationally throughout 2023.
"I feel like I've returned to my roots with this next record," Hutchinson explains, "The blues and soul have always been key components of my songwriting, and it's been great to fuse this with the heavy rock of the last album. I can't wait for people to hear what we've been cooking up. Expect big riffs and big choruses!"
Check out his forthcoming tour dates and venues, including Planet Rockstock. Details below and on Jack's website:  http://www.jackjhutchinsonmusic.com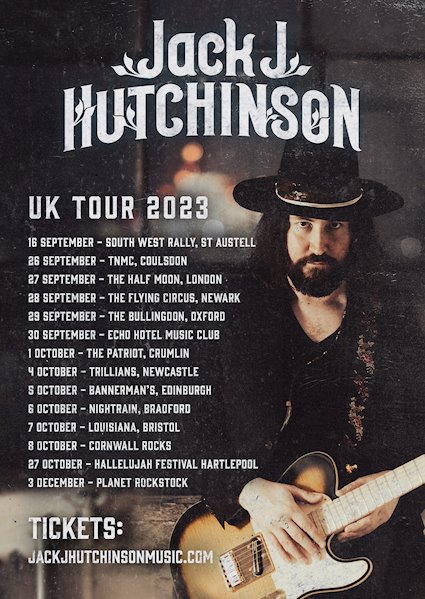 UK TOUR 2023
Sept 16: South West Rally, St Austell
Sept 26: The Tuesday Night Music Club (TNMC), Coulsdon
Sept 27: The Half Moon, London
Sept 28: The Flying Circus, Newark
Sept 29: The Bullingdon, Oxford
Sept 30: Echo Hotel Music Club
Oct 1: The Patriot, Crumlin
Oct 4: Trillians, Newcastle
Oct 5: Bannermans, Edinburgh
Oct 6: Nightrain, Bradford
Oct 7: Louisiana, Bristol
Oct 8: Cornwall Rocks
Oct 27: Hallelujah Festival, Hartlepool
Dec 3: Planet Rockstock
Tickets: http://www.jackjhutchinsonmusic.com
Tour dates: https://jackjhutchinsonmusic.com/
Watch the 'Halo' video: 
More info:
Web: http://www.jackjhutchinsonmusic.com
Twitter: https://www.twitter.com/JackJHutchinson
Facebook: https://www.facebook.com/JackJHutchinsonBand
Instagram: https://www.instagram.com/jackjhutchinson
YouTube: https://youtube.com/@JackJHutchinson