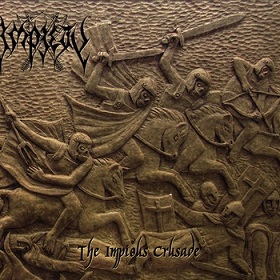 Impiety hail from Singapore and have been at the game of Death/Black metal since 1990 with an impressive discography. It has been many years since I have heard new Impiety material and I am pleased to discover that they have not taken their foot of the pedal at all.
The band is a technical whirlwind that would stand toe to toe with any modern tech death metal band. This EP begins with the usual eerie intro before a barrage of blasts and riffs are tearing from the speakers at full speed. "Commanding Death and Destroy" has the tech blasts along with the slower full speed style black thrash beats which are augmented by a razor sharp guitar sound.
There are more twists and turns and time changes that would be thought possible in such short periods of time. Saying that, the songs flow and the vocals whilst growled have coherence and have not opted for any modern fads such as the pig grunt.
The title track is reminiscent of the likes of Krisiun, again there is a mixture of time changes switching between blasts and full speed thrash beats, the technicality is tight and makes sense, and there are songs here which sometimes are missing in modern day extreme music.
The production is warm and every instrument is given its space, the guitars cut through and are not buried by overly clicky bass drums. Definitely a band worth checking out but beware they have a mighty catalogue to plow through.
Tracklisting
Arrival of the Assassins
Commanding Death & Destroy
Accelerate the Annhiliation
The Impious Crusade
Lucifer's Legions (Sorcery Cover)
Members
SHYAITHAN – Guitars.Vocals
NIZAM AZIZ – Guitars
DIZAZTER – Drums
GUH LU – Bass [Live]