Since founding Holocaust in Edinburgh 1977, guitarist/lead vocalist John Mortimer has released some impressive music to say the least and the bar has been raised even higher with current studio album Elder Gods. The trio is completed by Mark McGrath on bass guitar/vocals and Scott Wallace on drums.
A shift in heaviness from previous release Predator sees a more laid back approach but still a very rewarding listen to these ears. Tar like grooves that open up the title track seemed to ooze through my headphones. The production is huge as Johns unmistakable croon eases in and Scott tests the mettle metal of his kit. The first curio comes courtesy of 'Children Of The Great Central Son' as it tantalizes with pieces of jazz, indie and bulldozing riffing that blend around Johns agonizing howls. 'Ishtar' switches between soothing chords and seismic grooves for a tumultuous nine minute progressive rock opus. The vocals are so laid back, they could be horizontal. Eyebrows were raised during 'Observer Two' as prominent bass guitar runs vie for attention with piercing guitar lines until a cloud of metronomic doom engulfs for the last two minutes of discordant genius! 'Eon Of Horus' takes no prisoners with a display of bludgeoning heaviness. A supreme battery of double bass drumming precedes a quirky midsection before it crashes out on a heads down, headbanging outro.
If music had powers to hypnotize then 'Astaroth' is a serious contender. It shows the lighter side of the band and is a brave and rewarding listen to me. 'Solaris' is another facemelter! It veers between sedate, almost spoken word parts to crushing ones with clarion call vocals. 'Benedictus' swirls around like a mini tornado and its haunting moods brought to mind early Killing Joke as the album ends sedately and emotionally with 'Natural State', a stripped back heavy ballad with Johns calm vocals flowing over juddering rhythms and quaint guitar lines.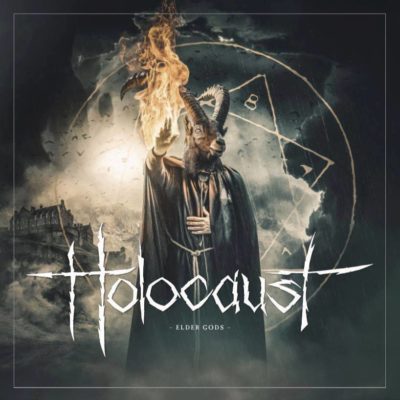 Elder Gods track listing :-
Elder Gods.
Children Of The Great Central Sun.
Ishtar.
Observer Two.
Eon Of Horus.
Astaroth.
Solaris.
Benedictus.
Natural State.
Find Holocaust on Facebook here
Holocaust defy genres with a consummate display of musicianship throughout Elder Gods.