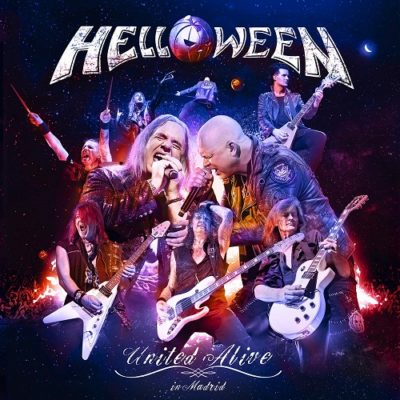 For Helloween fans, 2017 and 2018 were a great period as the modern lineup of the band reunited with former members including Kai Hansen and Michael Kiske for a special tour – Pumpkins united. It was a fantastic tour and for many fans it was their first chance to see the band with the former members. The shows were brilliantly planned so all the vocalists were involved, sometimes alone and sometimes duetting with another, so we got to hear Michael Kiske and Andi Deris sing together as well as Andi Deris and Kai hansen singing together.
Now the band have released "United alive" – a live release from that tour. Recorded in Spain in December 2017 it's a fantastic live album. It's available in various formats – Bluray, DVD or CD as well as vinyl, download etc. The CD version consists of three CDs. The first two contain the live show – 20 songs. The third disc features another four songs recorded at other shows on the tour.
The audio quality on the CDs is excellent. The mix is nicely done so nothing is drowned out and everything comes through clearly. Listening to the album definitely put me in a good mood remembering the London show. It's a great set – songs from throughout their 30 year career and hearing Michael Kiske and Kai Hansen singing live some of the old songs I grew up listening to is a great feeling, and hearing them perform with Andi Deris is a bonus.
A great live release from a tour Helloween fans won't forget for a long long time.
CD1:
1. Halloween
2. Dr. Stein
3. I'm Alive
4. If I Could Fly
5. Are You Metal?
6. Rise And Fall
7. Waiting For The Thunder
8. Perfect Gentleman
9. Kai's Medley (Starlight / Ride The Sky / Judas / Heavy Metal Is The Law)
10. Forever And One
11. A Tale That Wasn't Right
CD2:
1. I Can
2. Livin' Ain't No Crime / A Little Time
3. Sole Survivor
4. Power
5. How Many Tears
6. Invitation / Eagle Fly Free
7. Keeper Of The Seven Keys
8. Future World
9. I Want Out
CD3:
1. March Of Time
2. Kids Of The Century
3. Why
4. Pumpkins United
A great live release from a tour Helloween fans won't forget for a long long time.