So Hard Rock Hell has come and gone again. The seventh year of the festival, now in its second year at Hafan y Mor Haven Holiday Park in Pwllhelli, Wales was this year under the banner of Cirque du Rock, creating a nightmarish circus freak show that saw ringmasters, clowns and other variety acts scouring the site in search of beer, music and a damn good time.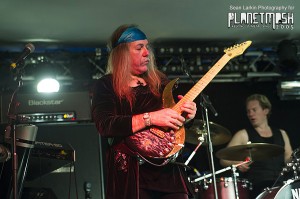 Of course, it wouldn't be a festival without a few bands – fifty three of them were present this year, and Massive Wagons (7), who won last year's 'Highway to Hell' competition, were the first band on this time around kicking off things on the Jagermeister stage. As someone who did not attend the festival last year, I can only go from reports that they were just as impressive as the year before; personally though, they did enough to get the festival going, particularly during Red Dress. Then it was the turn of Uli Jon Roth (6), the former guitarist of the Scorpions. While undoubtedly a fantastic talent and backed by a very impressive group of musicians, the set too often turned into long-winded solos and jams that seemed to do little more but massage Roth's ego. A shame too; the  lead singer had a range that made him sound like Ian Gillan in his prime, while the second guitarist – who looked barely old enough to be at a festival that was strictly over 18's – looked a real prospect for the future on the fretboard and also bore a great set of pipes when he took over on singing duties for one number of a set that contained a number of Scorpions covers, with some original material and Jimi Hendrix and Bob Dylan thrown in for good measure. It's just a shame that the set wasn't much punchier.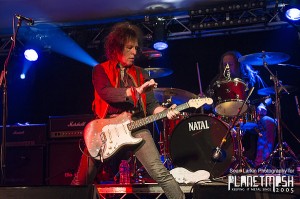 Between Roth and the next act, the Official Opening Ceremony (7) took place – a really bizarre affair which included fire eaters, freak acts (sniffing a condom up the nose and pulling it out of the mouth, for example) and people setting angle grinders to thick metal, showering the stage in sparks. A good spectacle, but the dancers on show did little more than strike poses in skimpy outfits, which made the whole affair seem, well, a little tacky. Luckily Bernie Torme (8) stepped up next and showed us all why he's played with the aforementioned Gillan, Ozzy Osbourne and Dee Snider, to name but a few. Playing eleven songs, he had the energy of someone far younger than 61, with Getting There andYou Can't Beat Rock and Roll going down particularly well with a crowd now starting to warm up nicely – literally in the case of the front row who had spent the last few minutes being hit by heatwaves from the fire-eaters…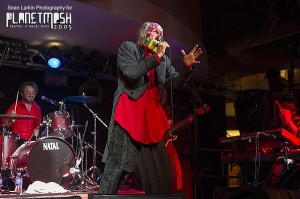 If somebody was asked in normal circumstances to picture a 71 year-old gentleman getting up on stage, singing and dancing in their own unique way, the image of their father or grandfather at a wedding would be conjured up nine times out of ten – closely followed by a feeling of horror and embarrassment. But that's what we got next, and yet the man himself from The Crazy World of Arthur Brown (9) was simply mesmerising on the Hard Rock Hell stage. For a man of his years, his voice was in unbelievably good nick and nobody could take their eyes off him. A show complete with costume changes, altercations with his keyboard player and general tomfoolery, he rolled back the years with such ease and swagger. His fire helmet may not have been used but Fire the song certainly was and saw a huge amount of audience participation. There was also a dancer who joined in, firstly in a Spanish flamenco outfit and then a gold, glittery dress with huge 'wings' that enveloped Brown during his rendition of his 1968 Number One single. Departing with a cover of Fleetwood Mac's Green Manalishi, the cheers were huge and by now everyone was in the mood for a good time.
From the bonkers to the bikers, and Attica Rage (7) took us into Friday with an hour of hard-hitting rock, new single Killer Carousel and Close Shave getting a very good reception, although their finishing cover of Crazy Horses (yep, THAT track by The Osmonds) was a stroke of genius and couldn't have been more successful in this environment. So far then, so good, and as the night came to a close the sights of punters stumbling back to their chalets and caravans was all too apparent. Hard Rock Hell was back in force, and much needed for all concerned.
Arthur Brown Setlist
Zim Zam Zim
Want to Love
All the Bells
Devils Grip
Kites
I Put A Spell On You (Screamin' Jay Hawkins cover)
Muscle of Love
Voice of Love
Apple Creation
Nightmare
Fire Poem
Fire
Green Manalishi (Fleetwood Mac cover)