GYPSY PISTOLEROS announce the release of the new single 'The Name's Django!'! And announce new record deal with 'Off yer Rocka' Recordings
The amazing Gypsy Pistoleros have not only released a brand new video but are the newest members of the Off Yer Rocka label family. Dubbed The World's Greatest Flamenco Sleaze Glam Rock 'N' Roll Band Ever, the Tarantinoesque sleaze bandits have shot their way onto the latest label imprint Heavy Rocka Recordings, and bring you the video for their brand new single "The Names Django".
Watch The Name's Django! – VIDEO by Paul Roper from Demon King Entertainment
The band have signed a new two-album deal with Off yer Rocka (Heavy Rocka Records) https://offyerrocka.com/ joining such stellar artists as The Quireboys / Twister / Ryders Creed / Gorilla Riot / Ward XVI / Black Aces / Gin Annie / Massive, etc
" We are totally thrilled to have joined the Hard Rock Hell Empire, by signing to Off yer Rocka (Heavy Rocka Records) The support their D.J's and community have given us, has been incredible. It was a perfect fit, they have totally embraced the Pistoleros unique Flamenco, Punk, Rumba Rock n Roll phenomena. We cant wait to release more music and celebrate with everyone at the upcoming Festivals." said singer, Gypsy Lee Pistolero.
Gypsy Pistoleros follow up their Number 1 Hard Rock Hell Radio Chart hit, with the second single 'The Name's Django!' out 9th April on pre-save, 23rd released from the forthcoming Album, Latin Rock's Appetite for Destruction, 'The Mescalito Vampires' out on Heavy Rocka Records August 14th.
'The Name's Django' see's the classic song Mr Bojangles ripped apart and rewritten in this rumba flamenco punk n roll rendition. A soft-story ballad about a Mexican Outlaw turned hero 'Django' morphs into a rip-roaring romp that oozes mariachi punk gunslinger vibes in this wild ride! Viva la revolution!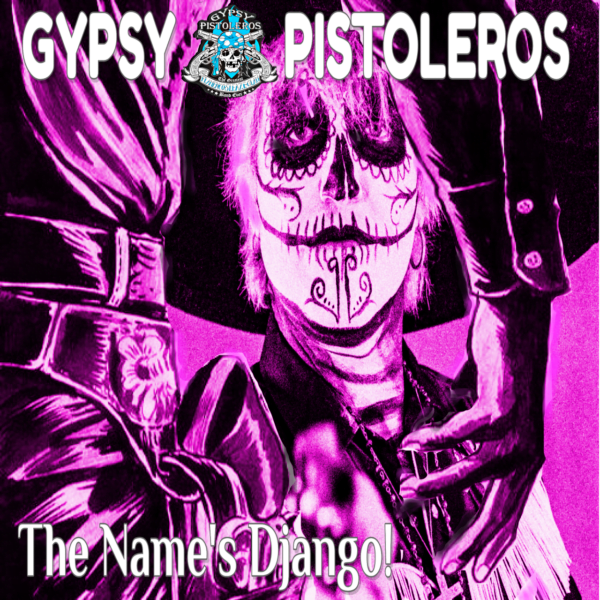 Gypsy Pistoleros first live gig will be at Hard Rock Hell Sleaze Festival on 28th August 2021 !!!

A full comic featuring GYPSY PISTOLEROS 'The Devil's Done Deal!' will be released alongside the album. From renowned artist Paul Roper -Demon King Entertainment.
Live Tour & Festival dates with more to be announced as confirmed!
Live dates:
 Hard Rock Hell Sleaze Festival 28th August 2021 
 Hard Rock Hell Festival Sat 7th November 2021
Described as the Album they always promised to make, the forthcoming release sees GYPSY PISTOLEROS fully embracing their fiery flamenco/rumba passion & crossover punk Rock n Roll leanings! Latin Rock's Appetite for Destruction, 'The Mescalito Vampires' on Heavy Rocka cometh!
"Deputised by the Devil himself the Gypsy Pistoleros must hunt down 999 demonic souls to earn their freedom from the curse. The Devil's fine print says for every soul collected should an innocent die 3 more are added to the list! Time to settle the bill!"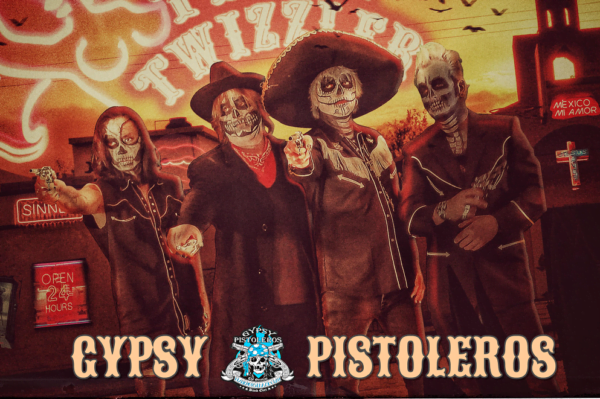 Gypsy Pistoleros are best described as being the ideal house band for the fictitious Titty Twister bar of Rodriguez's From Dusk till Dawn. Between the nods to Morricone's tense, tumbleweed atmospheres and the Gypsy Kings' manic Mediterranean energy, a New York Dolls raw glam spark and a surplus of prime G 'n' R attitude, the Pistoleros' sonic style is captured to the full with the release of an album they have always threatened!  Gypsy Pistoleros remain something truly unique and interesting in today's predictable musical landscape. Combining their truly unique mix of flamenco rumba which gleefully collides with old school punk rock 'n' roll riffs in a head-on collision. In the best rock 'n' roll tradition, with big hooks, attitude, and sleaze. Yet those flamenco breaks got into your head and refuse to leave – this hybrid rocks.  

OUT NOW – First Single 'Lost in a Town called Nowhere' (B side – Soho Daze, just another Friday Night) (Special limited signed Edition 7″ Red & Gold Splatter vinyl edition are available exclusively through https://www.carnivalmalvern.co.uk/new-releases-1/p/gypsy-pistoleros-lost-in-a-town-called-nowhere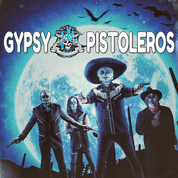 Lost in a Town called Nowhere Viva la Revolution, Viva Zapata  Mescalito Vampires (Welcome to the Hotel de la Muerta)Soho Daze, just another Friday Night Roses, Gallows and the Wild Preachers Daughter The Forsaken The name's Django Cisco KidGonna die with a Gun in my Hand Alone again orGypsy Pistoleros line up is – Gypsy Lee Pistolero – Vox, bad rumba guitar Mark Westwood  (Shadowland, Clive Nolan, GLP) – Great Guitars Gaz Le Bass – Double Bass (The Delray Rockets) 
Jan Vincent Vellazco (Pendragon, Ghost, PIG) – Drums Kris Jones – Trumpet 'The Mescalito Vampires' was recorded in Black Tree Recording Studios, Tardebigge, Worcestershire with guitarist Mark Westwood engineering & producing (The Beat, Dogs D'Amour, Chumbawamba, Arena, Hazel O'Connor, Dreadzone, etc)