Resplendent in a guise of Dia De Los Muertos skull faces and rumba la rock boleros 'Gypsy Pistorleros' bring the swagger on their new single 'Lost in a Town Called Nowhere'
A song for the underdog. The Gyspy Pistoleros unleash their new music video for Lost In A Town Called Nowhere. It is the first single from their upcoming album 'The Mescalito Vampires'. Working their voodoo magic, it's vibrant beat captures you from the start.
Gypsy Pistoleres bring the swagger. Resplendent in a guise of Dia De Los Muertos skull faces and rumba la rock boleros attire. The video is set in a fictitious town called Nowhere, with the infamous 'Titty Twister' bar as the band's set.
As a telephone rings someplace in an Apocalyptic village. The underdogs answer a call from singer Gypsy Lee Pistolero. With a luring promise to deliver them from the boulevard of broken dreams set in their minds. The respondent villagers leave their desolate surroundings in search of the promised land, a place called somewhere.
Watch the video here: Gypsy Pistoleros- Lost In A Town Called Nowhere – Official Video:
Described as the album they always promised to make, this release sees GYPSY PISTOLEROS fully embracing their fiery flamenco/rumba passion crossover punk Rock n Roll leanings! The Latin Rock equivalent of Appetite for Destruction, 'The Mescalito Vampires' is here!
Gypsy Pistoleros are best described as being the ideal house band for the fictitious Titty Twister bar of Rodriguez's From Dusk till Dawn. Between the nods to Morricone's tense, tumbleweed atmospheres and the Gypsy Kings' manic Mediterranean energy, a New York Dolls raw glam spark and a surplus of prime G 'n' R attitude. The Pistoleros' sonic style is captured to the full with the release of an album they have always threatened!

Gypsy Pistoleros remain something truly unique and interesting in today's predictable musical landscape. Combining their truly unique mix of flamenco rumba which gleefully collides with old school punk rock 'n' roll riffs in a head-on collision. In the best rock 'n' roll tradition, with big hooks, attitude, and sleaze. Yet those flamenco breaks got into your head and refuse to leave – this hybrid rocks.
Friday 26th Feb – First Single 'Lost in a Town called Nowhere' (B side – Soho Daze, just another Friday Night) Pre-sale Friday 12th Feb
Special limited signed Edition 7″ Red & Gold Splatter vinyl edition- 500 copies will be available through Carnival Records (carnivalmalvern.co.uk)

Pre-order here: https://www.carnivalmalvern.co.uk/new-releases-1/p/gypsy-pistoleros-lost-in-a-town-called-nowhere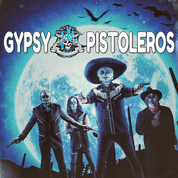 Live Tour & Festival dates will be announced next year!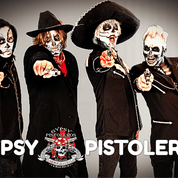 The new Gypsy Pistoleros line up is –
Gypsy Lee Pistolero – Vox, bad rumba guitar
Mark Westwood  (Shadowland, Clive Nolan, GLP) – Great Guitars
Gaz Le Bass – Double Bass (The Delray Rockets)
Jan Vincent Vellazco (Pendragon, Ghost, PIG) – Drums  
Lynn ( Dexy D'Angelo) Thomas – (Dexys, King, The Specials) – Trumpet

'The Mescalito Vampires' was recorded in Black Tree Recording Studios, Tardebigge, Worcestershire with guitarist Mark Westwood engineering & producing (The Beat, Dogs D'Amour, Chumbawamba, Arena, Hazel O'Connor, Dreadzone, etc)  
Gypsy Pistorleros Links:
https://www.facebook.com/groups/GypsyPistoleros/
https://twitter.com/GPistoleros
https://www.instagram.com/gypsypistoleros/
https://goldenrobotrecords.com/riot-records/gypsy-pistoleros/
Resplendent in a guise of Dia De Los Muertos skull faces and rumba la rock boleros Gypsy Pistorleros bring the swagger on their new single 'Lost in a Town Called Nowhere'