Hot off the press…GYPSY PISTOLEROS frontman Gypsy Lee Pistolero, takes a time out to discuss all things Gypsy Pistoleros with PlanetMosh
The amazing Gypsy Pistoleros has not only just released a brand new video for their 2nd single 'The Name's Django' but they are also the newest members to join the Off Yer Rocka Recordings label.  Frontman/singer of the band Gyspy Lee Pistolero chats to Planetmosh about the band's new record deal, the release of The Mescalito Vampires album out August 14, 2021, and the prospect of getting back to live gigs.
Lee talks about the creation of Gyspy Pistoleroes, and how a fun idea to add some 'Flamenco Rumba' to the Glam/Punk rock he was playing with his previous bands, set the stage for the incarnation of the Gyspy Pistoleros.
Despite struggling where to fit themselves genre-wise, the cross-over band is artistically dubbed as The World's Greatest Flamenco Sleaze Glam Rock and Roll Band!!
Watch Interview here:
The new single 'The Name's Django!'
OUT NOW!

DOWNLOAD on all Digital platforms
 https://music.apple.com/album/id/1558441019
https://open.spotify.com/track/7GksYShlVWCyu4d9xzt3uV?si=ENaC0b0kRRKebUvHq1EfXQ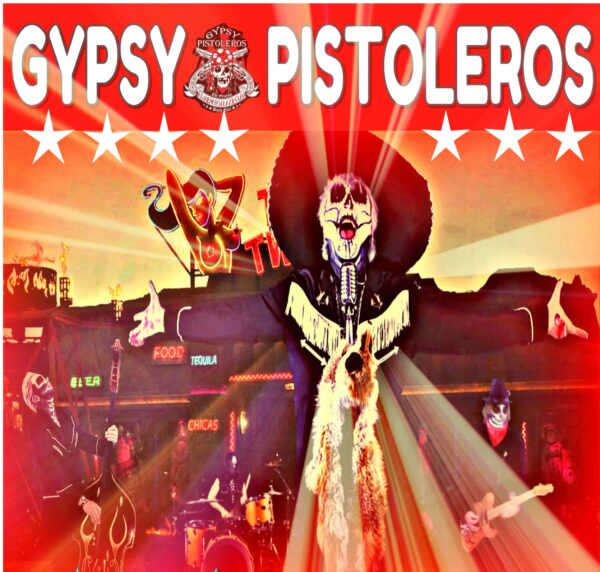 OUT NOW – First Single 'Lost in a Town called Nowhere' (B side – Soho Daze, just another Friday Night) (Special limited signed Edition 7″ Red & Gold Splatter vinyl edition are available exclusively through https://www.carnivalmalvern.co.uk/new-releases-1/p/gypsy-pistoleros-lost-in-a-town-called-nowhere
Gypsy Pistoleros are best described as being the ideal house band for the fictitious Titty Twister bar of Rodriguez's From Dusk till Dawn. Between the nods to Morricone's tense, tumbleweed atmospheres and the Gypsy Kings' manic Mediterranean energy, a New York Dolls raw glam spark and a surplus of prime G 'n' R attitude, the Pistoleros' sonic style is captured to the full with the release of an album they have always threatened!  
Gypsy Pistoleros remain something truly unique and interesting in today's predictable musical landscape. Combining their truly unique mix of flamenco rumba which gleefully collides with old school punk rock 'n' roll riffs in a head-on collision. In the best rock 'n' roll tradition, with big hooks, attitude, and sleaze. Yet those flamenco breaks got into your head and refuse to leave – this hybrid rocks.