GREAT MUSIC STORIES LAUNCHES MODERN ROCK VOL 2 TO SUPPORT THE GRASSROOTS REVIVAL AFTER LOCKDOWN
GREAT MUSIC STORIES CONTINUES TO CHAMPION BRITISH ROCK'S NEW TALENT, GIVING AWAY AN EXCLUSIVE COMPILATION CD: Modern Rock Vol. 2
This month, award nominated broadcaster Great Music Stories is releasing an exclusive, new, CD sampler album that celebrates some of the brightest names in the grassroots rock scene.
Its predecessor, Modern Rock Vol. 1 proved a great success last year, introducing people to new and unsigned acts. Volume 2 continues that GMS crusade in June 2020.
Modern Rock Vol. 2 is a limited-run, free, 19-track, sampler CD, fully supported by all the artists. It's a tangible thank-you to the listeners, who've played such a vibrant part in the Friday Rockshow from the Rock Caravan Project during lockdown. What's more, additional free copies will be available each week to listeners, especially those new to the music, each Friday night when the Rockshow goes live.
Why call it 'Modern Rock'? GuyB of Great Music Stories explains: "For four or five years now, this term evolved during the Friday Rockshow to describe the music we were supporting. I myself am a huge fan of classic rock: it was a golden era. Today, it's a new age though — a new era. Through the interviews we've done and the music we've supported, we've been looking at artists who can start a fresh chapter for rock music: new ideas, music that reflects some of the issues we live with today; the DIY and digitised context; and artists who can broaden the appeal of rock to new, younger, more diversified audiences."
From England, Ireland, Wales and Scotland – spanning aggressive pop to southern rock influences – there's something for everyone in this collection and the eclectic range illustrates the 'broad church' strength of the rising scene. Modern Rock Vol. 2's tracklist includes music that has earned long runs on the Friday Rockshow, powered by requests: some were tracks Great Music Stories was fortunate to premiere and there are some previously unreleased.
The project fully supported by the artists involved will see a large number of copies of the CD given out, free, to Friday Rockshow regulars. GuyB explains: "These amazing music fans are endlessly buying, pre-ordering and supporting projects financially. They're also the heart and soul of Friday nights as we gather to create a wall of positivity to support young bands. These music fans give so much: sometimes it's time to give them a 'thank you'. Part of the reason for producing this free sampler compilation is to give those music fans —the real heroes that power (and fund) the grassroots scene — a compilation of the very songs that they have backed during the long months of lockdown."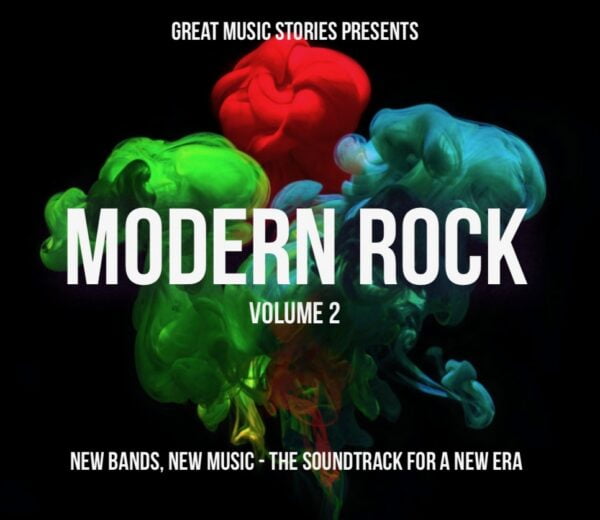 Supporting the compilation, a dedicated Modern Rock Vol. 2 web page has also gone live this week at https://greatmusicstories.com/modern-rock-volume-2/ – with a bio on each of the songs chosen and helpful links to the bands' webstores, sites and social media. The hope is the project will introduce new people to the artists and encourage them to follow them and buy some music from their stores.
Twitter feedback from people that received early copies has been enthusiastic. With fans tweeting that the collection is on repeat play or has taken over the car CD player. Music fan, Jo Wright comments: "This CD is an amazing piece of work for all the bands involved, many of which are unsigned. It gives the band a step up into the public eye, giving them a push to be discovered for their other tracks. It's a win/win for all concerned. Guy has been a launchpad for so many up & coming bands: he deserves recognition."
Modern Rock Vol. 2 includes tracks from CovAid2020; Amongst Liars; Twisted Illusion; DeadBlondeStars; As Sirens Fall; The Starling Radicals; Loz Campbell; Ravenbreed; Verity White; Jason Sweeney; Scarlet Rebels; Empyre; Fallen Mafia; HAVR; Little Red Kings; Safire; Unknown Refuge; Devilfire; and Thirteen Stars.
In the words of Matt Simons from Dead BlondeStars: "It's great to be part of such a fantastic project. It's been a tougher year than normal for independent music, so we're very happy to be involved in such a positive venture. We've certainly been made aware of a number of great bands courtesy of Volume 1, so it's a privilege to feature on Volume 2 alongside more, superb artists."
For the audio interview stories behind the bands on the album, visit greatmusicstories.com Anyone who wants a free copy of the sampler: tune in to greatmusicstories.com on Friday nights and put a request in when music from the compilation is played!
The Friday rock show airs weekly on greatmusicstories.com, Fridays from 5 pm. A wide-ranging archive of 400+ artist interviews since 2015, plus monthly album reviews can also be found on the site.