On a cold Saturday morning, the sounds of laughter abounded in Metal Town with the rumour that the sun was going to make an appearance on Day 2 of the Graspop Metal Meeting 2013.
Saturday June 29th
Vanderbuyst (7) were a new band to this reviewer but their fantastic set of old school Heavy Metal went down a treat. The trio were energetic and engaging. Frontman Jochem fed on the crowd and highlights of their set were "From Pillar to Post", "Into The Fire" and a loyal cover of Thin Lizzy's "Don't Believe a Word". Keep an eye out for these flying Dutchmen at a venue near you this year.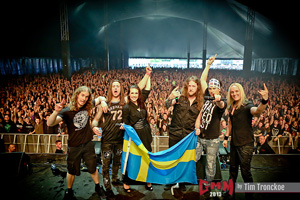 Amaranthe's (8) unique three pronged vocal approach was the opening salvo on the stage of Marquee 1. A bombastic mix of power pop metal with an operatic slant. Elize Ryd was beguiling with her delivery and the contrast between her dulcet tones and Andreas Solveström's roughness was the focal point. A solid set drawn from "The Nexus" and their eponymous debut was lapped up by fans that were happy to see them so early in the day. Jake E's clean voice carried perfectly with Elize's during closing song "Hunger". The sound for their appearance was crystal clear and perfect for their melodic metal.
Featuring Ripper Owens, Keri Kelli, and James Kottak , Rockstar (6.66) is a band of guys who are paying tribute to their involvement with some of the greatest legacies in Metal. Their rich set was filled with Scorpions, Sabbath, Dio and Ozzy covers, all handled with superb professionalism but with a level of fun and enjoyment that can be lost with so many modern bands. Speaking of fun, Germany's booze fuelled thrash monsters, Tankard (8), were in fine fettle as they delved deep into their vat of history. Opening with "Zombie Invasion", Gerre, Frank, Andy and Olaf were clearly enjoying themselves in Marquee 1. A roaring "Chemical Invasion" led us into "(Empty) Tankard" and there was much rejoicing.
In a very déjà vu moment from the previous day, Down were reassigned to a later time in Marquee 2. The Devil Wears Prada (6) were the group of troubadours who battled technical difficulties on the mainstage to give a set of aggressive music made for the crowdsurfers. New song "Mourners" sat comfortably alongside bruisers like "Dead Throne" and "Born To Lose". Caliban and local boys Steak Number Eight's sets clashed so to give them a full review score was impossible. What I saw from each act was impressive in the humid confines of the two Marquees.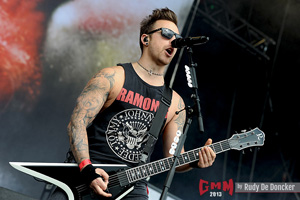 The rumoured sun was blistering the Mainstage by the time Matt Tuck and Bullet for My Valentine (8) appeared to the spicy sounds of "O Fortuna". They proceeded to tear the metal minions gathered before them a new one.  Sunglasses shielding his eyes, Matt's clean vocal was top quality and his shredding alongside Padge is on par with top metal acts across the globe. Moose and Jason provided the backline in a tight performance that had the circle pits whirling with delight. Featuring songs from new album, Temper Temper (which sounded great live) with old familiars like "Four Words To Choke Upon" and "Tears Don't Fall", their set did not disappoint. Love them or hate them, BFMV are here to stay and their steadfast resolve is a credit to them.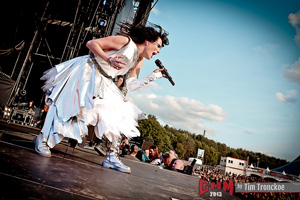 Next up on Mainstage, Within Temptation (9) never have to travel far to get to Graspop and their loyal fanbase always follow in great numbers. The bright sunlight made it difficult to see the Mother  Maiden intro on the big screen but the crowd rumbled with anticipation as Ruud, Jeroen, Martijn, Mike and Stefan took their positions. Opening with "Shot In The Dark", Sharon Den Adel appeared all in white on a riser at the back of the stage.  The Unforgiving tour has been on the road for quite some time now and the familiarity with the songs is easily seen as the crowd sing along with every word. In all, half of the set was dominated by The Unforgiving playlist, but when songs as strong as the maiden inspired "Iron", the euro-pop laced Sinead or the galloping "In The Middle Of the Night" are included alongside classics like "Angels", "Ice Queen" and "Stand My Ground", everything fits seamlessly. Sharon was resplendent as she worked the crowd with her Dryad–like gesturing. The cover of "Summertime Sadness" by Lana Del Rey was not expected and was a lighter highlight in the whole day. Headbanging harder than most in the front row, Sharon took us on the last leg of the fantastic journey with the evergreen "Mother Earth".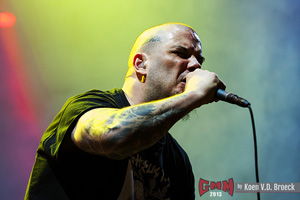 The second band of the weekend to benefit from a time change, Down (10), were at home in the hot humid sweaty confines of Marquee 2. (I missed Hypocrisy because of this clash).  Phil Anselmo is a man reborn since Down returned to the scene back in the year of six. Surrounded by his brothers of the South, Pepper, Jimmy, Kirk, and Pat, he joked, snarled and sang his way through an inspired set of Swamp ridden anthems. At one stage he addressed the crowd, they cheered, and he said "Y'all don't have to cheer everything I say; This ain't a Skid Row concert". They dedicated "Lysergik Funeral Procession" to Dimebag. When Down are cooking , they have the power to shift the plates of the Earth itself. After churning out "Losing All" (which inspired this reviewer to crowdsurf for the first time in 18 years), "Lifer" and "Stone The Crow" they were joined on stage by Agnostic Front and Attila from Mayhem for a chaotic "Bury Me In Smoke".  Metal Magic from New Orleans.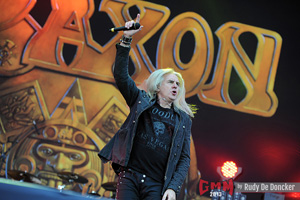 Saxon (8) brought their classic Eagle show to Graspop this year. There was a lot of pyrotechnics as Biff and the boys raced into 14 songs of pure British Heavy Metal gold! Starting with the duo of  "Sacrifice" and "Wheels of Terror", their sounds echoed across the sun soaked worshippers. Biff quipped, letting them decide between "Motorcycle Man" and "Crusader".  The steel beast won on this occasion. Paul Quinn, Doug Scarratt and Nibs Carter were everywhere, covering every inch of the stage like men half their age. "Denim and Leather" was vintage Saxon in front of a sea of raised fists. My personal highlight was seeing "Crusader" just before they finished with "Princess of the Night". Biff Byford is a giant of a front man and his genuine honesty and humour lends a charm to the performance.
The sun had slinked off below the horizon before Slipknot (10) were ready to send us home. A white cu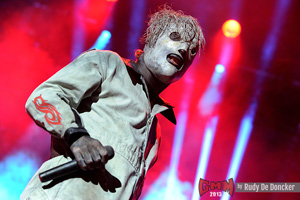 rtain covered the whole stage. Spotlights danced on its surface to the sound of Billie Joe Spears' "Get Behind Me Satan".  The music scratched, the curtain fell and BOOM, the 9 headed beast spewed forth its thunderous roar. So much happens at any one time at a Slipknot show, it can be hard to keep up and not miss anything. "Disaasterpiece" was lapped up by the tumultuous crowd. Corey dedicated "Duality" to Paul Dedrick Gray and a giant ② took over the backdrop. It's moments like this that the presence of those lost can still be felt and Slipknot fans will never forget.
On a day when the sun dominated the weather battle, Corey stood motionless on the front of the stage as snow enveloped the whole stage during a haunting "Gently".  "Spit It Out" will live long in the memory with Corey's "jump the fuck up" moment taking the whole arena by storm. The flaming S sigil up the back, burned bright all night and hydraulic drum kits and percussion sets rose and fell sporadically with various members (usually Crahan) hanging or jumping off one of them.  Other highlights on the night were "The Heretic Anthem", "People = Shit" and "Dead Memories"
On their 5th GMM appearance, Slipknot brought their "A" game and proved that they are one of the current bands who will be headlining festivals for years to come.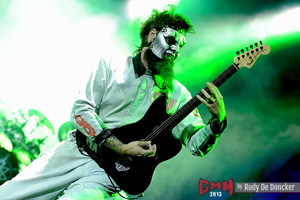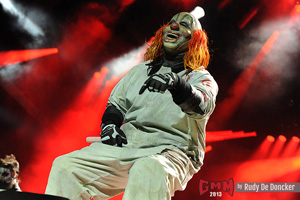 ..
Photos by Koen V.D. Broeck, Rudy De Doncker, Tin Tronckoe