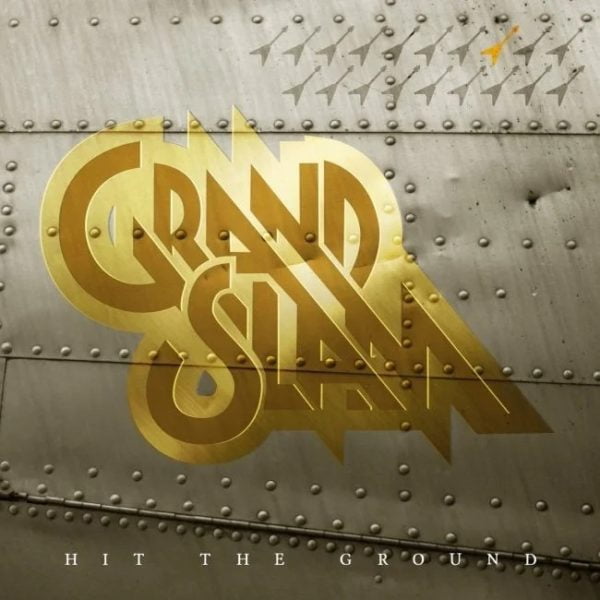 Grand Slam, formed as a solo band in 1983 (that included Magnum keyboard player Mark Stanway) by Phil Lynott that took on the name when Thin Lizzy had completed their farewell tour the same year. A revolving line up included ex Stampede guitarist Laurence Archer who joined in 1984 but the band split up the same year. 1986 saw the passing of Phil Lynott so fast forward to 2018 when the band was reformed  Laurence. 2018 saw a studio album that included five songs originally written by Laurence, Mark and Phil plus five new ones with a new line up that didn't feature Mark but he played on three of the songs . 2019 finally sees its release, titled Hit The Ground via Marshall Records.
The album opens with 'Gone Are The Days' the first single released from it. There are some nods to Phil as it has musical touches of 'Do Anything You Want To Do' and vocal references to 'Jailbreak'. It's a strutting opener of hard rock with infectious choruses. 'Nineteen' was originally a Phil solo single but this new version is punchier with a main riff that is a full on headbanger and a fleet fingered solo midway raises the bar early. 'Hit The Ground' is a melodic chugger with a gritty vocal from Mike Dyer as his delivery highlights the futility of war backed by band strengthened choruses. 'Military Man', originally recorded by Phil and Gary Moore seems like a hard act to follow but Grand Slam rise to the challenge as they thunder along and add a laid back midsection of a soul searching vocal, piano and a bluesy guitar solo as they lock in for a speaker rattling climax. 'Crazy' is a no frills rocker that heads straight out of the starting blocks and crosses the line for a gold medal of striding riffs and sugar sweet choruses.
'Dedication' is a bass dominated bruiser courtesy of Dave Boyce that is a heavier take on the original with touches of melodic guitar midway as it breaks down to a lone vocal piece and muscles up to a fiery outro. 'Long Road' is a sumptuous ballad as a soothing vocal over acoustic guitar and sweeping strings see a brief burst of lead guitar give it an extra edge. My album highlight is the seven minute 'Sisters Of Mercy'. What seemed to be another ballad headed off into heavy progressive rock territory with some powerful instrumental passages and emotional choruses. 'Crime Rate' has a 'Black Velvet' kind of vibe, almost jazzy in the verses. They close on 'Grand Slam', a pulsating riff heavy instrumental that backs off midway for a flamenco break and a flourish of keys herald the return of THAT main riff and a wah wah drenched outro.
Hit The Ground album track listing :-
Gone Are The Days.
Nineteen.
Hit The Ground.
Military Man.
Crazy.
Dedication.
Long Road.
Sisters Of Mercy.
Crime Rate.
Grand Slam.
Grand Slam band line up :-
Laurence Archer – Guitar.
Mike Dyer – Vocals.
Dave Boyce – Bass guitar.
Benjy Reid – Drums.
A grand return with the grandiose Hit The Ground album from Grand Slam!